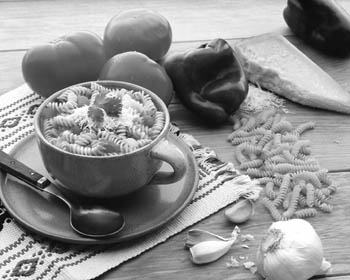 Carbohydrate Love: Pasta dishes from any culture fuel up the holiday repast.

Season's Eatings

With the blush on the candy corn, the holiday season arrives: two glorious months of guiltless gluttony

By Sharon Mizota

IN MY family, food is the holiday. Although we were raised Buddhist, we celebrated any occasion, sacred or profane, that might involve food. We had the obligatory turkey, stuffing, mashed potatoes and cranberry on Thanksgiving. We had no idea who Jesus was, but Christmas was a good excuse for a big meal.

"We don't celebrate Jesus. We celebrate Santa," my mom reasoned. (That Santa is a saint was a mere technicality.) And being equal opportunity eaters, we celebrated Chanukah, too, chowing down on potato pancakes and applesauce.

Lent we had no use for, but we dyed so many Easter eggs that we ate them for weeks afterward: sandwiched in toast with salt and pepper, in egg salad with lots of mayonnaise or as a portable snack on long car rides. For Cinco de Mayo, we had burritos with homemade flour tortillas or deep-fried taquitos filled with crunchy shredded beef, and smothered in guacamole and hot sauce.

One year for Halloween, my mom served hamburgers topped with a slice of American cheese with eyes, nose and mouth cut out to look like a jack-o'-lantern. On our birthdays, we got to choose the dinner menu. I always picked the most luxurious dish in my mother's repertoire: a rich, buttery shrimp scampi.

But the biggest holiday of all was New Year's Day. The one day a year when it paid to be Japanese-American, my entire extended family would gather around a buffet table laden with sushi, lobster, specially prepared New Year's vegetables, potato salad, flank steak, fried chicken, tuna sashimi, chicken on a stick, sesame green beans, sweet black beans, rainbow finger Jell-o, kinpiri gobo (burdock root salad), deviled eggs, yokan (a pasty lima bean confection), cha-shu (Chinese roast pork) and fried won tons. Eating started around 11am and continued in rotating shifts. And that was just my dad's side. Around 3 or 4pm we'd pile into the car to go visit my mother's family, and the whole feast would begin again.

Far from an authentic Japanese New Year's feast, ours was a mishmash of half-remembered Japanese cooking and 1950s American standards. I've since tasted more "authentic" fare of nearly every stripe: the loveliest latkes on the Lower East Side, roadside tacos bursting with carnitas and lengua, and my favorite example of officially sanctioned East-West cuisine: sashimi topped with paper-thin slices of jalapeño. I know that my mother's recipes were Betty Crocker-Del Monte-Kraft perversions of traditional dishes. But I also know that despite their prepackaged blandness, they broadened my palette and instilled in me an adventurous appetite.

In honor of my faux multiculti upbringing, I still make (and savor) a recipe my mother found on a bag of Golden Grain pasta: Mexicali Macaroni. One step up from Hamburger Helper, it has next to nothing to do with Mexico or California, but it sure is tasty.
---

Mexicali Macaroni
1/2 (8-ounce) package Golden Grain elbow macaroni
1 pound ground beef
1 small onion, chopped
1 green pepper, diced
1 tablespoon chili powder
1 12-ounce can whole kernel corn, drained
1 8-ounce can tomato sauce
1 teaspoon salt
1/8 teaspoon pepper
1 cup shredded cheddar cheese
Cook macaroni as directed.
Brown meat, onion and green pepper in large pan. Add chili powder, corn, tomato sauce, salt and pepper. Simmer for five minutes. Pour sauce over drained macaroni and sprinkle with cheese.
---
Send a letter to the editor about this story to letters@metronews.com.
---
[ Silicon Valley | Metroactive Home | Archives ]