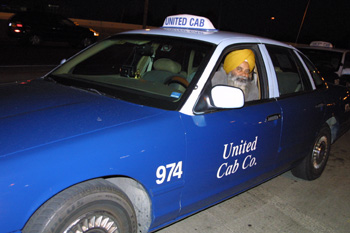 Photograph by Kara Brown

Hacking It: Drivers like airport cabby Parlad Singh have endured long hours and poor working conditions for years. Now, geopolitical conflicts are putting their very lives at risk.

Cab Wars

Sikh cab drivers in San Jose say racism and recession have put their lives in danger

By Raj Jayadev

IN THE BACK of the San Jose Airport, 30-year-old Farhan Khan is handing out samosas to the other cab drivers sitting in lawn chairs waiting for their dispatcher to call. Khan, cabby by day, world-music sitarist by night, is giving his explanation for the never-ending bin Laden references drivers hear.

"Even in the Bay Area, people are ignorant," he says. "They need to watch less movies and more PBS."

He's joking, but the group of South Asian and Ethiopian men don't laugh. Before, racial slurs and questions like "What do you think about Saddam?" from passengers were only words, part of the job. Now, after the recent shootings of three Bay Area Sikh cab drivers, many fear those words may portend something much worse.

Three shootings in two months. Davinder Singh, 21, was shot to death by two passengers early Sept. 13 in Redwood City. Gurpreet Singh, 23, was killed on July 2 in Richmond. Another cab driver, Inderjit Singh, 29, was shot in the jaw on July 5 in Richmond when he responded to a call from his dispatcher. Most Sikhs share the last name of Singh.

Police in both Richmond and Redwood City determined robbery to be the primary cause of the shootings. But many Sikh cab drivers say the crimes were about racial hatred.

"They just see the turban and the beard, and they hate us," says Baljit Singh, an older Sikh man who has driven a cab in the Bay Area for four years.

Sikh cab drivers responded to the shootings by holding a work slowdown and organizing a memorial procession of hundreds of cabs from San Carlos to San Jose.

Despite the disparate nature of being behind the wheel, Sikh drivers in the Bay Area have always been able to come together to rally, protest and mourn with tremendous speed and organization, although they receive little media attention.

In 2000, more than 300 Sikh cab drivers practically shut down south San Jose with a similar procession protesting the mugging death of driver Daljit Singh. The drivers purposely picked a heavy traffic time to cripple the cab-dependent San Jose Airport and make their statement stronger.

The drivers put that procession together in only two days, and this last one in a week.

In 1998, Sikh cab drivers joined with Ethiopian and Somalian cabbies who had faced years of police harassment and unfair company rules and started to look for a union that would represent them.

"We wanted a union that had good relations with the City Council since most of our issues deal with the police and regulations," says Saranpal Baines, a driver and organizer. After sitting down with various unions, they joined the UFCW Local 428, a union that traditionally represents grocery store workers but was chosen because of its relationship with the city.

San Jose drivers then created a Taxi Task Force of city officials, cabbies and company representatives to address industry issues. Under driver pressure, the city recently agreed to spend $75,000 to hire a consultant to look into new systems for cab driver payments and fees. "The old system isn't working; drivers are putting in 70-hour weeks, have no benefits and are earning $30,000 a year if they are lucky. They want a new system, and they're taking the steps to making it happen," says Ron Lind, secretary-treasurer of the UFCW (united Food and Commercial Workers).

Here at San Jose's Norman Y. Mineta Airport, both bread-and-butter issues and safety concerns have dominated break-time discussion. The most common feeling among drivers is that they are trapped in a political and economic moment that has put Sikh cabbies in the cross hairs. If asked whether the shootings were hate crimes or just about money, most cab drives say it was both.

Farhan Khan explains: "Right now the biggest question on people's minds is, 'Who has cash?' Put that with all the mistaken identity about Sikhs, and people get targeted."

Across the airport. Akhal Durrani, a clean-shaven Sikh driver standing next to another Indian cabbie wearing a red, white and blue USA shirt, agrees with Khan's take. "The criminals want the hard cash, but we are poor people. They should rob a bank, not poor people."

The attacks don't just come in bullets, however; they come in missed fares, too. Sikh drivers have been noticing potential passengers passing them by for non-turban-wearing cabbies. "Just this week, I had two guys who had to go to Los Gatos; they looked in my cab, then walked to the next guy," says driver Swara Singh. The other drivers, including the Ethiopian and Pakistani drivers, nod their head; they've all seen the customers walk by.

Kavneet Singh echoes the sentiment while speaking at a Muslim community center in Santa Clara about the death of Davinder Singh. "Police say it is not a hate crime, but when the shooter sees the turban and beard, it must have made it that much easier to pull the trigger."

Kavneet is a local organizer for Sikh Mediawatch and Resource Task Force (SMART) and is addressing an Asian, Latino and black audience that has convened to talk about civil liberties struggles since 9/11. SMART has taken steps to connect the attacks on Sikh cab drivers to this broader public dialogue.

Kavneet, a young health-care professional who can handle a microphone, is a bridge between the insular community of Sikh drivers and city officials and community activists. His unexpected transformation into a vocal activist has mirrored the evolution of the Sikh community from largely unknown to a target of racial slurs and violence to an organizing community.

Since the shootings, Kavneet and SMART have facilitated meetings between local and federal law enforcement officials, elected representatives and cab drivers regarding safety and protections. As a result of these efforts, city officials in Richmond are considering cab drivers' suggestions for installing video cameras and glass partitions in cabs.

Kavneet says San Jose police have even approached him about organizing training sessions on cultural sensitivity toward Sikhs for their officers.

The rapid response by some local agencies is the result of strategic organizing efforts by Sikh drivers and community members. On Oct. 5, Sikh taxi and truck drivers from Santa Clara and San Mateo counties held a meeting with San Jose politicians and state Attorney General Bill Lockyer at the Northside Community Center.

"They came with a simple question: Our people are being killed, how can you protect us?" said Judge Ron Del Pozzo, a criminal-division judge present at the meeting. Del Pozzo has been involved with the Sikh community since his days as a district attorney, when he would speak with Sikh cabbies and store workers who were victims of crime. "They are a very peaceful people," he says, "but that may also be the reason why they are being attacked--the criminal may think there will be no retaliation."

San Jose Sikh attorney Mohinder Mann has been involved in the discussion of how to better get law enforcement behind the Sikh community statewide. Both Mann and Del Pozzo were in Yuba City last week at a Sikh festival where Mann helped form a planning meeting for the Sikh Taxi and Truck Drivers Association, a statewide group that would act as a civic voice for drivers as well as help Sikh victims.

The association, which is now receiving calls nationally from other drivers, is coming up with innovative programs to bring protection to Sikh drivers. "We are currently researching a program to have police go in as undercover taxi drivers and let that be known widely." Mann hopes that a shooter would be less likely to perpetrate a crime against a driver if they thought they may be committing a hate crime or robbing a cop.

At the airport, drivers are starting to get called by the dispatcher. Nobody seems too worried right now about incidents. The most danger comes at night, when customers are finished drinking at clubs and bars, and the streets are dark and empty. Getting up, Swara Singh, a driver for three years, tells Kahn to translate his Hindi.

"I don't want to drive a cab anymore." His wife and children, he says, worry about him. "But I have to. If I work for someone else, they may make me shave my beard, and I won't do that."
---
Raj Jayadev is the editor of www.siliconvalleydebug.com, the voice of young workers, writers and artists in Silicon Valley and a project of Pacific New Service.
---
---
Send a letter to the editor about this story to letters@metronews.com.
---
[ Silicon Valley | Metroactive Home | Archives ]