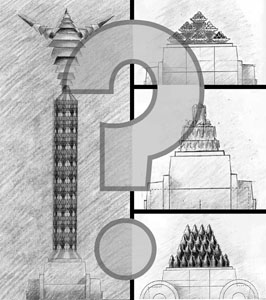 Floating Some Ideas: The city of San Jose is searching for a few good ideas for its next public-art showcase.

Design by Committee

The city of San Jose looks to the public for public-art ideas

By Michael S. Gant

AFTER SOME of the more public public-art disasters in San Jose (two words: Thomas Fallon), it makes sense that the San Jose Public Art Program is avidly soliciting citizen input on the front end for its next big project: a suite of 16 statues to be placed on the North Fifth Street entrances to the new Civic Center near the SJSU campus. The artist in charge is Andrew Leicester, a nationally noted creator of public art, including a massive man-made water course for Cincinnati (along with some whimsical sculptures of flying pigs meant to symbolize the city's heritage as a pork-packing town).

The theme is "A Parade of Permanent Floats," which means the sculptures are supposed to represent icons of San Jose and the Santa Clara Valley (from prunes to silicon chips) mounted on concrete bases that resemble the vehicles used to tote floats in the Rose Parade. The city is currently asking people to pepper them with suggestions for what these immobilized floats should say about the area's "past, present and future"--although maybe a giant pink slip symbolizing the valley's avalanche of layoffs isn't such a great idea.

The best notions will be hashed over by a panel of local historians, artists and community types. In order to participate, just pen a paragraph about your idea for a float and send it by fax (408.277.3160), snail mail (Lead the Parade, Office of Cultural Affairs, 365 Market St., San Jose 95113) or email ([email protected]). For more details, go to www.sanjoseca.gov and click on Lead the Parade. The deadline is Nov. 15.

In other art news, November is turning into Liz Storer month. At Santa Clara University's de Saisset Museum (through Dec. 7), California painter and printmaker receives her first major retrospective: "Theatrical Realism." And this week, two complementary exhibits open. Saturday, the Institute of Contemporary Art in San Jose begins "An Artist's Artist: The Legacy of Inez Storer," featuring works by Storer's students at the San Francisco Art Institute. The next day, the Montalvo Gallery in Saratoga adds to the mix with "Encore Narratives," an exhibit of her recent works. Storer will speak Nov. 9 at Montalvo at 3:30pm.

Meanwhile, at WORKS/San Jose, producer Jack Toolin presents the last of his Performance Night shows (he's been at it for 10 years). Performance artists Lauren Cruz, Jenny Makofsky, Joe Miller and Toolin himself will take the stage Saturday at 8pm at the gallery (tickets are $7/$10; call 408.486.2640).

For Openers

Opera San José follows up its very amusing season opener--Don Pasquale--with a pair of more dramatic short operas: Mascagni's Cavalleria rusticana and Leoncavallo's saga of the ultimate sad clown, Pagliacci. The twin-bill runs Nov. 8-30 at the Montgomery Theater. ... This Friday, the Tabard Theatre Company gets a jump on the holiday rush with the first Christmas production of the season: The Gifts of the Magi, a musical extracted from two O. Henry favorites: "The Gift of the Magi" and "The Cop and the Anthem." The show runs through Nov. 22 (call 408.979.0231 for tickets). ... In the lull between productions, City Lights Theater Company is hosting a fundraiser with Hit and Run productions. The show--Kill Vito--is an audience-participation murder mystery. The $50 admission includes dinner, entertainment and a silent auction. It all happens Saturday (7-10pm) at Vito's New York Trattoria, 90 Skyport Dr., San Jose (408.295.4200). ... Unfortunately, not opening is Suzanne Farrell ballet, whose Nov 16. date at Flint has been cancelled.

Top Notes

The Palo Alto Philharmonic presents the Palo Alto Chamber Ensemble and the Palo Alto Winds (plus piano) in a program ranging from Brahms to Hindemith, Saturday at 8pm at the Art Center Auditorium in Palo Alto (www.paphil.org). ... The California Youth Symphony, directed by Leo Eyler, kicks off its 52nd season with a program of favorites (Berlioz and Beethoven) plus a ringer by John Adams (Short Ride in a Fast Machine). The guest soloist is 15-year-old Palo Alto High School student Emily Wang. The concert is Nov. 9 at Flint Center (and repeats Nov. 16 at the San Mateo Performing Arts Center) at 2:30pm (cys.org). ... Big-name soprano (not from New Jersey) Emma Kirkby is the centerpiece of the Philharmonia Baroque Orchestra's "Splendori Italiani" concert Friday in Palo Alto (8pm at the First Methodist Church; 415.252.1288). Kirkby, accompanied by violinist Elizabeth Blumenstock, will sing selections by Vivaldi and Corelli.
---
Send a letter to the editor about this story to letters@metronews.com.
---
[ Silicon Valley | Metroactive Home | Archives ]