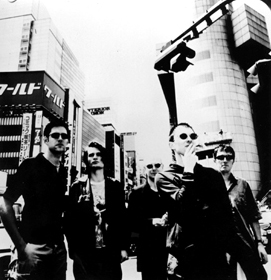 Photograph by Tom Sheehan

Karma Drone: Radiohead looks for signs of pop acceptance.

Ain't Nuttin' But a 'Now' Thang

'Now THAT'S What I Call Music' turns 10, provides insight into what was pop music

By Yoshi Kato

I STARTED UP the car engine and Radiohead's "Karma Police" poured out of the door speakers. Nothing revolutionary, except that it was a CD, not the radio. At the time I didn't own OK Computer, so I was puzzled. After quickly running through a list of possible sources, it finally dawned on me: It was a "Now" thing. I had picked up a promo copy of Now THAT'S What I Call Music! No. 1 on a recent trip to L.A., and Radiohead's elegiac single was spinning in the queue.

Now THAT'S What I Call Music, the long-running series that packages current hits, began in the mid-'80s in Britain, where it is currently on its 52nd edition. Now's concept bears a striking resemblance to what K-Tel used to do back in the day with albums like Fantastic! or Music Express, except with much less deadweight (or did you really like that Looking Glass song?). Now was an instant smash hit bestseller to economy-minded teens. Why buy 10 albums when you could get the "good songs" for the price of one?

From a popular-culture point of view, the series captures what was considered pop music during specific windows of time. The first American version of Now was released in 1998. Some of the usual suspects from that era--Hanson, Everclear, K-Ci & Jojo--made the cut. Harvey Danger's "Flagpole Sitta" and Fastball's "The Way" represent the alternative pop one-off hit contingent of the time, while the Spice Girls' "Say You'll Be There" and All Saints' "Never Ever" are culled from the pre­Britney/
Christina/Jessica/Mandy Brit gal-group era. But Radiohead? Maybe an intern with a deep Thom Yorke jones snuck that one in.

Driving around and listening through the rest of the CD, I realized that it could be rechristened Now THAT'S What I Call Hit Radio from the Late '90s! Or perhaps That's What We Called Music! A couple of the first volume's selections seem particularly dated--Aqua's "Barbie Girl" or Cherry Poppin' Daddies' "Zoot Suit Riot." Conversely, there are a few numbers that might be considered timeless in the future, including Radiohead's "Karma Police" and Lenny Kravitz's "Fly Away," which seem to have aged well.

That first Now album raises the issue of the disposable, "expiration date" vibe of some popular songs and the timeless nature of others. Some songs that were big once have found a second, remade life of late, with DJ Sammy and Yanou's reworking of Bryan Adams' "Heaven," and Mario's "Just a Friend 2002" remake of Biz Markie's tone-deaf classic both making Billboard's Hot Singles chart.

It also brings to mind the idea of standards, of songs that keep getting interpreted after their initial shelf life. A couple of criteria for standards are that they should be timeless (so Lou Bega's "Mambo No. 5" applies, since he was updating Cuban bandleader Perez Prado's song from 1951) and able to be performed using different arrangements (Travis and Fountain of Wayne's readings of Britney Spears/Max Martin's "... One More Time," for example).

Standards are common in the genres of jazz, folk, classic rock and show tunes. Since pop music is so "in the now," it's difficult to think of many of Now's songs in the long term. The latest in the Now series, Vol. 10, was released in July, and Vol. 11 is due out Nov. 19. Now #10 includes Kylie Minogue's "Can't Get You Out of My Head," Paulino's "Don't Say Goodbye" and B2K's "Uh Huh." Vol. 11 has Nelly, Aaliyah, Dixie Chicks, Hoobastank, Dirty Vegas and Coldplay.

At this point, it's still early to determine what will remain with us and what will elicit a slight chuckle in the near future. I can already hear Vanessa Carlton's "A Thousand Miles" played instrumentally--and even credibly--by an earnest bar band. Nickelback's "You Remind Me," on the other hand, just seems too post­Creed/pre­Hives/White Stripes/Strokes/Vines to be anything but a song of its time. Then again, maybe I'll play the entire Now #10 CD in four years' time and not realize where--or when--I am.
---
Send a letter to the editor about this story to letters@metronews.com.
---
[ Silicon Valley | Metroactive Home | Archives ]