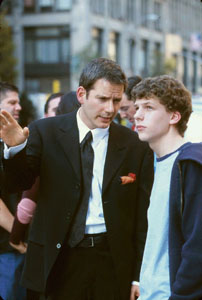 Tour Guide: Campbell Scott (left) teaches the seducer's art to his young nephew (Jesse Eisenberg) in 'Roger Dodger.'

The Ladies' Man

'Roger Dodger' offers advice on picking up girls

By Richard von Busack

FROM THE OPENING--a variation on the guys' roundtable discussion in Reservoir Dogs--to the end--a gentle, but bloody unlikely reconciliation--Roger Dodger is the softball indie movie par excellence. Director/writer/producer Dylan Kidd boasts of his technique of making sure his script got out there, even if it meant stopping celebrities on the New York streets. This former NYU film student flaunts some unpleasant ideas but softens them at the end. Roger Dodger is funny at times, yet slick isn't the word for it; compared to this slickness, a snail's belly is like sandpaper.

The action takes place in the night of a self-loathing ad man named Roger Swanson (Campbell Scott), who considers himself a kind of oracle. He's the one holding down the lunch-table court in front of admiring co-workers, massaging the idea that men are going to be superseded soon, naturally selected out. It's an implicit argument for misogyny.

Gore Vidal, discussing the blowhardiness of Henry Miller's autobiographical character, Valentine, in the Rosy Crucifixion trilogy, points out all the moments when Valentine is praised as a genius, "but nobody ever says, 'Valentine, you're full of shit.'" It's the same way here. The various characters listening to Roger pontificate might object to his crude tongue or his insistence on reducing strangers to cultural stereotypes, but no one ever seriously calls him on it. except his boss (Isabella Rossellini), whom Roger had been sleeping with until she ended the affair. Now, either love or injured pride have set him on the warpath. Roger's nephew, Nick (Jesse Eisenberg), a virgin dweeb from Ohio, shows up and asks for his advice on girls. Roger takes Nick around to learn how to create what they used to call "a snow job"--a good lying line as a way of "closing the deal" with the woman that very night.

Of the girls who stop long enough to listen, Jennifer Beals stands out with a story (improvised?) about losing her virginity. And there's also a fun lecture about the art of discreetly watching girls on the street. (Why do people go to the movies, if not for a chance stare at the opposite sex?) But the film follows a relentless three-act structure from singles bar to party to bordello from hell. The final third is overstated. Carol Kane in The Last Detail may have been too angelic for some tastes, but there was a polite remoteness in the way she took care of the virgin (Randy Quaid). Since then, there's been a serious lack of observation in films about the way prostitutes work. Mean whores don't prosper, and why would someone in the sex-work trade necessarily be less eager to fib than, say, a man in the advertising business? Kidd likes Roger's hustle, and returns him to his old self at the end of the movie. Roger's monologues are occasionally witty, as is the way he snatches an unsuitable knitted cap off his nephew's head (no doubt Nick had just bought it that day on St. Mark's Place). The film is amusing in minutes and taxing by the hour.
---
Roger Dodger (R; 105 min.), directed and written by Dylan Kidd, photographed by Joaquín Baca-Asay and starring Campbell Scott, Jesse Eisenberg and Jennifer Beals, plays at selected theaters valleywide.
---
---
Send a letter to the editor about this story to letters@metronews.com.
---
[ Silicon Valley | Metroactive Home | Archives ]