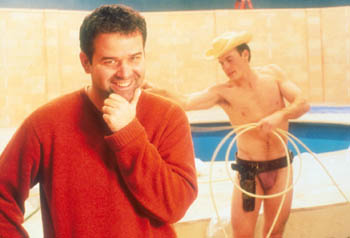 Sex Perplexed
A new porn writer presses the edges of the genre's flesh
By Kevin Killian
---
Words Made Flesh
By Thom Wolf
Idol; 224 pages; $10.95 paper
---
DESPISED by middlebrow critics, porn's focus has always been escape, into a field of vision so narrow it becomes physiological. So here I am to herald Words Made Flesh, by Thom Wolf--no, not the famous United States social satirist, but the pseudonym of a young Englishman who lives in County Durham.
U.K. porn, like its horror, has been until recently literally an insular enterprise, as censors have prohibited foreign porn and horror from arriving on its shores. Under Tony Blair this ban has been relaxed, to disconcerting results. Think of the changes in Italian cinema after the embargo of World War II ended, and the flood of American noir films began--in instant response the inundated Italians created neorealismo. It's kind of like that.
Words Made Flesh begins simply enough, when Glenn Holden, a bestselling thriller writer, starts a sequel to his most famous book, Everyday Hurts, sketching an outline in which the hero dies. What lifts Wolf's novel from bourgeois realism is the moment that Holden's characters come to life and start interacting with him. The hero of Everyday Hurts appears at Holden's doorstep, begging not to be killed. Holden of course refuses to believe that this is not some spoof, so "Matthew" proves it, by going to bed with him. Wolf uses the Pygmalion myth to explore the metatextuality of the writing experience and the ways in which our own sexual lives are conditioned by the fantasy apparatus of porn, and the pornographic apparatus of fantasy as social control.
If you're old enough to remember that movie Mannequin, then picture Andrew McCarthy as Holden and that awful Kim Cattrall as Matthew--had Pasolini been responsible for Mannequin.
Next, an evil character takes human form and begins menacing all Holden's friends, seducing them a la Terence Stamp in Teorema, vampirically sucking their energy to maintain his place in our world through extreme sex torture.
AT ITS HEART, Wolf's novel is a devastating critique of what critic Steven Marcus long ago called "pornotopia," and of the fiction impulse in general: beware of what you invent, because one's inventions are fatally flawed.
"Matthew," the sweet, sexually alluring boy, is compromised not only by Holden's intention to "kill him off" in his sequel, but also by whatever Holden failed to invent for him in the first place. In one astonishing scene, Holden shows Matthew a film version of the novel in which he first appeared. Matthew's complaint? That actor who plays me is nothing like me.
"Anthony Pierce," the Catherine Tramell (for Basic Instinct fans) of Words Made Flesh, knows literally nothing else but hurt and destruction, since that is all Holden allowed him in his conception. The fictional characters visit the real-life role models on whom Holden once based them, to compare their lineaments with the originals. Anthony muses that he's like Patrick, his real-life model, but better-looking and younger.
In another scene, Holden and Matthew, watching a porn video, turn down the sound, and the sex sounds from another room synch oddly with the filmed sex. Though they're in fear of their lives, this combination arouses them.
In Words Made Flesh, a new Oscar Wilde is born, or rather our present-day revision of Oscar Wilde finds a new avatar. I won't spoil the end of the book, but suffice it to say that Wolf turns his cat-and-mouse game into an even more existential dilemma. It's the kind of book Henry James might have written had he taken a dozen hits of X while listening to the Brothers in Rhythm mix of Kylie Minogue's "Too Far" while Robert Mapplethorpe pierced his nipple.
[ Literary Quarterly | Silicon Valley | Metroactive Home | Archives ]