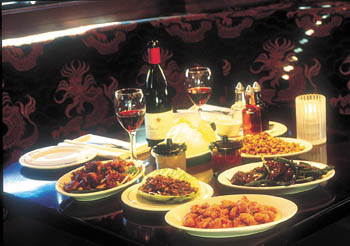 Photograph by Michelle Dudley

Glistening Goodies: Family-style dining on a single-person budget.

Chang's China Caper

Szechuan meets Vegas, and Chinese food meets chocolate, at this excellently weird bistro

By Christina Waters

ONCE IT WAS a mighty cherry orchard, now it's a mighty spectacular place to take a date. The P.F. Chang's China Bistro concept--great wines, freshly made Chinese classics and attractive setting--began several years ago in Scottsdale, Ariz., and has spread all over the sexiest spots in California. Ours opened only a few months ago and already the valet parking guys have their hands full.

P.F. Chang's has atmosphere to spare. Enormous stone horses, a la the Forbidden City, frame the entrance. Hand-painted murals depict life during the Ming Dynasty. Gorgeous booths and sensuous melon-hued walls line the far edge of the high-ceilinged space, which manages to be at once showy and soothing, despite the considerable noise level.

Connie and I, accompanied by teenage vegetarian Kato, endured the brief wait for a table--this place is popular--sipping well-made Mai Tais ($6.25) and a glass of excellent Emmolo Caymus Sauvignon Blanc 1999 ($8.25). Chang's offers a whopping 50 vintages by the glass.

When offered the chance for a table outdoors on the curved patio, we took it. Dining a few feet from the traffic of the El Camino Real was a novel experience, but it quickly grew on us, and heat lamps eased the evening chill. Expertly trained, the staff made sure we had everything we needed. Our server mixed the classic Szechuan dipping sauce of chile oil, rice vinegar, mustard and soy right at our table. Even the prices made us feel pampered, and before you could say "kung pao" we began dipping vegetable dumplings ($4.95) in the fiery sauce and getting an idea of what the huge kitchen could do.

The dumplings--packed with shredded veggies and loaded with flavor, not watery like some all-vegetable potstickers can be--were delightful. Ditto the red-sauced wontons, filled with finely minced shrimp and pork and luscious with a zippy chile pepper sauce ($5.95). All these vibrant Szechuan flavors went beautifully with my crisp white wine.

But the entrees were even better. Kato--armed with a side of cold cucumber salad ($4.95)--was already well into an order of Ma Po Tofu ($6.95), composed of crispy stir-fried tofu, joined by soy, tomato, chiles and fresh broccoli. The effect was striking. Connie loved her order of shrimp tossed in more of those wonderful hot chiles and lots of orange peel--a bountiful dish for only $12.95. My order of complexly seasoned Chicken Chow Fun, done Szechuan style with preserved vegetables, cabbages, lots of minced chicken and the perfume of Szechuan peppercorns, was splendidly authentic and delicious. The fat, thick chow fun noodles might just be the ultimate comfort noodle.

Dining family-style, we enjoyed the way all the dishes contrasted and harmonized. The orange peel shrimps were particularly good joined with a bite of chow fun noodles. It was an impressive dinner all around, but P.F. Chang's had more in store for us. This place does luxurious Western desserts, and given the hedonism of the surroundings, that's not a huge surprise. It's not your average Chinese bistro, however, that offers espresso and New York-style cheesecake for dessert.

P.F. Chang's is not, as you've already guessed, your average anything. Kato insisted that we all share a certain dessert when he heard it described as "The Great Wall of Chocolate." And sure enough, this six-layer, chocolate chip studded, dense, delicious creation lived up to its name ($6.95). Beyond chocolaty, it somehow made perfect flavor sense with the spicy cuisine we'd enjoyed that evening. Sweet chases heat in the best possible way. So there you have it. P.F. Chang's China Bistro is an unexpected dining concept that works perfectly for the center of Silicon Valley. Great wines, upbeat setting, smart staff and freshly prepared dishes priced for the wallet-conscious.
---
P.F. Chang's China Bistro
Address: 390 W. El Camino Real, Sunnyvale
Phone: 408.991.9078
Hours: Daily 11-11; until midnight Fri and Sat
Cuisine: Chinese regional classics
Full bar; outdoor seating
---
[ Silicon Valley | Metroactive Home | Archives ]