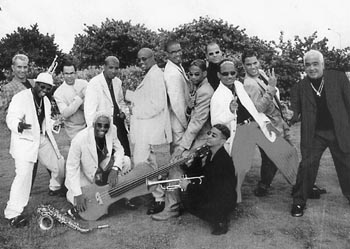 Perfect Timba: La Charanga Habanera brings its energetic show from Cuba to SoFA.

Charanga And Change

Cuban bands La Charanga Habanera and Bamboleo make for a stunning--and landmark--double bill in downtown San Jose

By Marianne Messina

'I'M NOT A POLITICIAN," David Calzado of the band Charanga Habanera said in a recent interview. "I am just an artist who wants to make music; nothing more, nothing less." He had just come from playing the Cristal Nightclub in Miami Beach, Fla. Outside the club, a small group of los exilos, those who have fled Castro's Cuba over the years, held a protest.

"I'm not blind," the 42-year-old bandleader admitted. "I know what the situation is, and I know the mixed emotions many people feel. I saw the people outside when I drove up tonight."

"The situation" is the fact that no matter how long ago the exodus, for many Cuban exiles, emotions are still raw. On one hand, they feel anger toward Fidel Castro, his government, and the losses they endured. They believe that money in the hands of Cuban nationals, like Calzado and his young band mates, indirectly supports a dictator. On the other hand, many feel a sense of longing for a lost past and way of life.

Promoter Hugo Cancio, who put together Calzado's current U.S. tour, is no stranger to the tension surrounding his Miami shows. Only a few years ago, Cancio was promoting soldout appearances for 76-year-old torch singer Rosita Fornes when a Molotov cocktail thrown through the club window effectively shut down the show.

"The numbers are down now," Cancio says, referring to the protesters outside the Cristal Nightclub. "Where there used to be 200, there are 10 to 12." With help from the ACLU, Cancio took Dade County to court after an ordinance attempting to curtail dealings "directly or indirectly" with Cuba hit the Miami business community hard. "We lost the Latin Grammys; we lost the Pan American Games," Cancio recalls.

The court's ruling, which struck down the Dade County ordinance, brought about a changed atmosphere, according to Cancio. "It had a psychological effect on the community, even my family and friends." Before the ruling, Cancio's own family wouldn't attend his shows because of a sense that they'd be doing something wrong, even illegal.

"Now we're having trouble with the exiles in Puerto Rico," Cancio muses from his cell phone on the way to Puerto Rico with La Charanga Habanera.

Streetwise: The sophisticated sounds of Havana nightclubs can be heard in the creative mix of Bamboleo.
Cancio's the kind of human avalanche who goes for what he loves and what he believes in and doesn't spend much time looking back. As La Charanga's current tour brings them through San Jose, San Francisco and Santa Cruz, Cancio will be acting as translator (David Calzado doesn't speak English), manager and fan. "I'm betting all my time on Charanga Habanera," Cancio says. "These guys are it. Live performance-wise, La Charanga creates the most--they're a show, a spectacle."
And audiences seem to agree. By most reports the band inspires extreme outbreaks of dancing in the aisles, on the dance floors or pistas. La Charanga's show includes young, high-energy breakdancers, a row of handsome, if not risqué, singer/rappers, a prodigious percussion section, the innovative pianist Tirso Duarte, and costumes ranging from traditional African garb to Nikes, baggies and sweats. Though the music has its roots in salsa (Calzado made his first fortune, by Cuban standards, playing the likes of "Guantanamera" on the French Riviera), there's also a hungry eclecticism about it that reflects Cuba's new, expectant generation.
Typically, this new breed of salsa hybrid, called timba, beefs up the rhythm, multiplies the vocals, pumps in piano ( which can sound an awful lot like steel drum), pinches some American hip-hop or rap, and adds brass. To keep the energy high, Calzado likes his musicians to be under 30. Many are in their teens. Yet they are all music-school-trained, compliments of the Cuban revolution.
The Cuban people have voted La Charanga Habanera the No. 1 band in Cuba two years in a row, probably in part because the youthful spiritedness resonates with the mood of the day. Yet these very youthful ingredients can make life sticky for a band in Cuba.
After an infamous 1997 concert, La Charanga was subject to a government ban. For six months, they could not play live, nor could they be heard on public airwaves. Some reports claimed it was due to subversive lyrics which alluded to Castro as an "old mango." Others pointed to the "lewd" Elvis-like gyrations of La Charanga's then-lead singer, 18-year-old Michel M. Marquez.
As much as musicians like Calzado try to be apolitical, they can't help but be painfully aware of the vicissitudes of politics.
Before 1992, "possession" of dollar bills was cause for arrest. In 1993 when the dollar was legalized, foreign record labels poured into Cuba, along with clubs for foreign tourists that used dollars as a medium of exchange. Such clubs, where the cover charge could equal a month's pay for the average Cuban, became lucrative venues, not to mention small international marketing ops, for upcoming Cuban bands. And then Castro ordered all the dollar clubs closed. Calzado reports that even today only a handful of these clubs have reopened.
In this political context, where competition is high, where the world is in sight, where opportunity has not caught up with expectation, it stands to reason the new bands would succumb to a lot of internal tensions. In 1998, La Charanga Habanera went through a famous "breakup" in which Calzado fired the whole band (reputedly over money issues).
Within a year, a splinter group went on to become Charanga Forever and Calzado had assembled a newer, younger band freshly picked from the state-run music school. When asked if his band has ever played with Charanga Forever, his emphatic "Nunca" (never), resounded loud and clear. "And I never will," he added.
Like La Charanga, Bamboleo, the band touring with them in the Bay Area, went through an almost complete overhaul before settling on its current lineup. Bamboleo's sound has managed to stay consistent, thanks to another bandleader with a strong sense of vision, Lázaro Valdés. His band is unique in that it features two female singers, the svelte and sultry Vannia Borges and Yordamis Megret. And Bamboleo's drummer, Ludwig Nuñez, is famous for using a standard (non-Latin) drum kit. Bamboleo has extremely tight choreography.
They should; when they're in Cuba they practice eight hours a day. Every interaction is rehearsed. They have a stock of intricately structured percussion breaks which the bassist or Valdés himself can signal by holding up fingers. Compared to La Charanga, Bamboleo's sound is a lot smoother, more often suggestive of mambo, with jazz touches and some interesting sounds coming off the electronic keyboard.
Until this year, Cuban bands have found it hard to get heard beyond Cuba, partly because the Latin sector of the record industry has its share of embittered exilos. Bamboleo is the first timba band to court a major American management company, TBA Entertainment out of Nashville, the company that handles Brooks & Dunn and Jaci Velasquez. Everyone in the Latin music world is watching, from record labels to promoters like Hugo Cancio, who have taken the initiative and the risks to get Cuban music out in the open. Cuban musicians themselves are hoping this union might be the one that negotiates the thorny U.S./Cuban labyrinth. Everyone is ready for the new horizon that upbeat Cuban singer Manolin sings about: "Everyone Friends, Cubans here and there/It doesn't matter where you are/Times change, you're going to see/Now I have friends in Miami." Of course, Manolin was officially reprimanded for those lyrics, but with any luck, they'll turn out to be prophetic.
---
La Charanga Habanera and Bamboleo perform Thursday, Nov. 9, at 8:45pm, at a show sponsored by Metro, at the Usual, 400 S. First St, San Jose. Tickets are $20. (408.295.7374 or www.ticketweb.com)
---
[ San Jose | Metroactive Central | Archives ]