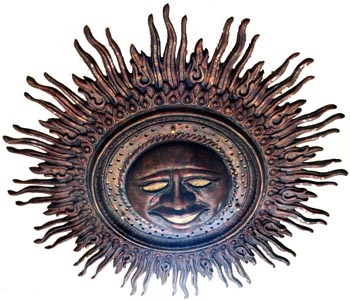 Pacific Rim and Then Some
An eclectic dining room in San Jose's Japantown neighborhood opens up new culinary territory
By Christina Waters
TERRIFIC DESIGN INSTINCTS and a willingness to explore Pacific Rim fusion cookery led Kathy Sparacino and Tom Aurand to their culinary destination in a former sushi stronghold last year. Keton Restaurant, located in the heart of Japantown, matches exciting interiors, finessed by talented chef Sparacino, with an exuberant menu. Sunburst chandeliers and subtle wall sconces adorn a lavish banquet room in back, while the front room is cozily embraced by a small wine bar and Sparacino's creative wall treatments. Our small group felt at home sampling the eclectic Keton menu last week. Eclectic may be too mild a word for a menu that includes pork piccata, spring rolls, mushroom ravioli, sake-marinated sea bass, and hot and sour soup. Glasses of Carmanet Merlot ($7.50) began to open nicely as we considered options. A few more exciting wine options might also be nice. Emerging gourmets Matt and Keith grazed the possibilities. Vegetarian Keith decided on an appetizer of Portobello ravioli ($5.95), and Pan-Fried Noodles with Veggies ($9.95). Chef Sparacino makes her meatless soup and sauce broths generously vegetarian-friendly. Matt opted for sophistication with an appetizer of Seared Ahi ($9.95) and an entree of Lanai Chicken Breast ($11.95). The rest of us split delicious house Potstickers ($5.95) and entrees of Pan-Seared Sea Scallops ($15.95), Coconut-Crusted Prawns ($15.95) and Nut-Crusted Brandy Beef (15.95). Crusting is big at Keton--named for a Hawaiian deity--and so is lavish use of coconut milk, ginger and cilantro.
Cutting to the chase, let me strongly advise saving room for dessert when dining at Keton. Easier said than done, since entrees are stupendously large.
Appetizers were presented on plates draped with chrysanthemum flowers and petals. "They're seasonal," Karin observed approvingly. Dipping sauces were plentiful--a delicious red pepper aioli with the creamy raviolis, wasabi and garlic-soy with the acreage of ahi, then plum sauces and the specialty "coco-peanut" sauce.
We all loved the potstickers, filled with pork and veggies and delightfully juicy, dredged in a sauce of garlic, cilantro and ginger. Entrees, however, assumed such epic proportions as to prompt chuckles of disbelief. My tender scallops were all but lost, visually as well as flavorwise, in a murky Sargasso of mushrooms, zucchini, chiles and ginger, all on top of an atoll of pea sprouts. Karin's crusty, crunchy, fried nuggets of beef were similarly surrounded by flowers, atop a botanical garden of sprouts. Another flash-fried entree of succulent prawns--encrusted with toasted coconut--proved both sweet and moist. A gado gado-style dipping sauce exhausted taste buds with sticky coconut sweetness. Wonderful for several bites, it proved just too dominant and cloying for a huge entree.
Keith enjoyed a side dish of house rice, laced with impeccably moist and chewy whole grains. His noodles, alas, were swamped by the ubiquitous coco-peanut gravy, bearing zucchini. Matt's chicken was excellent under its thick topping of chopped pineapple. When it comes to using sweet fruit as an entree garnish, less is more. The unusual side dish choice of mashed red potatoes topped by a sprig of fresh rosemary expanded the Pacific Rim all the way to the Mediterranean. There was even a square of well-constructed quiche on most of our plates--another unusual addition to the Pac Rim concept. The message here is such a mixed bag that it may leave local diners a bit confused.
Keton's desserts reward those who can manage to complete--or have boxed to go--their entrees. Along with excellent decaf, the big hit at our table was a long wedge of creamy, textbook Key lime pie--the tang of lime zest sparked the perfect counterpoint to Asian spices and savories. A housemade cheesecake topped with fresh ripe mangoes and mint leaves was excellent--with two slices of mango prettily arranged on the attractive heart-shaped plate. Matt's chocolate and raspberry mousse cake drove him to moans of delight, and he didn't really want to share. But we made him. And we all took home enough for another entire round of Pacific Rim flavors.
---
Keton Restaurant
Address: 230 E. Jackson St., San Jose
Phone: 408.29.KETON
Hours: Mon-Fri 11:30am-2pm; Mon-Thu 5-8:30pm, until 9:30 Fri and Sat
Cuisine: Pacific Rim
Full bar and banquet facilities
---
[ San Jose | Metroactive Central | Archives ]