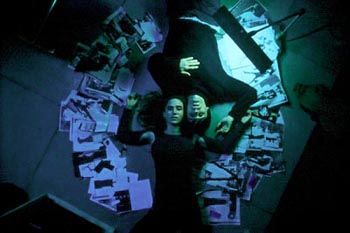 Waking Nightmare: Jared Leto and Jennifer Connelly fight heroin addiction in 'Requiem for a Dream.'

Dark 'Dream'

Darren Aronofsky's 'Requiem for a Dream' offers no dreams to mourn

By Richard von Busack

EVERYONE SHOULD GO SEE Requiem for a Dream, if only to experience how good it feels when you get out of the theater. I've never been among a church congregation, fleeing a house of worship, that evinced such mutely eloquent relief: "Trees, sunlight. ... look, we have come through!" That's the emotional reaction to Requiem for a Dream. The intellectual one is that director Darren Aronofsky has a gift for shock and not much more than that. Making an audience squirm in the year 2000 isn't easy, but Aronofsky (Pi) has done it. He's taken novelist Hubert Selby Jr.'s dire pulp and squeezed it hard. Watching Requiem for a Dream feels like a kick in the stomach. But sometimes a kick in the stomach is only a kick in the stomach.

Aronofsky's film parallels the diet-pill and television addiction of Brighton Beach widow Sara Goldfarb (Ellen Burstyn) with the heroin trouble of her son, Harry (Jared Leto). He's a junkie in the making. Heroin also claims Harry's friend Tyrone (Marlon Wayans, pretty good considering how little he has to work with), as well as Harry's girlfriend, Marion (Jennifer Connelly). Can you call a movie that begins with a son stealing his mom's TV scenes of the decline of a dream? At least, I mean, a dream you could sing a requiem for?

The scenes of languid courtship between Harry and Marion are blue-tinted and aquatic, a refuge from the shocks later, and Connelly is purring and beguiling, even when painted up like a Berlinese damned-girl auditioning for Kraftwerk. Leto--pretty, tidy and uninvolving actor that he is--isn't up to her mesmeric pull. The other half of the narrative-literally half, sometimes, since Aronofsky likes split-screen--is Sara going insane under the influence of uppers while her son freezes out into a junk-famined winter. The Kronos Quartet performs Clint Mansell's ominous music for this catastrophe.

At first, Burstyn is touching, showing the warmth and care, not the customary grotesquery, of a Jewish mother in the movies. Then she goes ballistic--from yenta to Whatever Happened to Baby Jane? to Bride of Frankenstein and beyond. No ordinary Oscar could reward the overdone hideousness of Burstyn's performance--you'd need one as big as a lawn statue.

Aronofsky's technical flash, these long Scorsese-seizures he's woven into a movie, gives Requiem for a Dream punch. Yet as a director, he's disgustingly obvious. He presumes we won't know that a junkie is in trouble until we see that his arm's gone necrotic, that we won't know that a girl's in for it until we hear the heheheheh snickering of the pimp. If Requiem for a Dream were really a great movie we'd learn something beyond "drugs kill." Aronofsky's next film is the new Batman: Year One movie. It's certain he'll restore some fright to the figure of Batman. It's just as certain that here he's dealing with material that's not much deeper than Batman, and a lot less fun to watch.
---
Requiem for a Dream (Not rated; 100 min.) dircted by Darren Aronofsky, written by Hubert Selby Jr. and Darren Aronofsky, based on a novel by Hubert Selby Jr, photographed by Matthew Libatique and starring Ellen Burstyn, Jared Leto and Jennifer Connelly, plays in Palo Alto at the Aquarius and opens Friday at the Camera One in San Jose.
---
[ San Jose | Metroactive Central | Archives ]