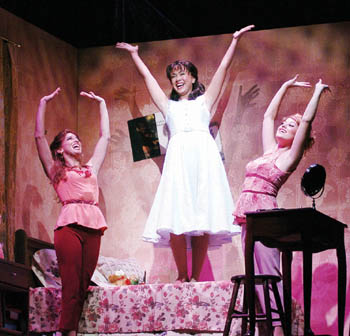 Photograph by David Allen

American Girls: Lorin Latarro (left), Diana DeGarmo (center) and Kelly Black feel pretty in 'West Side Story.'

West Side On the Far Side

AMTSJ's production of Bernstein/Sondheim classic takes time to bloom

By Marianne Messina

THE CURRENT American Musical Theatre of San Jose production of West Side Story does blossom, but it's a late bloomer—in human terms, right around retirement age. Until then, Andrea Bechert's scenic design rules. The three-story brick buildings, their lattice work of iron fire escapes, the shade-drawn, back-lit windows, the clothes-strewn lines far aloft—this set demands exciting and far-flung action. Instead, the energy level of the ensemble dances is no match (with the exception of "America," undeniably comical and in your face downstage).

Otherwise, everything from costumes to staging and blocking seems to work against the power of the Sondheim/Bernstein score: the confused tone of the Jets gang as they interact with local cops and shopkeepers (are we the Bowery boys or the Hardy boys?), Aaron Ramey's (Tony) hands without a plan (oh, for a light post to dance with), costumes that scarcely differentiate one gang from the other and seem to have lost the '50s gang boys to front-row-geek college freshmen.

Even Diana DeGarmo, who truly has the star power that made her an American Idol finalist, got buried in early parts of the show due to strange backgrounding/foregrounding decisions. As Maria, DeGarmo sings "I Feel Pretty" away up high in a tiny cutaway bedroom crunched between two friends, so she has to resort to climbing on the bed to make any large physical statements. And in "Somewhere" (staged as a ballet), DeGarmo and Ramey stand off in the background like The Nutcracker's Clara and Prince watching dancers who are not exactly Sugar Plum Fairies. Why director Stephen Bourneuf keeps his strong elements tamped down and far removed is a mystery.

Still, the music comes through like a voice in the wilderness. You can hear the essence of 1950s "gangst" in the jagged, combatant brass and unfriendly melodies (the infamous tritone). When Anita observes: "You saw how they dance, like they have to get rid of something ... too much feeling," you probably didn't see it in the dancing; you heard it in the music. But at last, in the "A Boy Like That" and "I Have a Love" duet, the heart of this musical begins to beat.

This challenging and beautiful duet throws the production's two standout talents, DeGarmo and Joann M. Hunter (as Anita), into incredible counterpoint—one voice midrange and forceful, the other high, sweet and clarion. Anita has lost her love, Bernardo (Michael A. Balderrama), at the hands of Tony, Maria's love. Anita sings her rage, Maria sings her grief, and they come together in the shared understanding of what it is to love. The cleverly woven textures in this music, the two women's magnetism (Hunter also stands out in the dance line), and the story itself force a breakout moment, and the scenes that follow are all energized.

The fights come alive; the gang dance has bite; it's the West Side Story you came for. In the climactic scene, DeGarmo's touching, commanding vocals (not to mention a pretty good acting turn) bring this production to a strong, stomach-clenching finish. Since the San Jose Center for the Performing Arts is the venue where you have to climb over dozens of people to get to your seat, arriving just for the last half hour of this show is a bad idea; otherwise I'd recommend it.
---
West Side Story, an American Musical Theatre of San Jose presentation, plays Tuesday-Friday at 8pm, Saturday at 2 and 8pm and Sunday at 1 and 6:30pm through Nov. 13 at the San Jose Center for the Performing Arts, 255 Almaden Blvd., San Jose. Tickets are $46-$73. (1.888.455.SHOW)
---
---
Send a letter to the editor about this story to letters@metronews.com.
---
[ Silicon Valley | Metroactive Home | Archives ]