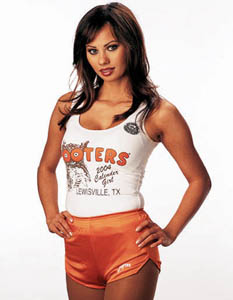 Biter

Give a Hoot

A Biter contributor gets something off his chest

By Jim Harrington

IT'S TIME that I came out of the closet and announced to the world that I'm a "Hootie." That doesn't have anything to do with Blowfish. It's the term I've conceived for myself and others like me who are addicted to the cheesy restaurant chain known as Hooters.

I've visited Hooters in 19 states and three countries. More than that, I've gone out of my way to do so. I dropped $80 to take a taxi from my hotel to a Hooters just outside the Kansas City limits. I spent the better part of a day transferring between buses to get to the Las Vegas Hooters. I conned my best friend into stopping for beers at the Hooters in Toledo on his wedding day (amazingly, his wife still speaks to me). And I nearly blew it with a lady when I insisted that we stop and pick up T-shirts at the Hooters in Nottingham, England.

Hooties are everywhere. Just the other day I met a fellow Hootie—let's call him Steve—at the newly opened Hooters in Dublin, Calif. He bravely confessed to me his story. Steve takes his Hooters fetish to Trekkie proportions by inflicting it on his children. Steve's family tradition is to bring the newborns to the local Hooters and have the kids' pictures taken with the famed Hooters girls. That might lead to some bizarre emotional scarring down the road when Steve's offspring gather around the family album to debate the quality of their Hooters experience. "Our first child was born in Houston, and the Hooters girls in Houston are hot," he explains. "Our second child was born while we were living in Milwaukee, and those [Hooters girls] are dogs."

While Hooties are everywhere, actual Hooters locations didn't exist in Northern California until fairly recently. When the first local outpost opened at San Francisco's Fisherman's Wharf in 2003, it seemed like it might be an isolated incident, given the touristy nature of the setting. But in May, the second Bay Area location opened in suburban Dublin. Despite objections from the City Council and local watchdog groups, Hooters Dublin was greeted by huge lines of folks ready to devour the "nearly world famous" chicken wings and check out the all-female waitstaff dressed in the ridiculously small orange shorts and tight, white tank tops.

Hooters Dublin quickly established itself as an upstanding business citizen, displaying plaques proclaiming its membership in both the Livermore and Dublin chambers of commerce right next to pictures of Hooters girls cozying up to local celebs like the Oakland As' Vida Blue, Mark Mulder and Bobby Crosby. Given the success of the Dublin restaurant, it surely won't be long until Hooters captures even more ground in the Bay Area.

That's not necessarily a good thing. Like a binge gambler that visits Las Vegas a few times per year, it's best if I keep my addictions at arm's length. Munching roughly a zillion calories via a buffalo chicken sandwich and jalapeño chili cheese fries each time I entered a Hooters seemed OK because it only happened when I journeyed to such hot spots as Appleton, Wis., or Gulfport, Miss. The fact that I can now get a fix of "Three Mile Island" wing sauce by taking a 35-minute drive from my house is almost too much for me to handle.

Yes, I'm a Hootie. And I'll see you at the meetings.
---
Send a letter to the editor about this story to letters@metronews.com.
---
[ Silicon Valley | Metroactive Home | Archives ]