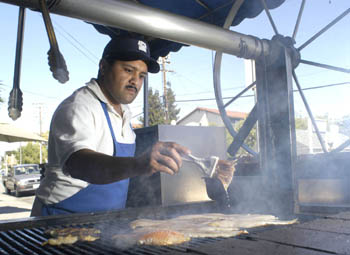 Photograph by Paolo Vescia

Brush With Fame: For 35 years, Race Street Seafood Kitchen has hooked customers with its fragrant grill.

Quite a Catch

Race Street Seafood Kitchen just keeps on reeling them in

By Stett Holbrook

GIVEN THE health benefits, variety and great taste of seafood, most of us would like to eat more of it. Trouble is, the good stuff is often expensive, and that makes fresh fish something of a splurge. What is needed are more seafood joints, bargain-priced, straightforward places that dispense with the white tablecloths and waiters and just focus on the fish. What's needed are more places like Race Street Seafood Kitchen.

The restaurant is located in the same space as San Jose's venerable Race Street Fish and Poultry market. There's something reassuring about dining on fresh-cooked fish while you gaze upon fresh uncooked fish in the market's display cases. The family-owned market has been around since 1947, and they know their fish. The business expanded into the wholesale market in the 1990s with Race Street Foods. The restaurant, which is a separate business from Race Street Foods but is owned by the same family, opened in 1969. When it first opened, it was called Mr. Chef's Fish and Chix, but became Race Street Seafood Kitchen in 1981 to better reflect the fishcentric menu. There are still, however, a few chicken items on the menu.

The no-frills eatery covers all the bases. You order at the counter, and then the cashier appends your order to a metal clip that's attached to a long, horizontal wire. With a flick of the wrist and a hearty "order in," your order whizzes down the wire to the cooks. Pretty cool. While it's not necessarily the most healthful way to serve fish, fried is the most popular option here. Race Street Seafood Kitchen's canola oil-filled fryer works overtime, turning out fish and chips, fried oysters, fried shrimp and fried scallops. Race Street also serves a great New England clam chowder ($3.19 for a bowl). It's creamy and rich, but not too thick, and filled with lots of meaty clams. It won a gold medal at the state fair in 1981. Standards like shrimp Louie ($7.79) and shrimp cocktail ($3.49) are well represented. The shrimp and celery salad ($1.99 for a half-pint) was an unexpected winner. It's nothing fancy, but I liked the refreshing blend of bay shrimp, sliced celery, green onion and mayo. But what really makes the restaurant stand out is its long list of fresh grilled fish.

The brick-encased mesquite grill outside the restaurant tells you that they mean business. Walking up to the restaurant and catching a noseful of fish on the grill accelerates my appetite. The grill master bastes and grills the fish and then passes orders through a small window into the restaurant. At any given time, there are nearly a dozen kinds of fish and shellfish available—salmon, red snapper, scallops, prawns, halibut, ahi, catfish, etc. The fillets are sprinkled with a salty, slightly spicy barbecue rub. It's a simple preparation that allows the fish to speak for itself. The generous portions are served with rice and steamed vegetables for roughly $8 to $9. It's a real bargain.

But several fried-fish dishes I tried didn't fare as well. The fish in the fish and chips (two pieces for $5.99) was too heavily breaded and sat under the warming lamp too long. But the chips were good. The same went for the fried-fish sandwich. With the big, untoasted spongy roll and heavily breaded fish, it was more of a bread sandwich with a little fish on the side.

Overall, the quality and value of Race Street Seafood Kitchen explains the crowds of blue- and white-collar diners who queue up at the restaurant. So what if you're eating off disposable plates with plastic forks and have to bus your own table? Local folks know a good joint when they find one.
---
Race Street Seafood Kitchen
Address: 247 Race St., San Jose
Phone: 408.287.6280
Hours: 10:30am-8pm Mon-Fri; 10:30am-7pm Sat; closed Sun
No alcohol
---
---
Send a letter to the editor about this story to letters@metronews.com.
---
[ Silicon Valley | Metroactive Home | Archives ]