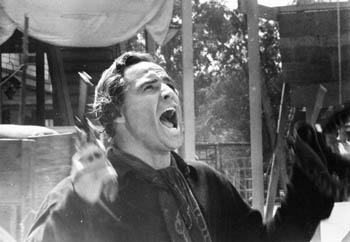 Brando Recognition: 'One-Eyed Jacks,' the only movie Marlon Brando directed, proved to be a heartbreaker for the star.

Bastards

'One-Eyed Jacks' and 'Hud' show two sides of the dystopic Western

By Richard von Busack

THE WESTERN, with its starkness and its simplicity, can be made for primal conflict—the wrestling of a son against his father, for example. "The movie that seems to have broken his heart," critic Peter Bogdanovich calls the 1961 Western One-Eyed Jacks, the only movie Marlon Brando directed. "My part is that of a man who is intuitive and suspicious. ... He has a touch of the vain and childish and disproportionate sense of virtue and manly ethics" (quoted in Brando by Robert Tanitch). One-Eyed Jacks was a troubled, overbudget production, with a scheduled six-week shoot taking six months. The actor delivered a cut that was four hours long, finally chopped to two hours. Seeing those numbers and Brando's troublingly ambiguous description of his character Rio, it would seem that the path Brando was traveling was leading to Kevin Costner-style excess, like The Postman or Waterworld.

But unlike Costner, Brando had a sense of humor about himself. In the first shot, we see him crouched, apishly eating a banana and idly checking to see if one-half of the peel weighs more than the other on an old-fashioned balance scale. The camera pulls back, and we see that he is surrounded with fresh corpses from the bank robbery he has just pulled. It is just about his last serene moment in the movie. After the getaway, Brando's Rio is betrayed by his partner, "Dad" Longworth (Karl Malden). "Dad" strands Rio, leaving him for the posse to find. After languishing five years in a Mexican jail, Rio tracks his partner down to the Monterey coast. His overwhelming desire for revenge is halted by the sight of Dad's stepdaughter (Pina Pellicer, an elfin actress with a smoky, purring voice).

Brando had director Stanley Kubrick fired from the film and took over himself. Yet the wide VistaVision screen, the deliberately posed compositions and general cold amorality of this movie make One-Eyed Jacks a worthy entry in a Kubrick retrospective. The Death Valley and Monterey locations are dramatic, lonely. Every prospect pleases, and the men are vile, particularly self-described "wad of spit" deputy Slim Pickens, son-of-Satan bandit Ben Johnson and half-sane town drunk Timothy Carey.

One line explains the terrific title. When Rio corners his former partner, he says, "You're a one-eyed jack around here, Dad. I seen the other side of your face." It was Brando who was the great concealer. He took a child's pleasure in covering up, in muttering his words. He even filmed a few scenes in untranslated Spanish, probably to hide the meaning further. One-Eyed Jacks, named after the wild card, isn't about cowboy heroism. It's about gambler's guile—bluffing, lying and keeping the truth out of your face.

One-Eyed Jacks is double-billed with Hud, a faster-moving modern-day Western. The bad-seed son Hud (Paul Newman) refuses to toe the line for his honest rancher father (Melvyn Douglas); he spites the old man by lusting after their housekeeper (Patricia Neal, who won the Best Actress Oscar).

You'd be hard-pressed to decide who was prettier, or the more wrong: Rio, with his fine red serape like a cape and his spurs tinkling like wind chimes, or the blue-eyed bastard Hud.
---
One-Eyed Jacks plays Friday-Sunday at 7:30pm (plus 2:55pm Saturday-Sunday) with Hud, 5:25pm and 10:05pm, at the Stanford Theatre, 221 University Ave., Palo Alto. (650.324.3700)
---
---
Send a letter to the editor about this story to letters@metronews.com.
---
[ Silicon Valley | Metroactive Home | Archives ]