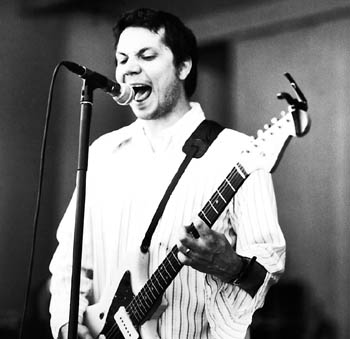 Devil Doll: Wilco's Jeff Tweedy has battled migraines and assorted demons.

Dude, Where's My Guitar?

Wilco plugs in on its latest record, 'A Ghost Is Born'

By Jaime Everett

ATTENTION, guitar fans of the South Bay! The guy with the hollow-body Gretsch that's never been played (shades of Nigel Tufnel, bro) and the bearded front-row fanatic who brings opera glasses to check Jay Bennett's fingering technique during solos—quit whining about pedal steel, mandolins and country shuffles: Wilco brought the guitars back.

OK, so technically the guitars never left, but after spending two albums—1999's Summer Teeth and 2002's Yankee Hotel Foxtrot—feeding the head with vintage keyboards, synthesizers, loops, found sounds and various and sundry other sonic googahs, the current A Ghost Is Born finds the Chicago band opening up the sound, peeling back some of the layers of production and escorting the lowly guitar back to the fore.

It's a surprise move for a band that fired resident guitar slinger and studio mad scientist Bennett during the making of Yankee Hotel Foxtrot. Group leader Jeff Tweedy took over most of the guitar work on the tour supporting that album, and as fine a musician as Tweedy is, he's no Bennett. Early in the tour he was the fretwork equivalent of Shaq at the foul line; tentative and heavy-handed at the same time, he banged out noisy, repetitive, feedback-laden solos. All of the solos weren't bricks, but he hovered around O'Neal's 53 percent average for a while.

Not only was Tweedy limited by his lack of technical prowess, but the slimmed down, post-Bennett lineup didn't sound nearly as full. Since the band de-emphasized the guitar in favor of keyboards and computers, it didn't seem like such a big deal. By the end of the tour, Tweedy had even settled into the role a bit, and his solos sounded more at home the longer Bennett was away from the band.

And the Wilco faithful—and Wilco fans are nothing if not faithful, snapping up albums, tickets, DVDs of I Am Trying to Break Your Heart, and copies of Greg Kot's fawning bio Wilco: Learning How to Die—stuck around while the band shifted gears from the Bennett-era while Tweedy successfully battled migraines, depression and addiction. Even the fans hopelessly pining for a return to the twang-filled melancholia of the debut, A.M., are drawn to Tweedy's frequently inscrutable lyrics suggesting loss, alienation and confusion, lyrics that mirror the difficulty of communicating complex feelings with often mysterious origins.

Wilco enjoys devotion akin to that of jam bands like the Grateful Dead, with the true believers playing apologist over things like the extended generator hum that closes "Less Than You Think," an indefensible self-indulgence to some ears. It's the same way Deadheads used to tap dance around sloppy, smack-addled Jerry Garcia solos, tagging them necessary missteps on a journey to a magical place of improvisational euphoria. Yeah, right. Reasonable listeners will remain skeptical of both.

About the latest album: A Ghost Is Born's arrangements aren't as busy as they were on the last two albums—a habit born from including every instrument the band could get their paws on—giving way to a more minimalist approach. The sonic ephemera remains, but the sound leaves a lot more space. Guitars have more room to play; check out the deliberate blocks of chords on "Spiders (Kidsmoke)" that break down and spray out stabbing, piercing notes—a primacy that's a welcome return.

Tweedy is still no Jay Bennett, but he acquits himself admirably on the album as the main guitarist, along with assists from multi-instrumentalist Leroy Bach (no longer with the band), bassist John Stirrat (the only original member other than Tweedy) and producer/utility player Jim O'Rourke, whose arrival in the Wilco orbit preceded the more textural, airy qualities the band has explored since Yankee Hotel Foxtrot. According to Kot's book, O'Rourke encouraged Tweedy to experiment with the band's sound and to expand his own playing. Tweedy sounds like a player exploring the potential of the instrument as well as his own potential as a guitarist.

Few bands have undertaken such radical and purposeful change in their sound. In the process of abandoning the potential artistic ghetto of alt-country, Wilco also divested itself of some of the energy that comes with being a loud rock band. A Ghost Is Born certainly doesn't kick a lemur's ass with the abandon found on parts of Being There, the band's two-disc second album and their release most likely to elicit misguided comparisons to the Stones' Exile on Main Street, but the sound is organic and lively.

To duplicate all of the stuff heard on the new album in a live setting, Wilco enlisted inventive guitarist Nels Cline, whose playing runs the gamut from supple textural backgrounds to stinging leads to a wash of pure sound. The band's revolving door lineup might lead some to worry about continuity, but continuity doesn't seem to be a big item on Tweedy's list of Important Things for a Successful Band. And, ultimately, the unifying thread in Wilco is Tweedy's gift for melody, his increasingly evocative lyrics and his drive to remake the band's sound as he sees fit. The country influence on A.M. tracks like "Pick Up the Change," Summer Teeth's staggeringly gorgeous and slightly scary baroque pop on "She's a Jar" and Ghost's piano-driven pop gem "Hummingbird" all share Tweedy's inherent tunefulness and little else. Change is the only consistent quality.

The live sound at earlier shows on this tour featured drones and a ferocity in the playing, especially with the guitars, that belies Tweedy's habit of writing achingly beautiful, fractured folk-rock and meat-and-potatoes rock & roll, a deceptively roots-based sound further linking Wilco's past and present. The playing often builds to a noisy maelstrom that still manages to retain melodic prowess and an emotional directness in the music that's often missing from the imagistic lyrics. Frankly, the band as currently constituted is a versatile beast capable of smashing faces and breaking hearts.

The current tour comes to San Jose on Saturday. Grab the opera glasses and join the Wilco converted. It's unlikely that any country-rock dust-ups will get played but you might hear a band you can get all devotional about.
---
Wilco and Carla Bozulich perform Saturday (Nov. 13) at 8pm at the San Jose Center for the Performing Arts, 255 Almaden Blvd., San Jose. Tickets are $30 and available through Ticketmaster (408.998.TIXS)
---
---
Send a letter to the editor about this story to letters@metronews.com.
---
[ Silicon Valley | Metroactive Home | Archives ]