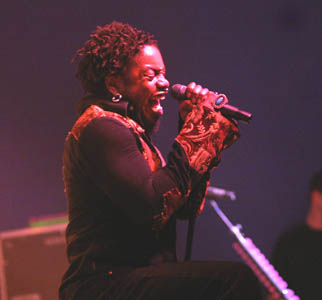 Photograph by George Sakkestad

Seasons of Witherspoon.

The Hard Way

Sevendust headlined the Edge after Staind canceled its San Jose date

By Sarah Quelland

BAD NEWS FOR STAIND fans meant a great opportunity for Sevendust fans to catch the band in a small club setting. Late last week, word went out that Staind vocalist Aaron Lewis was suffering from throat polyps and severely swollen vocal cords. His reported condition forced Staind to cancel several shows--including the one scheduled for last Sunday (Nov. 9) at the SJSU Event Center. The Edge quickly nabbed Staind's main support, Sevendust, and grabbed local bands SECURITY and Called to Ruin for a special late-announced Saturday rock show presented by KSJO. Staind opener Lo-Pro (signed to Lewis' Geffen imprint 413 Records) was initially scheduled to jump on as main support for Sevendust but opted out.

Sevendust headlined the Edge last Saturday (Nov. 8), and, midway through the show, frontman Lajon Witherspoon told the crowd, "I wouldn't wanna be no other place than this. This is badass!" The Atlanta-based band got a hero's welcome in Palo Alto. As soon as it stepped onstage, the floor became a flurry of activity and every hand was raised in the air. When Witherspoon commanded, "Let me see everybody bouncing," the whole floor started popping. This was a special night not just for Sevendust fans but also for the band itself, which is so often relegated to opening act or main support. Their excitement was evident from start to finish, and they relished their time in the spotlight in front of a roomful of people there specifically to see them.

This club show more than made up for Sevendust's 2001 experience at Shoreline Amphitheatre when the band played an early set to an almost empty house at LIVE 105's Halloween Freak Show. With equipment meant to fill venues the size of the Event Center, the sound was huge inside the Edge. During second song "Denial," bass rumbled from front to back and floor to ceiling. The band played a mix of songs off all four of its albums: Sevendust, Home, Animosity and its brand-new record, Seasons. During the ballads, people sparked up their lighters arena-style and a small pit broke out periodically during the more aggressive numbers.

Witherspoon dedicated "Angel's Son" (a song originally recorded for the Strait Up tribute to Snot's James Lynn Strait) to his baby brother, Reginald, who was shot to death a year ago Sunday. Looking reflective and emotional, Witherspoon shifted much of the vocal responsibilities to the audience, appealing, "Sing it to me."

It's no wonder Sevendust gets tapped to open for multiplatinum bands. This hard-working group's strong songs seamlessly blend heaviness with melody, and it has a compelling stage dynamic that comes from years and years of touring. Confident and cool, Witherspoon is all strut and groove. Meanwhile, drummer Morgan Rose is a show in and of himself, with a fascinating playing style that often makes him resemble a mischievous windup toy.

Apparently Sevendust was unthrilled with KSJO for not playing its music even when it was pumping the show at the Edge on the air. When the band returned for the encore, it seemed pretty clear that Saturday's performance of "Enemy," the first single off Seasons, was directed at the radio station--a station whose listeners are troubled by its increasingly stale assault of Metallica, Black Sabbath, Led Zeppelin, Metallica, Ozzy Osbourne, Pink Floyd, Metallica and AC/DC. If sides were being chosen, Sevendust won. The crowd screamed and sang along until the sweaty end.

HOT TOPIC: Bat Makumba, Dubwize, Samba Da Terra, Estre Beicola participate in a big benefit for the Brazil Culture and Arts Samba School and Joe Aytch this Friday (Nov. 14) at the Edge. Tickets are $12 in advance or $15 at the door. Visit www.acteva.
com/go/bcaevent for more info. ... On Saturday (Nov. 15), the New Strange celebrates its new CD at the Blank Club with the Starvations and Verbotten. ... Once again, LIVE 105 has saved room for a local band to open its annual Not So Silent Night concert, which is being held Dec. 12 at the Bill Graham Civic Center in San Francisco. This year's lineup includes Jane's Addiction, Rancid, Black Eyed Peas and Black Rebel Motorcycle Club. Visit www.live105.com for details.
---
Send a letter to the editor about this story to letters@metronews.com.
---
[ Silicon Valley | Metroactive Home | Archives ]