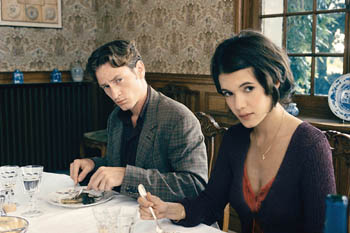 Table Manners: François (Benoît Magimel) and his stepsister Michèle (Mélanie Doutey) play the youngest generation of a dysfunctional family in 'Flower of Evil.'

Cousin, Cousine

No Baudelaire in Chabrol's 'Flower of Evil'--just a tale of the genteel family that won the 2002 Prix de Inceste

By Richard von Busack

THIS FLEUR DU MAL that Claude Chabrol presses upon us in his new film, Flower of Evil, is a little dry and faded. The allusion to Baudelaire could make us anticipate something more velvety and smoldering. Still, recurring elements of snideness and snobbery season this mystery. Flying home to Bordeaux after from a few years in America, a young lawyer, François Vasseur (Benoît Magimel), is greeted by his affluent family as if he'd been trekking in the Upper Zambezi. Expect the slow-learners class among film critics to take Flower of Evil as the example of the typical French attitude toward America, instead of an inside satire of the most hidebound attitudes about pernicious Yankees. Yes, François allows, the Americans only think about religion and money, "but they're less dumb than they make out." Always stirring to hear the World's Greatest Country praised, even backhandedly.

Actually, seeing his family, François must have felt the flicker of temptation to return to America and take his chances of getting tomahawked by the Indians. Being in France entails duty dinners with Aunt Line (Suzanne Flon, really the star of the show), a sweet old lady who likes to serve the family stewed lampreys. François' philandering father, Gérard, is still a member in good standing of the Scotch for Lunch Bunch.

Gérard's wife and first cousin, François' stepmom, Anne Charpin-Vasseur (Nathalie Baye, the mother in Catch Me If You Can), is running for a public office. Anne is in the constant company of her campaign manager (and probably her new boyfriend), a political sharpie who looks like he dyes his eyebrows. "The pilot fish" is what the family calls him when he's out of earshot; he's the liaison man who links up the blue-blooded Anne with the mingy public-housing voters she's trying to court. Most of all, there's Michèle (Mélanie Doutey), the enticing stepsister François ran off to America to get away from. But potential incest is already bred in the bones of the members of the Charpin-Vasseur family, who have a background of intermarriage.

One added element of malice: the noble old French art of anonymous denunciation. Because of Anne's election, photocopied handbills are starting to appear in town, chronicling the buried awfulness of the Charpin-Vasseurs: telling of how Line's father sold out his son to the Nazis during the occupation and implying that the old lady got away with murder once.

This late-period Chabrol (his 50th film, it's claimed) labors under the disadvantage of not having Isabelle Huppert wandering around freezing up the joint. We sure could have used a family tree. It's a little unclear who's a cousin and who's a half-sister, though the crisp acting makes up for the haziness of the plot. As Hitchcock's eldest disciple, Chabrol is gifted at creating a sense that everyone has something to hide. On the other hand, this film is so low energy that the height of suspense is the scene of a Scrabble game.
---
Flower of Evil (Unrated; 104 min.), directed by Claude Chabrol, written by Chabrol, Caroline Eliacheff and Louise L. Lambrichs, photographed by Eduardo Serra and starring Benoît Magimel, opens Friday at selected theaters.
---
---
Send a letter to the editor about this story to letters@metronews.com.
---
[ Silicon Valley | Metroactive Home | Archives ]