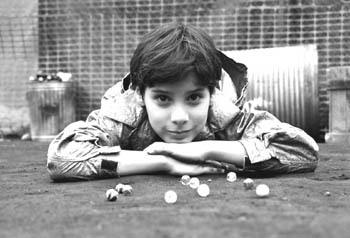 Mr. Marbles: Alex Perea plays an unlikely hero in 'Zurado.'

Latino Screen

Five features from the Latino Film Festival screen in the South Bay

By Richard von Busack

A TRAVELING film fest, the Latino Film Festival circles the bay and lands in the most proudly Latino area of Northern California, bringing five films to our area, Nov. 13 and 14-16. The screenings get under way with Despite Treblinka at Santa Clara University on Nov. 13 at 7:30pm. Given that there is a San Jose Jewish Film Fest running concurrently in San Jose, seeing this documentary under the Latino Film Festival must seem like an editorial glitch. The infamous Nazi concentration camp at Treblinka was the scene of a violent revolt in 1943. Eight of those who escaped with their lives relocated to Uruguay and are interviewed in that South American nation.

The series relocates to the Towne Theater for Saturday and Sunday's shows. The screenings open with Zurdo (Nov. 15 at 5pm). The word means Lefty, and in Carlos Salces' all-ages movie, an eccentric small-town southpaw marbles player (Alex Perea) becomes a hero. One or the Other/Una de dos (2002), which plays at 7:10pm, concerns a pair of twin sisters in Coahuila during the 1930s, rivals for the hand of the same man.

Sunday's double bill begins at 3pm with Atletico San Pancho (2002), Gustavo Loza's Bend It Like Beckham-esque family movie about a small-town Mexican soccer team that assembles itself into champions. Beautiful Secret/Un Secreto de Esperanza (2002), playing at 5:10pm, is the festival's tribute to the star Katy Jurado. It is co-presented by Cinequest, Mike Rabehl and the Guadalajara Film Festival: "Mexico's top kudofest!" exclaims Variety. Un Secreto de Esperanza is Jurado's last movie. Maria Cristina Estella Marcella Jurado de Garcia died in July 2002 after duel careers in Mexico and America. In the United States, Jurado played, on the whole, Indians, starring in everything from a classics like High Noon to Elvis' worst movie, Stay Away Joe. She was married to Ernest Borgnine for a year but proved too much woman for him. Jurado was the first Mexican actress nominated for an Oscar, for her work in the Joseph Mankiewicz-derived Western Broken Lance in 1952. Unfortunately, she lost out to On the Waterfront's Eva Marie Saint (a blonde, it figures). But it's best to see Jurado as the misnamed "Paloma" in Bunuel's The Brute. What a face Jurado had. You, too, can be a movie star if you have eyes that look in different directions. This quality is key to Hugh Grant's success, and each of Jeanne Tripplehorn's peepers have separate zip codes. Jurado's gaze isn't that drastically far apart, but she can use her far-away eyes to confound the men, as when she makes an entrance in Bunuel's meaty chunk of Mexican noir. She sashays in, her mouth stuffed with grapes, checks her teeth in the mirror, then mutilates some flowers with scissors to demonstrate to her griping old slumlord of a husband how to handle his angry tenants. In her last movie, Jurado's Esperanza is a great lady playing one: a writer who has lived her life among legends. As her last act of creation, she decides to mentor a young man. The film is emblematic of how Jurado's career heralds untold numbers of Mexican stars to come.
---
The Latino Film Festivals screens films Nov. 13, 15-16 in San Jose at Santa Clara University and at the Towne Theater in San Jose. For tickets call 925.866.9559; for schedule details, check latinofilmfestival.org.
---
---
Send a letter to the editor about this story to letters@metronews.com.
---
[ Silicon Valley | Metroactive Home | Archives ]