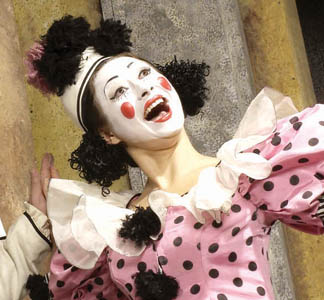 Photograph by Chris Ayers

Laughter Before the Tears: Kimarie Torre plays Nedda in Opera San José's production of 'Pagliacci,' running through Nov. 30 at the Montgomery Theater in San Jose.

Send in the Clown

Opera San José delivers intimate impact in 'Cavalleria' and 'Pagliacci'

By Scott MacClelland

FOR UNINITIATED operagoers, Opera San José's Pagliacci could hardly be a better introduction. That is unless great theater, passionate performances and unforgettable music can't compete with "reality," TV and video games. Of course, those video junkies would be required to confront live entertainment in a theater--the Montgomery--and should be prepared for an intimate impact they've probably never known before.

Leoncavallo's masterpiece grabs you before the curtain opens when one of the traveling circus troupe sets the scene in a prologue/admonishment that even clowns have feelings. Last Sunday afternoon, this "lecture" also set the expectation for superb singing thanks to the ringing baritone of Roberto Perlas Gomez, the bitter hunchback Tonio who fans the fires of jealousy and violence in Canio, his boss and husband of the voluptuous Nedda. Canio is Othello brought from high power to low life, along with all the archetypal characters found in any melodrama. As the program notes observe, Pagliacci is the "gold standard of verismo style," those gritty, simple, working-class passion plays that include Mascagni's Cavalleria rusticana, Puccini's Il tabarro and Fanciulla del West, and even Tennessee Williams' A Streetcar Named Desire.

Cavalleria and Pagliacci are often staged in tandem. But while Opera San José has previously put Pag on the boards, this is the first time Cav has entered its repertoire. The two short operas could be different episodes from the same town, an impression only confirmed by this production, which uses the same set for both. Since Cav restricts conflict to fewer characters it realizes less drama and intensity than Pag, but it serves each well in setting a rural-village context.

The talented cast of last Sunday's Pagliacci intensified the drama with an extraordinary level of acting and singing. Tenor Ravil Atlas cast a menacing presence, agonized with suspicion and violence, which made his despairing "Vesti la giubba" all the more heartbreaking. His performance was impassioned from start to finish. Kimarie Torre gave the role of Nedda excellent variety--from tender affection to comedic charm to fierce defiance--putting her voice to that service even at the sacrifice of "pretty" sound. As Beppe, Bill Welch's attempt to head off inevitable disaster added edgy anxiety.

As Silvio, Jason Detwiler delivered a fine love duet with Torre, and in Cavalleria, created a controlled rage in Alfio, the cuckolded husband of the inconstant Lola. But in that case, Detwiler sang with two different voices, a richly dark basso and a much brighter mid- and upper-range baritone. The standout performance was the vividly drawn Santuzza of Lori Decter, whose soprano is a thing of great beauty, maturity and range. Etsel Skelton's Turiddu enjoyed good sound but was noticeably reticent in the top.

George Cleve got a bold and polished reading from the orchestra, and Bruce Olstad's chorus came through with a consistently solid presence. Giulio Cesare Perrone's stage direction was as vividly effective in Pag as it was wan and self-conscious in Cav.
---
Cavalleria Rusticana and Pagliacci plays Nov. 13-15, Nov. 20-22 and Nov. 25 and 29 at 8pm and Nov. 16, 23 and 30 at 3pm at the Montgomery Theater, Market and San Carlos streets, San Jose. Tickets are $43-$63. (408.437.4450)
---
---
Send a letter to the editor about this story to letters@metronews.com.
---
[ Silicon Valley | Metroactive Home | Archives ]