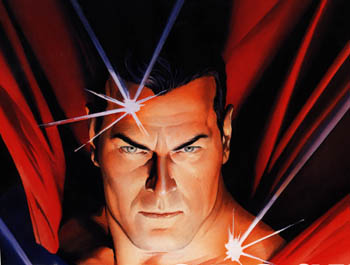 Super Graphics: Alex Ross' new book charts a lifelong obsession with superheroes.

Altar Identities

Pulp superheroes exert a strange fascination in the comic-book art of Alex Ross

By Richard von Busack

ALEX ROSS was the youngest of four children of a Lubbock, Texas, United Church of God minister. If a child in such circumstances grows up to be an artist, it is almost certain he'll head for the furthest art ghetto he can find. Ross, however, was different. Not only did he not rebel, but he took the path into realistic art, following the leads of Norman Rockwell and the illustrator Andrew Loomis. (Ross' mother, Lynette, was herself a successful advertising artist.)

From childhood, DC comic books obsessed Ross. His aim in youth was the same as it was in adulthood: "I very much wanted to create the new standard by which Superman should be drawn."

Mythology: The DC Comics Art of Alex Ross (Pantheon, $35) collects Ross' art into a coffee-table volume. The book showcases 10 years of work, but it looks like 20. Ross has spent the last decade restating DC's superheroes in art. He has painted images of Batman, Superman, the Flash, Green Lantern and the rest for collectibles, fine-art portfolios and--in what's almost a secondary market now--comic books.

Chip Kidd's text is enthusiastic and technically helpful, but it rarely seems to get to the heart of why we find it so difficult to outgrow our fascination with these pulp heroes. Kidd, who wrote the novel The Cheese Monkeys, is also a first-rate book-jacket designer for Knopf and Chronicle Books. Mostly, he specializes in anything to do with comics.

Kidd's book Batman Collected provides the ultimate guide to the relics left by the waves of Batman fever that struck the world in 1966 and 1989. Kidd's regular collaborator, photographer Geoff Spear, whose pictures appear in both books, doesn't take flat shots of toys and collectibles, like objects in a catalog. He lights them to bring out as much personality as they would have for a child. One of the startling pages in Mythology features portraits that Spear took of life-size wax statues made by Mike Hill, a sculptor who's worked for Louis Tussaud's museum in London.

Because of Spear's slaved-over lighting, the sense of seeing Superman in the flesh is uncanny. I'd just been reading Jack London's description of the Nietzschean Superman Wolf Larsen, and the words came back: "While the whole face was the incarnation of fierceness and strength, the primal melancholy from which he suffered seem to greaten the lines of the mouth and eye and brow, seemed to give largeness and completeness which otherwise the face would have lacked. "

Ross paints his images so forcefully that few writers live up to his work. He has had a fine collaborator in the form of Paul Dini, of TV's Batman: The Animated Series. Ross and Dini have teamed on a new comic book, Justice League: Liberty and Justice, in which the famous (if unwieldy) Justice League of America investigates an African plague.

He has also worked with Steve Darnall on a miniseries called Uncle Sam, which is maybe Ross' deepest work. A demented derelict--who may be Uncle Sam himself--is forced to confront the less-savory episodes of American history. The four-issue series plays out like an illustrated version of Howard Zinn's A People's History of America.

Ross works in old-fashioned media: opaque watercolors (called gouache), sable brushes and airbrushes. He's held ground against the rise of computer illustration by returning to old (art) school figure studies of flesh and bone. And he's almost single-handedly revived the idea of Superman as not just a titanic creature, but a tangible one.

Ross' religious background inflects these comic book heroes with a strange reverence that makes them difficult to dismiss. The book deserves its lofty title. It counts as neoreligious pop art.
---
Alex Ross, Paul Dini and Chip Kidd appear on Saturday (Nov. 15) at 2pm at Lee's Comics, 1020-F N. Rengstorff Ave., Mountain View. Limited edition Alex Ross prints are free for the first 500 attendees.
---
---
Send a letter to the editor about this story to letters@metronews.com.
---
[ Silicon Valley | Metroactive Home | Archives ]