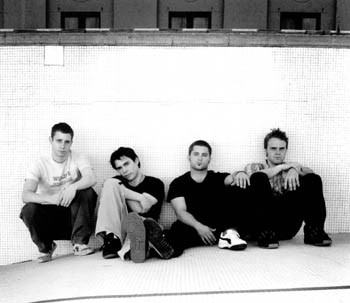 Trapt against the wall

Bare Trapt

Trapt's lyrics expose the dark side of growing up in Los Gatos

By Sarah Quelland

HEADSTRONG INDEED. Trapt vocalist Chris Brown is a psych-major's dream case study. Screw thesis. A person could write a whole book on Brown's inner demons by analyzing his lyrics, which rail against authority figures and the expectations they've burdened him with for 21 years. The story sounds like a TV movie of the week. Creative, rebellious kid grows up in affluent suburb. Rich family pushes him toward the American dream of a college degree and a nice, respectable career. Kid has different ideas; digs rock & roll; hates rules, suits and sellouts. Kid drops out of college to follow his own dream. Kid gets his band signed to Warner Bros. Kid gets his songs played on the radio. Kid's family is still disappointed.

Though the future remains to be seen for Los Gatos' Trapt, Brown dishes out an uncommon perspective in rock music: he seems to be choking on that silver spoon. Perhaps the most telling track on the band's album is "Hollowman," with it lyrics "No part of your life is true / And all the time your life passes you by / ... Pretending to be something you are not / Somewhere in the middle you are now caught / You've never seen who you really are" and its raging chorus "I don't ever want to see / I don't ever want to be like you." Ouch. "The Game" takes a similar approach: "I wouldn't wanna be you / This lonely game that you play / ... So afraid that you lose / Always a void to replace / I wouldn't wanna play you."

Themes of refusal to follow anyone else's dreams or live a lie run rampant through Brown's lyrics, as does a tremendous sense of frustrated pity for anyone who settles in life. The energy-charged first single, "Headstrong," is the anthem: "Back off. We'll take you on / Headstrong to take on anyone / I know that you are wrong / Headstrong, we're headstrong." But sharp and honest, Brown's lyrics show his weaknesses, too. "Made of Glass" betrays fragility as he admits, "I don't know anything at all, and I'm somebody else / It could take years to find you / It could take years to find myself." "Still Frame" is equally fragile as Brown begs, "Please help me, 'cause I'm breaking down / This picture's frozen, and I can't get out of here" and confesses, "I'm just as lost as you."

While Brown's life experiences growing up in Los Gatos may not be universal, his insecurities and frustrations are likely to strike a universal chord. Escape is a recurring theme. Trapt's self-titled debut on Warner Bros. is full of catchy radio-friendly tunes (just try getting them out of your head) and emotional love songs. The band performs Friday (Nov. 15) at the Pound in San Francisco and again at Plant 51 on Dec. 6.

AT THE SOFA CABANA: Drew Adelman's fashionable new Manhattan-style theme club at the old Polly Esther's location is going to be called Cabana, and it will be filled with--what else?--cabanas! The main dance floor will be designed like a swimming pool, with a boardwalk circling the sunken structure. Mirrors on the walls, flourished with sweeping curtains, will give the space even more depth. Upstairs in the lounge, Silicon Valley's sophisticated elite can reserve semiprivate cabanas, and Adelman plans to offer luxuries like chair massages and shoeshines to his VIP clientele. Cold sushi made on the premises will be served upstairs as well. Cabana is going to spin house and hip-hop downstairs, with a techno/house mix upstairs. Adelman assures us the music won't be overwhelming--this SoFA club is designed for socializing. Adelman anticipates the construction inside and outside the building should be completed by mid-December. He's still hesitant to set a date for the grand opening. It may be as soon as the middle of next month, or he could wait until New Year's Eve. ... Jacek Rosicki says he expects to open his new SoFA clubs, ZÖE and Backbar, on New Year's Eve. ... Sideways' has experienced a major setback. The building has to be retrofitted, and according to Johnny Van Wyk, the best-case scenario for an opening date is summer 2003.

HEY, PARIS: San Francisco lost the Olympics bid to New York. Now San Jose is losing the Knitting Factory to Paris--at least for now. The club chain is reportedly focusing its energy on opening a new spot in the City of Love, but it hasn't given up on Silicon Valley. Stay tuned.
---
Send a letter to the editor about this story to letters@metronews.com.
---
[ Silicon Valley | Metroactive Home | Archives ]