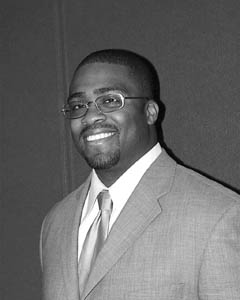 Survivor, The City: Many observers think local NAACP President Rick Callender took a political risk by endorsing business-backed council candidate Ed Voss instead of African American Terry Gregory, but he doesn't see it that way.

United, Divided

Despite the election of Terry Gregory to the San Jose City Council last week, the city's African American community doesn't view politics along color lines. Isn't that the way it should be?

By Najeeb Hasan

LAST FALL, local NAACP President Rick Callender volunteered to try his hand in bringing to authorities accused cop killer DeShawn Campbell, a young African American wanted by police for shooting rookie police officer Jeffrey Fontana in the head in an Almaden Valley cul-de-sac.

Both the San Jose Police Department and community members applauded Callender's efforts at helping advance trust between the Police Department and the city's small African American community. Though Callender's scheme eventually failed--the 22-year-old Campbell lost his nerve and fled while en route to meet the NAACP leader at a predetermined Capitol Expressway gas station (he was sentenced earlier this month for unrelated offenses)--the attempt provided him with a unique opportunity to represent the African American community as a united group.

Even then, when the move was played up in the papers as a confidence-building gesture, Callender was careful to explain that the intervention was motivated by his concern that young black males would be profiled during the police department's hunt for Campbell. A year later, Callender, once a profile victim himself, is more blunt. "They were literally going to cars and stopping every single African American they could find with semiautomatic weapons," Callender recalls. "When the police were stopping Campbell's friends, they told them, 'When we find him, tell him we're gonna kill him.' I told the police there were two things we could do: bring him in your way or bring him in my way."

An all-out hunt for a young black male by an angry police force is the type of event that unifies a community, if for no other reasons than safety and survival. But aside from those rally-around-the-flag situations, leaders of San Jose's African American community say there is little reason to come together, to have a singular voice.

Unity, after all, says newly elected San Jose City Councilmember Terry Gregory, does not mean always adhering to one way of thinking.

"There is no one African American community," right-leaning Democrat heavyweight Tommy Fulcher is quick to point out. "Anyone that tries to say the African American community is monolithic is fooling you. You look at guys like Jesse Jackson and Al Sharpton. They don't necessarily represent me. They are people who are appointed by the established union. The only time I see the African American community coming together is when something happens to an African American."

The American Way

In a climate where blatant, racially charged incidents are rare and spread apart--San Jose's African American community is among the wealthiest in the United States (East Side school trustee Craig Mann calls it W.E.B. Du Bois' Talented Tenth, the upper crust of the community that, when developed, would lead the masses)--Callender, or any other African American leader for that matter, doesn't stand to lose any points for most other decisions he makes.

In Silicon Valley, there isn't necessarily an ideological burden, other than the scattered discrimination issues, for black leaders to carry. As long as they step up to the plate for the DeShawn Campbell incidents, they can distance themselves from backing a living wage, or they can support Ed Voss over Terry Gregory for City Council.

For example, Gregory, who one insider said received 90 percent of the black vote in District 7, was not supported by NAACP head Callender. And he was outspoken about it. In the final days of the election, Callender went so far as to suggest Gregory's campaign was stealing his opponent's campaign signs and storing them in his garage.

No problem, says Fulcher. "I've never heard Ricky Callender say that he represents the black community," he says. "It's better to seek whatever place you fit in the broader community. I don't think that just because you're black, you've got to toe the line that any other black person toes. You've got to toe your own line. I think you should be comfortable being involved with all communities. I don't see any advantage in sticking to one community. The NAACP ought to be for racial fairness. The leadership is not all black anymore. In this city, I could see a head of the NAACP who is not black."

Will Callender suffer a loss of power in the African American community because he didn't support the candidate most other African Americans backed?

Gregory thinks so. "First of all, Rick Callender is not the African American community," Gregory says. "Rick Callender is Rick Callender. But I think it's going to be interesting. I think it's going to be an interesting challenge for Rick to regain his credibility. Frankly, I have no idea what Rick Callender's agenda is. I'm still trying to figure that one out myself."

On Friday, Callender sent out an NAACP press release documenting a civil rights issue with an Albertson's supermarket, an incident in which an employee allegedly hurled a racial epithet at a customer who is an NAACP member. The complaint, based on an incident which occurred June 7, was filed with the NAACP, but it landed in email boxes just two days after last week's election.

Fulcher, however, doesn't see the election results affecting the group's power dynamics. Never one to hide his conservative leanings, Fulcher points to himself as an example of the fact that no matter what your politics, you don't lose standing in the African American community.

"Personally, I never feel like I'm representing the black community," he continues. "Still, I was president of the NAACP for one term. The only reason I did that was I thought the people who were running it were Uncle Toms. If I wanted to be a professional black person, I would have stayed in New York. Some black people are happy to be grocery-store baggers by day and work at the NAACP at night. Some people in the black community are just happy to get to sit [at] the same table as white people. I don't seek out public notice, but I'm articulate, so I get a lot of calls from reporters [to represent the black community]. And a lot of people are envious."

When Fulcher and Callender teamed up to condemn publicly the leadership of the Silicon Valley/Santa Clara County Black Chamber of Commerce last August after allegations surfaced that the organization misused city-issued funds (the city has yet to release its audit; meanwhile three new leaders are on board), onlookers quickly took the cue to announce that the actions of the two leaders against the Black Chamber could signal disunity in the African American community.

But Fulcher insists he didn't even speak out as a representative of the community. "The reason I did it the way I did it is that people recognize I had access to the media," he says, "recognize I know a lot of people, recognize when I say something I get listened to. That's why Ricky called me. And the job got done."

And when former Alum Rock school trustee Tony Alexander rebutted by accusing Fulcher of trying to muscle his way into the Chamber's $839,000 city contract to run a computer-training program, the community was all but labeled doomed. "Everyone says there can't be differences," complains labor supporter Mann. "But you can have Bill Clinton and Bush, and no one says there's strife in the white community."

Calling the Shots: When former local NAACP President Tommy Fulcher teamed up with current President Rick Callender to publicly condemn the Black Chamber of Commerce, some political observers were surprised. Says Fulcher: 'If I wanted to be a professional black person, I would have stayed in New York.'
Democratic Approach
While Fulcher and Callender brush off Alexander as something less than a gadfly ("What's his constituency? If Tony Alexander called a rally, who would attend?" asks Callender), both seem to agree with Mann. Callender, however, is still perturbed by Alexander's insistence on creating the African American Democratic Coalition, of which Mann and Gregory are members, to compete with the African American Democratic Club. The club was founded in 1995 by, among others, Tommy Fulcher, attorney Marian Whittaker and the San Jose Police Department's Randy Cooper--and later backed Republican Pat Dando during Ron Gonzales' mayoral campaign.
"It's a problem. There shouldn't be two Democratic clubs. We need to fix that," Callender admits, but he continues to look at the broader picture. "We're not only about black issues. People see things as that and say that, but this isn't about the black community or black power or the movement. An African American doesn't walk out of the house and say, What am I going to do for civil rights today? Then the issues become only those of discrimination."
The point, Callender says, is to get into positions of power and make changes in all the places it's needed. "We can't control what's going on in schools unless we control the school boards; we can't control anything, if we don't control policy. That's key. I think someone like Terry Gregory understands that. A lot of mass media has tried to regulate our interest to only civil rights. What the media needs to do is call the NAACP when there's a policy issue, when there's a transportation issue, because people of color use that transportation."
Understandably, Mann has a different take on Alexander's Democratic Coalition. He sees it as necessary, because, at the time, the older Democratic Club was not sanctioned by the party central committee but was backing the Republican candidate. While he supported the Democratic Club's right to choose Dando as its candidate, he thought it misled the public into believing the central committee also backed Dando. But like Callender, he doesn't see any reason why different African American voices shouldn't be heard.
"We have a small community," Mann says. "You hope that you have a mutual respect that it's OK not to agree. One day, somebody said to me, 'What do you think about what your leader said? Jesse Jackson--isn't he your leader?' I said, 'Jesse is one of the many voices in the community. He is not the only voice.' We got pigeonholed into being this monolith. You have to all be in agreement, all think alike. There's just an unreasonable expectation that we all have to agree."
---
To contact Najeeb Hasan: [email protected]
---
---
Send a letter to the editor about this story to letters@metronews.com.
---
[ Silicon Valley | Metroactive Home | Archives ]