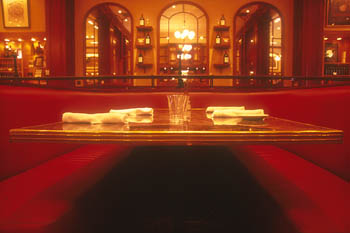 Troy Bayless

On the Level: At Café Niebaum-Coppola, the flavor is the favor.

Fit For a Godfather

A new chef and streamlined menu heat things up at Niebaum-Coppola

By Christina Waters

ADJUSTING ITS attitude to match its clientele, Francis Ford Coppola's cafe has a new menu, and it's making an offer you can't refuse. Gone is the touristy player piano, and gone the gooey, mondo molto cuisine. In their place is what Café Niebaum-Coppola had going for it from the very beginning--a bravura place to meet friends for some fine wine and pasta. The high ceilings fit snugly over enormous wine barrels lining the gleaming bar area. Green faux marble bistro tables take the edge off anything remotely suggesting stuffiness. And the priced-to-thrill menu has simmered down to a bright batch of pizzas, pastas and sensuous Italian specialties.

All of which was just fine with me and Jack on a rainy evening last week, when we took a corner window seat and inhaled the big brasserie vibes inside--and the bustle out on the street. Our craving for red wine was swiftly accommodated by generous pours (and into graceful glasses embossed with a very tasteful Niebaum-Coppola logo) of a N-C Claret 2000 ($7) and an elegant Antinori Chianti Classico Riserva 1999 ($10), which unfortunately lived up to its name and remained "reserved" throughout the meal. The claret opened quickly, however, into a fistful of cherries, Italian plums and spice. We were soon on to appetizers of caprese and arugula.

Only a more interesting bread selection could have improved my arugula salad, bathed with a well-made balsamic dressing and topped with shaved parmesan reggiano ($5.50). Jack's fior de latte salad involved slices of the creamy buffalo mozzarella, decent tomatoes and huge basil leaves ($7.50). An excellent olive oil added some extra pizzazz to this authentic starter, a visual twin of the Italian flag.

Gleaming white plates large enough to gain our instant respect arrived. Entree presentations were dramatic in their simplicity. Again, think bistro crossed with trattoria. Two columns of supple white butterflied Idaho trout lay open to foraging ($17). Moist and tender, it was utterly delicious. Candor requires the confession that almost anything would have been wonderful accompanied by the kitchen's exquisite puréed potatoes and a thick sheaf of grilled asparagus. A simple glaze of browned sage butter amplified the pan-seared trout, but didn't obscure its delicacy. What few, microscopic bones that managed to cling to the flesh were easily removed/ignored.

Jack's pan-seared veal scallopine, done just to the point of maximum tenderness, again showed off the chef's hand ($18). A traditional finish of lemon, butter and capers enhanced the flavor of the cutlet, and here those unbelievable potatoes were joined with a thicket of green beans. No over-the-top red sauce, no sticky olive-intensive toppings. No slabs of embarrassingly mammoth meats.

The food presentation at Niebaum-Coppola is good looking without forcing mandatory genuflection. The flavors are intelligible without slipping into boredom. No one leaves Café N-C wondering whether they have dined well. The prices are as realistic as the food.

One of Italy's gifts to the world--panna cotta--gave creamy closure to our dinner at Niebaum-Coppola (some cumbersome hyphenated names, while refreshingly direct, really should be reconsidered). Another Marlon Brando-sized triangular platter arrived, dusted with powdered sugar and crowned with a quivering slab (that's the only word for it) of barely sweet Italian cream custard ($7). Restraint had been used with the drizzling of strawberry purée, and the luscious cream immediately launched us deep into an alpha state, while the accompanying double espressos brought us back to the real world. After a substantial meal, this perfect finishing touch is enough for two to split and still get up and walk out the door. Big flavors, low prices, tasty wine list and smart service. No wonder the place was packed.
---
Café Niebaum-Coppola
Address: 473 University Ave., Palo Alto
Phone: 650.752.0350
Hours: Daily 11am-10pm
Cuisine: Italian
Chef: Fabrizio Protopapa (kudos!)
---
---
Send a letter to the editor about this story to letters@metronews.com.
---
[ Silicon Valley | Metroactive Home | Archives ]