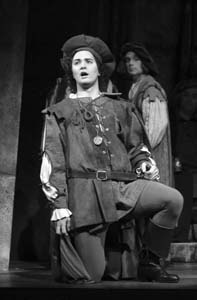 Dave Lepori

Let's Make a Deal: Jason Detwiler plays Valentin in Opera San José's production of 'Faust.'

Bargain Show

Opera San José strikes a deal with Gounod's 'Faust'

By Michael J. Vaughn

OPERATIC DEVILS should all speak French, wear snappy clothes and sound like Kirk Eichelberger. The bass's thundering, cunning voice was the devil's food cake of Opera San José's Faust--dark, chewy and delicious. Eichelberger's performance also contained a great deal of wit, thanks in part to the artful touches of stage director David Cox. After being subdued by a gang of crucifix-wielding villagers, his Mephistopheles recovers by picking up a leftover cross and chewing it like a chocolate bar. Later, he uses holy water as after-shave. He makes being the devil look like a helluva lot of fun.

There are artful touches in the music as well. Gounod had no fear of a catchy melody but displayed that French knack for stopping just short of sappiness (what we in the biz call the Manilow Line). It's a good match for the singers, who make up in phrasing and lyricism what they lack in power. A good example is tenor Jonathan Hodel, who delivers a well-wrought interpretation of Faust's famed garden aria, "Salut! demeure chaste et pure." His only flaw is that he "blats" his high notes, driving them too sharp.

Soprano Julie Makerov displays a newfound agility in Marguérite's Jewel Song, "Oh, je ris de me voir," and later demonstrates a talent for growing her sustenatos from pp to ff (what we in the biz call quiet to loud). For Christmas, however, I will leave her Renata Tebaldi's bottom range, and then she will be complete. For our real villain, Valentin--Marguérite's brother, who treats her illegitimate pregnancy as if it were the end of the world when it really was the devil who made her do it--baritone Jason Detwiler needs to get rid of that metronomic bounce to his step and take about 10 percent off his forcefulness. His attempts to sound like Mephistopheles come out more like Mini-Me and drive his top notes out of focus.

Robert Wood's orchestra displays the same tender touch as his singers, particularly in the various statements of the garden aria (save that wobbly first violin in the final ascending line). The brass shines, quite literally, during the final-act interlude, in what turns out to be the gallows motif. I also like Peter Crompton's design for Faust's study, with columns shaped like book spines and the soldier monument in his spooky church, which foreshadows the slaying of Valentin. Janet Van Swoll's puppetlike choreography for the village scene is great, too.

It's easy to see why Faust is not performed as much anymore. In excising Goethe's debates between God and the devil, librettists Jules Barbier and Michel Carre turned it into The Ruination of Marguérite and threw in one of those lame 19th-century salvation endings. Set up by Christian mythologists to be a polar opposite to God, Satan is actually his right-hand man, taking the blame for all the bad stuff that is supposed to be under his control. In Goethe's original text, they're palsy enough to make a bet over the whole Faust/Marguérite situation. "God is such a nice guy," said stage director Cox, "that he even has time to hang out with the devil."
---
Faust plays Nov. 15-16, 19, 21-23 and 30 at 8pm and Nov. 17 and 24 and Dec. 1 at 3pm at the Montgomery Theater, San Carlos and Market streets, San Jose. Tickets are $40-$58. (408.437.4450)
---
---
Send a letter to the editor about this story to letters@metronews.com.
---
[ Silicon Valley | Metroactive Home | Archives ]