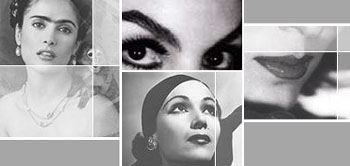 Diva Days
The Latino Film Festival celebrates the grand actresses of Mexican cinema's golden age
By Richard von Busack
THE BEST MOVIE of 2002 so far is Y Tu Mamá También, which came from Mexico. And if 8 Mile is a hit, it may be because of the authentic cityscapes of the ragged-ass end of Detroit, photographed by Rodrigo Prieto, who previously did Amores Perros. And of course, Frida is the highest-profile Latino epic yet. So now is as good a time good a time as any to revisit la epoca de oro (the golden age) of Mexican cinema. In the 1940s, such factors as protectionist policy, a strong peso and World War II spurred an era of film good enough to export to the world.
Certainly, the flamboyance of trashier Mexican cinema is still part of the nostalgia. Moreover, this year's leg of the Latino Film Festival, playing at various Bay Area locations, including venues in San Jose this week, offers Spanish-language works from South American and Cuba. But the Mexican focus is all the stronger in the local screenings, even unintentionally so: no thanks to the INS for keeping away scheduled guest, the renown Cuban director Humberto Solas.
The festival's theme is "Divas of Mexico's Golden Age: Frida, Maria y Dolores." Dolores would be Dolores Del Rio, the glamorous star of the first Astaire-Rogers film, Flying Down to Rio, and lover of Orson Welles. But Del Rio's best-remembered role is as the heroine of Maria Candeleria (1943; Nov. 16 at 2pm at the Towne Theater). She plays a flower peddler who faces prejudice from both sides of the tracks. The late leading lady Maria "La Dona" Felix, who died recently, is remembered in one of her spitfire parts in Enamorada (Nov. 17 at 3:45pm at the Towne), a 1946 version of Taming of the Shrew set against the 1910 Revolution.
Photographing both of these beloved divas was Gabriel Figueroa. It's hard to find a remarkable Mexican film he didn't have a hand in. Figueroa shot nearly 200 films, for directors ranging from Don Siegel to Luis Buñuel. His first film was Sergei Eisenstein's 1932 Que Viva Mexico. Figueroa's son, Gabriel Figueroa Flores, is slated to appear at the screening of Maria Candeleria. The son is also a photographer, and he will host the film he recently shot, Too Much Love (Nov. 16 at 4:15pm at the Towne), a road trip of two sisters.
In newer Mexican cinema, the festival features Gerardo Tort's Streeters (Nov. 15 at 5pm at Camera 3), a view of children in the lower depths akin to Buñuel's Los Olvidados (which, naturally, Figueroa photographed), Pachito Rex (Nov. 17 at 6pm at the Towne) and Herod's Law (Nov. 17 at 8:30pm at the Towne), which satirize Mexican political corruption from different angles: the latter was banned by the Mexican government. On a lighter note, local filmmaker Luis Valdez's 1994 redo of The Cisco Kid makes its local premiere (Nov. 17 at 6:30pm at the Towne), with Jimmy Smith as the charro-suited hero Cisco, and the one and only Cheech Marin Sancho Panza-ing it up as Pancho.
---
The Latino Film Festival plays at Camera 3, the Towne Theater and San Jose State University Nov. 14-17. Tickets are $5-$9. See www.latinofilmfestival.org for details.
---
---
Send a letter to the editor about this story to letters@metronews.com.
---
[ Silicon Valley | Metroactive Home | Archives ]