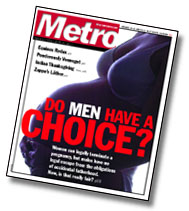 For the Week of
November 14-20
Cover: Revenge of the Deadbeat Dads
The nexus of the choice debate has been a woman's right to choose, but what about dear old Dad? The Choice for Men movement says deadbeat dads are about unwanted fatherhood.
News: Saving Face
No-beard policies in the workplace go under the blade, as a lawsuit alleges discrimination against individuals with a medical condition linked to ethnic groups.
Equinox Hits the Fan: 'Pyramid Dreams' elicits nightmare stories from multilevel marketing distributors.
Café Cruising: The '90s coffeehouse serves as pickup joint for the unattached bookworm and nightclub-challenged.
Polis Report: Whatever happened to cults? Did they give up?
Public Eye: San Jose Arena patrons are bitter over suite fees
DeCinzo Cartoon: Don't ask, don't tell.



Bird of Purgatory: The film version of 'Mother Night' flattens novelist Kurt Vonnegut's comic conceit.
Sturges Urges: The screwball comedies of Preston Sturges still exemplify the genre's zest.
To Mel and Back: Gibson roars for revenge in 'Ransom.'



In the Hive: Just hours after its grand opening on Thursday night, Todd Inoue reports on the debut of San Jose's newest hot spot, the B-Hive.
All Läthered Up: Twenty years later, Frank Zappa's ferocious anti-epic "Läther" finally arrives.
Bluest Souls in Pieces: Storyville looks for love in all the bleakest places on its newest album, 'A Piece of Your Soul.'
Audiofile: The latest CDs by Pork, Lyrics Born, Nnenna Freelon and various artists.
Beat Street: Third Sex waves the DIY banner high.



Cult of Shows Past: Many years after being canceled, favorite TV shows inhabit a virtual universe of their fans' deep desires.



Pagliacci Power: Opera San José's double bill packs one knockout production.



Indian Harvest: No wonder the Pilgrims felt thankful. Christina Waters samples a true Native American-style Thanksgiving feast and shares recipes.
McNoodles: Tung Kee brings steaming Korean noodles to the masses.


The Dark Corners of Daily Beings: In the stories of William Trevor, quite ordinary characters face extraordinary tribulations.
Original Beat: Poet, playwright and essayist Amiri Baraka paved the way for much of today's rap and rant.