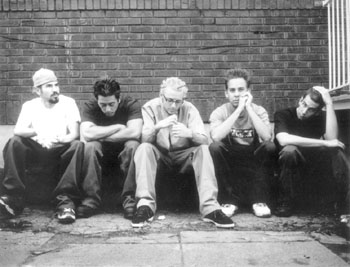 Linkin Park gets set to rock LIVE 105's Not So Silent Night.

Dark Lords

Lords of the Manor continues to conquer fans

By Sarah Quelland

THOUGH SEVERAL MEMBERS were present at the club, TRIPLE SEVEN canceled its performance at the USUAL last Thursday (Nov. 8), instead promising fans an invite-only VIP show at the TONGUE AND GROOVE in San Francisco on Monday (Nov. 12). Regardless, the show went on with LORDS OF THE MANOR, ONES AND ZEROS and WREKHOUSE. I recently read somewhere that A&R representatives are looking for "What the fuck was that?!" music. While the truth of that statement is up for debate (how many labels are really looking for the "next" Linkin Park right now?), Lords of the Manor certainly falls into that category. And the band's quickly catching on. Breaking all the rules with six-minute songs, this freakish seven-piece outfit astutely blends demented death metal with orchestral classical music to create a Gothic sound that's both beautiful and grotesque. Frontman JOT DICKERSON's deranged vocals combined with haunting violin and maniacal keyboards prove invaluable in creating the band's eerie, slightly insane mood.

Still, it doesn't take a death-metal fan to appreciate this band's theatrical delivery. Watching this dramatic group perform is something like watching a play unfold. Dressed in his trademark pink, ruffled tuxedo shirt, Dickerson writhed onstage, belting out throat-scarring screams occasionally tempered by soft, melancholy laments. Periodically, without warning, fire would flash magically from his fingertips. Pacing its set well, the band kept up the intrigue to the very end. The big finish came when JESSICA ZUMWALT stepped out from behind her keyboard to join Dickerson at the mic. Wrestling each other to the ground and slamming into each other, Dickerson and Zumwalt demonstrated a vicious rapport, and Zumwalt's dark, growling vocals could give KITTIE's MORGAN LANDERS a run for her money. With songs like "Below the Breathless Black," "Children of Sundown" and "The Wheel of Corruption Turns," this creative and original young band proved exactly how and why it won ULTRAVIBE'S SOUND OFF 2001. Its new disc, Euphonius, is on the way.

Dynamic rock & roll trio Ones and Zeros gave an impressive performance as well, with a professional-quality sound enhanced by digital effects. With heavy but accessible songs, this band's been getting a fair amount of attention of late. This summer, OAZ won the MLS BATTLE OF THE BANDS at the Usual and played the televised half-time show at the MLS ALL-STAR SOCCER GAME at SPARTAN STADIUM in front of more than 20,000 people. Fresh from a supporting slot for KING'S X at the POUND, Ones and Zeros opens for Y&T tonight (Thursday, Nov. 15) at the ICON NIGHTCLUB.

Friday (Nov. 9), the CACTUS CLUB hosted a different kind of show as friends and fans crowded into the downtown club to celebrate the life and music of the late ROCKIN' ROB DAPELLO at a posthumous CD-release party. Local bands FANCY HAIR DRAGON, NEON LOBSTER, LED BENDER, OUTTALINE, CAUSTIC NOTIONS, UNCLE LUCIFER, the FORGOTTEN and the ODD NUMBERS performed in his honor. The highlight came when Dapello's brother, LARS FREDERIKSEN (of RANCID and LARS FREDERIKSEN AND THE BASTARDS), played with the Forgotten. He paused to eulogize his brother, envisioning him playing in a band with Sid Vicious on vocals, Jimi Hendrix on guitar and God on drums. Frederiksen played the intro to Kiss' "Rock and Roll All Nite" for his brother (who was a huge Kiss fan), before confessing that was all he knew of the song. Then he stood alone, centerstage, in the spotlight, to sing his cover of Billy Bragg's "To Have and to Have Not " before rejoining the Forgotten. Lars Frederiksen and the Bastards will be performing at the SANTA CRUZ VETS HALL on Dec. 29 and at the Pound on Dec. 30.

ALL THE NEWS: By now nearly everyone's heard that FUEL is going out of business and its last day is Nov. 15. The community is invited to give the club a proper sendoff at a farewell "Fuel-neral" this Sunday (Nov. 18) at the HOTEL DE ANZA. ...The rumors are true. SALMON played its final show last week. The split was reportedly an amicable one. Frontman LAWRENCE MARTINEZ has simply decided to pursue other interests. ... LIVE 105's annual NOT SO SILENT NIGHT concert will be held Dec. 7 at the COMPAQ CENTER with LINKIN PARK, P.O.D., PUDDLE OF MUDD, SYSTEM OF A DOWN, ALIEN ANT FARM, A.F.I. and SUM 41.

PLAN AHEAD: TRIP DEVICE, D.F.A., ABUSE OF POWER and DISCRETION, Nov. 15 at the Cactus; RICHMOND SLUTS, the FEATHERS and HOTWIRED, Nov. 15 at the LIDO; MOONLIFE, 5606, MANPLANET, KEEPING ELLIS, FINCH, A STATIC LULLABY and IVAN KLIPSTEIN, Nov. 16 at the OUTHOUSE in Los Gatos; DIVIDED, REACTION 31, TRAPT, TENFOLD, ELEMENT OF SURPRISE, SUPERCHANNEL, AMBIONIC and PHILENCE, Nov. 17 at the Cactus.