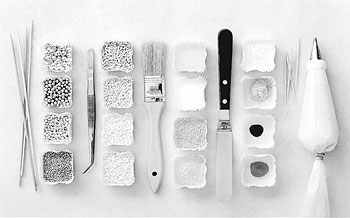 Not Another Fruitcake
A gourmet gift guide for recipients with great taste
By Christina Waters
Holiday, California-Style
The folks at Williams-Sonoma look like Santa's elves with this year's tastiest catalog in print. Last year I sent my parents one of W-S's succulent smoked Scottish salmon fillets, sliced paper-thin and ready to join with your favorite crackers and champagne. ($52). They loved it so much I'm going to do it again this year. Gourmets will also squeal over an all-natural petite ham from Niman Ranch ($37, 2 1/2 pounds). The way things are going this might be the last year you can even get Caspian Sea caviar, so I say this is the year to go for it. W-S offers lots of caviar gifts, but the ultimate www.williams-sonoma.com package includes a trio of 1.06-ounce jars containing the three fabled caviars, sevruga, osetra and beluga. Beautifully boxed, and at $256, a serious gift. For something totally distinctive, send a purist the gift of designer, handmade marshmallows, from San Francisco confectioner Michael Recchiuti. These are the real, old-fashioned item ($19.50).
It's Alive!
Surely one of the most original and satisfying gift ideas of the year comes from Heifer International. In this catalog you won't find designer jewelry or a leather carrying case for your Nokia. This company lets you help "purchase" the gift of livestock to help a deserving family improve the quality of their daily lives. A Heifer ($500) will provide a family with milk and the means to start a livestock herd. A goat or a sheep ($120) can provide income from milk, cheese and wool. A trio of rabbits--and we know how quickly they multiply--can be given in your name for $60. Ducks, geese, bees, llamas, buffaloes, even trees--just like Noah's Ark. Share your own generosity with families in another part of the world by helping them secure food and dependable income. It's the best gift idea on the planet. www.heifer.org or 800/422-0755. This gift will give you as much as it gives to those you help.
The Pampered Pet
Sam's Scrumptious Canine Treats were just made for your puppy. Imagine the look in Spot's twinkling eyes when he unwraps his very own 1-pound bag of Peanut Butter Rounds (all natural ingredients). For $5.95 Fido will definitely believe in Santa Claus as he munches on these handmade peanut butter dog cookies. For the fussy canine, give a special holiday treat of Oatmeal Raisin Bones ($4.25 for bag of 20 "wheat free" biscuits). And for that hard-to-please large breed animal companion, consider the ultimate, the "Big Cookie"--at over 5 inches in size, these are big cookies for big dogs ($13.50 for 20); go to www.doggietreats2go.com.
Dream House
Remember a few years back when Martha Stewart made a gingerbread reconstruction of the Sistine Chapel and sent it to the Pope for Christmas? Well, now you to can get into edible architecture for the holidays, by ordering templates and baking pans from Martha for making your very own holiday gingerbread houses. Okay, so they might not be the Sistine Chapel, but you're no Michelangelo. You'll have fun decorating the frosting trimmings of doors and windows of these edible, fragrant gingerbread farmhouses while you watch the war on CNN. The Gingerbread House Kit includes designs for four different structures, plus parchment paper, heavy-weight baking sheets, plus a pastry bag with nine decorating tips and complete instructions and recipes. $28; see www.marthastewart.com.
Fancy Flax
Finally, nope it's not about food but it's the most playful patriotic gift idea I've seen this season. Check out the online Flax Arts catalog. In addition to lots of wonderful and fun creative stuff, you'll find the ultimate in handblown ornaments. The series, "World Famous Landmarks," offers ornaments created entirely by family workshops in Eastern Europe. And the landmarks include the Eiffel Tower, Big Ben, the Golden Gate Bridge and, most heart-warming of all, an architecturally correct Christmas tree ornament White House and U.S. Capitol building. For $34 you can have a delicate, glittering reproduction of the nation's Capitol hanging from your tree. It arrives gift boxed and includes a card with historical details. If that isn't American enough for you, I don't know what is. Just point and click your way to www.flaxart.com and Happy Holidays!