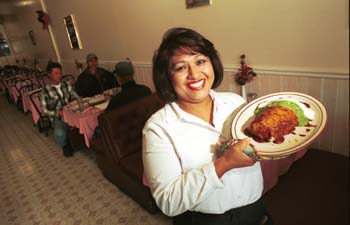 Photograph by George Sakkestad

For the Seriously Hungry: Waitress Lidia Herrera builds biceps hefting the portions at Govea's.

Mundo Mexican

Good, old-fashioned Mexican food with no trendy gimmicks

By Joseph Izzo Jr.

MY PAL FROM THE San Jose PD said it was the best Mexican food in town and that the officers on the beat loved the place. A Mexican-American friend bragged about the chicken mole, the chimichangas and the crispy tacos. I heard other things about Govea's too, all of them enticing and wonderful. With recommendations like this, a restaurant can't be ignored. As soon as the opportunity presented itself, I trekked over to the East Side, to that stronghold of ethnic treasures, to see for myself what all the fuss was about.

Let me begin by telling you what I didn't find at Govea's. I found no trendy Tex-Mex, no corporate Mex, health Mex, fusion-Mex, no gimmicks, come-ons or fashionably small portions. Govea's is a family Mexican restaurant serving food that sticks to the ribs, the kind that sustains the body through long hours of hard work. Govea's kitchen abides by the traditional standards of the family table--wholesome foods, a lot of carne and chicken, beans, rice and tortillas.

Govea's is located on Tully Road not far from the Eastridge Shopping Center; it's in a strip mall with the sort of nettlesome parking that could trigger physical aggression. First-timers take note: Govea's is hard to find in its little berth--tucked between a Vietnamese cafe, a pizza place and (what else) a Starbucks.

When we arrived on a Sunday afternoon the place was packed. A cacophony of animated chatter, cooing babies, Mexican ballads and endless laughter met our ears as we pushed our way past a long line of takeout patrons and stepped into what is, essentially, a hole-in-the-wall. We were quickly seated amidst this veritable celebration and our cheeks were warmed by a strong sense of community--as strong as the aroma of the fresh beans and rice in the air. Within seconds, salsa and chips were served and we were off and running.

If you taste nothing else, dip a spoon into one of Govea's caldos, or soups, made fresh and served piping hot with tortillas and condiments of lemon, oregano and hot pepper. We sampled two that Sunday and were delighted by both. The broth, upon which the caldo de pollo ($7.25, $5 half-order) was based, had exceptional clarity and clean, immediate flavors. This liquid was brimming with crunchy vegetables--cabbage, carrots and potatoes--and chunks of chicken breast stripped clean of skin and bones. We also liked Govea's menudo--another clean, fresh-tasting soup--full of tripe and hominy and accents of hot pepper.

My family friend spoke the truth about Govea's Chicken Mole ($7.75). This celebrated Mexican specialty--allegedly created by the nuns of Puebla over 300 years ago--delivered generous pieces of chicken breast--and nothing else--in a rich russet sauce full of fire, chocolate and ground peanuts. When the meat was gone, we used bits of tortilla--both corn and flour--to wipe up the remaining sauce.

If you like pork, I recommend either the Chile Verde ($7.99) or the Carnitas ($8.25). The first is yet another rendition of pork with green chile--a perennial on the Mexican table--only this recipe is not pulpy and flavorless (like so many) from overcooking or continued reheating. Govea's served a young stew that day--I suspect made that morning--full of pork and its juices, and fresh chiles that turned the gravy a striking color of green. The Carnitas came with guacamole and pico de gallo, the ideal condiments for building delicious soft tacos, with roasted pork presented in crispy, succulent chunks.

If you haven't eaten for days and need food badly, especially a lot of carbs and fats, the ever-popular Chimichanga ($7.99) is for you. Finish one of these and you won't have to eat for a long time. Here, pork in green chile is put to a different use--this time, folded into a deep-fried tortilla along with pinto beans, then smothered with guacamole and sour cream. But the number of ingredients feels overwhelming in this case, creating confusion for both the eye and palate. If you want something deep fried and far less puzzling, the crispy taco made-to-order and filled with chicken or ground beef is a more reasonable choice.

When Govea's is crowded--which is much of the time--the servers can get stretched out. For the most part, dishes came fast and in order, but not always. The waitresses are veterans and know their business, however, and will work hard to get things right. For best results, take the initiative but be patient. If you're in a hurry, wait in line for takeout.

I'm glad to see a family restaurant like Govea's doing so well, reaping such praise, serving Mexican food so good. Freshness and consistency are the touchstones of this operation that has captured the attention of so many. The dishes are wholesome and filling and the restaurant is a community hub. The joint is jumpin'.
---
Govea's
Address: 1996 Tully Rd, San Jose
Phone: 408.270.0973
Hours: Mon-Thur 10am-9pm, until 10pm Fri; Sat from 9am-10pm; Sun 9am-9pm
Price Range: $3.99-$12.99
Cuisine: Mexican
---
[ San Jose | Metroactive Central | Archives ]