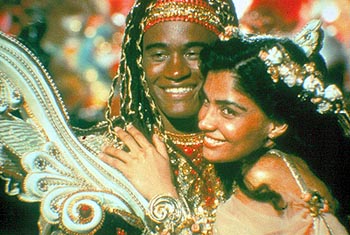 Blame It on Rio: Orfeu (Toni Garrido) and Euridice (Patrícia França) are part of a half-hearted love triangle.

Slumming

New version of 'Black Orpheus' loads on the violence

By Richard von Busack

ANY OLD-MOVIE FANS trying to recapture the sense of glossy romanticism they got from Marcel Camus' 1958 Black Orpheus are directed straight back to the video store. It would probably be morally reprehensible to make a film now that posits Rio de Janeiro as relatively happy as it was 40 years ago. Still, the new version, Orfeu, by Carlos Diegues loads on the violence without favoring the music. Most of Orfeu takes place in the favella, the city of tin-roofed slums on the side of Carioca Hill. And the music is updated, too--Orpheus has become a rapper, befitting life in a besieged neighborhood. A line here has it that police, nicknamed "the worms," are the only thing the government sends up the hill.

While the background is real enough, the foreground romance is of immaculate predictablity. Orfeu tells the story of a struggling artist and his old friend, Lucinho, who has become a drug-selling gangster. Orfeu (Toni Garrido) strikes one not as a god but as a spoiled prince (or rather Prince--you may not have seen such swanning since Purple Rain.)

He's worshipped in the favella by his mother and by the local kids, who say that he makes the sun come up. Though he has his pick of the local girls, he's drawn to a new arrival: Eurídice. This imago is played by Patrícia França, a stunning, large-eyed woman who, as an actress, is rainforest hardwood. What does Orfeu see in her besides her diffidence? The film is a kind of triangle, although the gangster Lucinho (Albert Brooks look-alike Murilo Benício) seemingly doesn't notice her until it's time for the end of the tale.

Today, the famous Carnival is staged, because of crowd control, in a giant stadium, as if it were a half-time show. Even as good a cinematographer as Affonso Beato (who shot the Almodovar film All About My Mother) can't make a spectacle like that look impressive. Unfortunately, the cameras had to be drawn back--like a blimp's-eye view of a football game, with inserts showing our hero. Orfeu's prize-winning rap--probably an indictment of society--goes untranslated, too.

Orfeu is a cross between social-realist horror (the execution of a child-rapist) and the flagrantly melodramatic (the unlikely death of Eurídice, who has no good reason for being in the wrong place at the wrong time). While you don't expect a new director to make a film about Brazil as a delightful tropical paradise, at least you'd wish for a little more of the Jobim music that courses through the mind while watching this. Orfeu ends with music of a sort: agonized wailing, which the film suggests is going to be the new sound from Brazil in the coming century.
---
Orfeu (unrated; 110 min.), directed Carlos Diegues, written by João Carneiro, Vincius De Moraes, Diegues, Paul Lins, Hamilton Vaz Pereira and Hermano Vianna, photographed by Affonso Beato and starring Toni Garrido, Patrícia França and Murilo Benício, opens Friday at the Towne Theater in San Jose.
---
[ San Jose | Metroactive Central | Archives ]