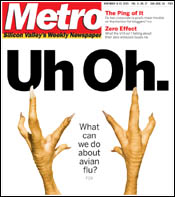 For the Week of
November 16-22, 2005
Cover Story: Flu Me Twice, Shame on Me:
What can we do about avian flu?
News: Half Empty:
A small but vocal minority of users are raising a stink about how eBay treats their beloved Half.com.
The Fly: Valley Transportation Authority's Zero-Emission buses aren't all they're cracked up to be.



Silicon Alleys: Meeting San Jose's Original Neighbors.
Techsploits: Ping Meltdown.
Rev: The air bag is, of course, a brilliant invention. Sure, sure, a few kids die every year from suffocating after an air bag discharges—but they shouldn't have been sitting in the front seat anyway.



Ringer Of Fire: Cash is king in sentimental but irresistible biopic of country star with Joaquin Phoenix as the man in black.
Method Madness: 'Ellie Parker' is Scott Coffey's shot-on-DV tale of the agonies and ecstasies of the no-name actress who went on to become Naomi Watts.
Dragon Season: 'Harry Potter and the Goblet of Fire': going whole Hogwarts.
From Duck To Tapas: The International Latino Film Festival: eight movies in three days.
Positive Spin: 'Sarah Silverman: Jesus Is Magic': I suppose she kisses her mom with that mouth.



Filmed Notes: Prepare for the cinema Cash with an armload of music biopics.
We've Got to Carry Each Other: Whatever you say about Bono and his Secretariat-sized ego, the man can make an entrance.



Twilight of The Trick: Gabriel García Márquez skewers the follies of an aging man in 'Memories of My Melancholy Whores.'



C'mon, Get Happy: Even if your mom didn't serve you tofu made to look like meat, you'll feel mothered at the Happy Bamboo.
Live Feed: My First Taste Of Taiwan.
5 Things to Love: Places to Feast Without The Fuss.
Club Life: Baybar in Redwood City.



Please don't forget to write! Metro welcomes letters. Like any great work of art, they should be originals — not copies of letters sent elsewhere. Include address and daytime phone (for verification purposes only). Letters may be edited for length and clarity or to correct factual inaccuracies known to us. Postal: Metro Letters, 550 S. First. St., San Jose, CA 95111. Fax: 408/298-0602. Email: letters@metronews.com. Emailers, please include name, city of residence and phone number. Letters printed will list email address unless otherwise specified. Letters to the editor are not currently published in the online version of this paper.