[ Metroactive Central | Archives ]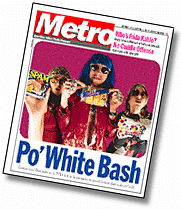 November 16-22, 1995
The Dark Side of Camp: What's the harm in lava lamps? Is camp a bitter assertion of class structure and hipper-than-thou smugness? Gareth Cook looks at the evolution of camp culture from drag queens to Quentin Tarantino. Also, Richard von Busack ponders the meaning of pop irony.
News
Tooth and Nail:The fight to keep fluoride out of our tap water was once the purview of Cold War crazies like Jack T. Ripper in Stanley Kubrick's Dr. Strangelove, who obsessed over commie plots to taint America's "purity of essence." But the current crop of fluoride foes has taken a new tack: blaming capitalist chemical companies. Jennifer Davies reports.
Arts &amp Entertainment
Movies
Lovely Rita: Rita Hayworth began her public life as a sultry starlet and ended it in troubled marriages and Alzheimer's, but her screen presence remains golden. Richard von Busack previews the Stanford Theater's retrospective, playing November 18 to December 2.

Also reviewed: Les Misérables and Reckless

Art
Abstract Highs: Line dancing and organic shaping in the paintings of Judy Foosaner and Roberta Eisenberg at the d.p. Fong Galleries

Audiophile
Reviews of the latest albums by Kenny Burrell, Gob, SF Seals and Dead Hot Workshop

Beat Street
The sky's the limit at an eclectic Flint Center show in Cupertino

Books
'Wild Thing': Ian Copeland's wild ride through the "new wave" years

Music
Beat Farmers' lead singer is gone
Cub strikes out at the "cute" label
Pat Martino appreciates life--and music--one day at a time
Sonny Rollins: New album chronicles jazz tenor's mid-'60s form
Supergrass romps through Mod pop, psychedelia, post-punk and just about anything else

Opera
'Die Fledermaus' merrily waltzes through San Jose

Stage
'Into the Woods': SJSU runs hot and cold with Sondheim's fairy tales
---
This page was designed and created by the Boulevards team.
Copyright &copy 1995 Metro Publishing and Virtual Valley, Inc.
---