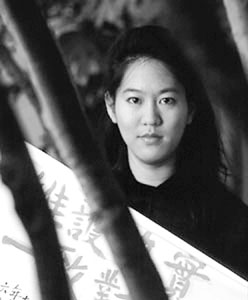 Remembering Iris Chang

Local author Iris Chang, 1968­2004, spoke with passion and force about unspeakable incidents

By Ami Chen Naim

I FIRST met author Iris Chang at a teahouse in Mountain View, around this time of year, in 1996. We were there to discuss her then forthcoming book, The Rape of Nanking, and local efforts to bring Japanese military atrocities in China during World War II to light. Meeting her was, in many ways, like meeting myself. We were both 28 at the time, both Chinese-Americans, both writers and activists of different sorts, and both of us claimed grandparents who had fled the Chinese capital, Nanking, before roughly 50,000 Japanese troops descended on the city. The troops then descended to the lowest depths of cruelty known to humankind as they tortured, raped and slaughtered nearly half the civilians—man, woman, child and infant—that remained trapped in Nanking. Death toll estimates range from 200,000 to 400,000.

The horrors Chang wrote about—and spent the last decade of her life bringing to the fore in American media—were nearly unspeakable. And yet Chang made it her business to speak with passion and force about them. In contrast to what most Americans know about the German holocaust and Nazi atrocities during World War II, they are "abysmally ignorant," in her words, of Japanese war crimes against the Chinese. Indeed, after the war, as Germans were brought up for tribunals at Nuremberg, the United States brokered deals with the Japanese to obtain germ warfare and human biology research. In exchange, Japanese war crimes would go largely unpunished. Other reasons for the ignorance about Japan's actions include a global perception of the Japanese as victims after the bombings at Hiroshima and Nagasaki, as well as a historical Chinese reluctance to engage in political activism in this country.

Which is where Chang and I differed from our parents, along with a whole generation of American-born Chinese who feel confident enough as citizens to speak our minds. Chang is a heroine to the older Chinese community. Her memorial services in Los Altos are expected to be full to overflowing. I admired Chang both as a Chinese and as a young woman. She was dogged, articulate and compassionate. In 1996, I described Chang as having "a sweet and long face, and gracious manner," which heated quickly during discussions of Japanese actions in China. According to her literary agent, Chang suffered from depression the half-year before her alleged suicide in Los Gatos last week. She died at the age of 36, my age now. Her son is just 2, and my baby girl is nearly 1.

I wondered if the work had gotten to her—such grisly, grim material. But depression can sneak up on anyone. Chang's heroine was Minnie Vautrin, a woman Chang called "the American Anne Frank," who helped save tens of thousands of Chinese lives and kept a daily diary in Nanking. Vautrin herself committed suicide—reportedly because she felt she could not do enough. "I would like to make sure her diary is published," Chang had told me. What else did she want? "A full and sincere apology [from Japan] to all of its victims from World War II. Reparations for victims. A guarantee that the next generation of Japanese schoolchildren will be taught the full extent of wartime atrocities committed by the Japanese. That's a good start."

Chang did not just see the Japanese army in China as evil, but recognized that evil is possible for all human beings. She remarked at "how easily we all can become desensitized." And it is always our own actions that are hardest to see as damaging. Something to keep in mind as our nation is engaged in military operations overseas.
---
Services for Iris Chang will be held Thursday at the Spangler Mortuary in Los Altos, 5­8:30pm, and a memorial led by Ignatius Ding of the Global Alliance for Preserving the History of World War II in Asia will be held Friday at 10am at the Gate of Heaven Cemetery, Los Altos. Books by Iris Chang: 'The Rape of Nanking: The Forgotten Holocaust of World War II,' 'The Chinese in America,' and 'Thread of the Silkworm.' Also of interest: 'American Goddess at the Rape of Nanking: The Courage of Minnie Vautrin,' by Hua-Ling Hu. Ami Chen Naim's original profile of Chang can be found here.
---
---
Send a letter to the editor about this story to letters@metronews.com.
---
[ Silicon Valley | Metroactive Home | Archives ]