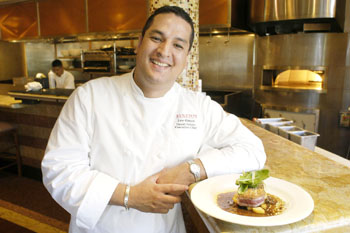 Photograph by Paolo Vescia

Patino Of Success: Executive chef Daniel Patino has created an ambitious new menu at Kuleto's.

Take Two

Kuleto's Italian Restaurant turns over a new leaf

By Stett Holbrook

KULETO'S Italian Restaurant opened two years ago as part of the new Hotel Los Gatos, a fancy, stucco place across from Los Gatos High School. The restaurant was the latest outpost of Kuleto's, restaurants with locations in San Francisco and Burlingame. In February, Joie de Vivre, the trendy San Francisco-based boutique hotelier that manages the hotel, took over the restaurant. As part of the change, the company hired executive chef Daniel Patino in August and charged him with creating a new menu.

A new chef and a made-from-scratch menu is a hint that the management was not pleased with the status quo. Patino has created an ambitious menu that emphasizes robust, rustic Italian cuisine prepared with top-shelf ingredients and seasonal produce. Over the course of two visits, most dishes were well executed, but the kitchen is still working out a few kinks.

The dining room has good looks to spare. With its long, mahogany bar, open kitchen, eclectic light fixtures and thronelike booths, Kuleto's evokes a cozy opulence. The one glitch is the bathroom situation. You have to trek out of the restaurant and into the hotel lobby to use the facilities.

Kuleto's appetizers and salads are particularly strong. For lunch, the vegetable salad ($9) exemplified Patino's let-the-ingredients-speak-for-themselves approach. The heaping salad combines small red and yellow beets, yellow and green beans, baby carrots, shaved fennel and crumbly ricotta salata cheese. Each ingredient is cooked to retain a little snap and tossed with a barely-there dressing. Seared squab ($11) was a beauty—juicy, crisp-skinned legs and breasts arrive on a plate adorned with pomegranate seeds, bittersweet caramelized endive and a seductive sherry reduction. The rich parmesan soufflé ($9.50) was more cheesy than eggy and disappeared in seconds under a hail of descending spoons. Nine dollars seemed like a lot for a gloried ham and cheese sandwich, but the brick-oven-baked flat bread with prosciutto, provolone and roasted pepper aioli vanished quickly, too.

The skirt steak sandwich ($13) combined pleasingly charred, tender beef with grainy mustard, peppery arugula and red onions. But the focaccia that the sandwich was served on needed more oven time for a crisper crust to offset its spongy interior. But that was nothing compared to the fries served with the sandwich. They were limp, soggy and lacked even a suggestion of crispness.

Another slip-up came from the dinner menu. Oven-roasted pork loin ($23) was nice to look at with its jumble of corona beans, roasted garlic, pancetta and fried sage, but after a couple of forkfuls I urged my companion to send it back to the kitchen. While the pork was tender, a salty, off, almost fishy flavor marred the sauce. Our server replaced it promptly and politely with a perfectly adequate roasted chicken with saffron risotto ($18.50).

Other dishes fared better. Bucatini amatriciana ($16) combines fat spaghettilike pasta with guanciale (a lean bacon made from cured pork jowl), roasted tomatoes and a touch of chile oil heat. It's a simple and satisfying dish. Succulent white wine-braised osso buco ($24.50) served with creamy polenta and stewed kale is tailor-made for the onset of winter. And the foie gras butter-topped grilled rib eye with potato-parmesan gratin ($28.50) is a sybaritic serving of meat and potatoes.

Service was friendly and accommodating but sometimes seemed a little distracted. In spite of great interest on the part of the staff to solicit our drink orders, one order went unfulfilled. And no one informed us of the soup of the day, while dessert menus were delivered without mention of the advertised dessert of the day.

Desserts are good, but sometimes overwrought. On its own, chocolate and butterscotch pot de crème ($7) is smooth and creamy dessert heaven, but piling on whipped cream, raspberries, strawberries and enough slabs of walnut-studded chocolate to shingle a house was superfluous. The dense, bitter chocolate cake with vanilla gelato and crimson raspberry purée ($7) showed more restraint.

Kuleto's makeover may still be a work in progress but there's plenty of good eating along the way.
---
Kuleto's Italian Restaurant
Address: 210 E. Main St., Los Gatos
Phone: 408.354.8290
Hours: Breakfast 9am-11am Mon-Fri; lunch 11am-2:30pm Mon-Sat; dinner 5pm-10pm Mon-Thu, 5pm-11pm Fri-Sat, 5pm-9pm Sun; brunch 9am-2:30pm Sun
Price range: $10-$28.50
---
---
Send a letter to the editor about this story to letters@metronews.com.
---
[ Silicon Valley | Metroactive Home | Archives ]