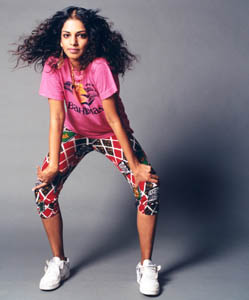 Purple Haze: M.I.A.'s rebel pedigree comes from her father, a Tamil freedom fighter.

The World Isn't Ready

From Sri Lanka to London to your headphones, meet M.I.A.

By Todd Inoue

POP MUSIC'S ability to repeat trends is so ingrained, so expected, that by the time the cubic zirconium version of Alicia Keys, Jessica Simpson or John Mayer arrives at radio, the shiny feeling of discovery has worn off. So when a diamond comes into focus, the sheer novelty forces music fans to re-examine their own expectations of what pop music is, and more importantly, where it comes from.

Therefore, it's refreshing that M.I.A. is getting buzz. The British Sri Lankan MC is the hot word on the lips of music critics and hipsters in search of something different. Not to be confused with R&B tart Mya, M.I.A. appeared on the September/October 2004 cover of Fader with only one single ("Galang") to her name. But—got damn!—what a single. It's a roller coaster of broken beat, ragga, bhangra, electronic buzzes and whistles. M.I.A's sing-song cadence is part chitter chatter, part feminine mystique with a "yah-yah heyyy" chant at the end that signals an uprising. The most loquacious music critspeak doesn't do it justice; "Galang" is the illest single I've heard in months, and all I want to do is listen to it again and again.

Born Mathangi Arulpragasam in London, the future MC moves to Sri Lanka. Her father, an engineer and activist, gets more politically involved as the Sinhala-Tamil conflict grows around them. He works alongside Tamil freedom fighters and goes into hiding for months at a time. The family moves to Madras, India, and London and back to Sri Lanka. As the civil war reaches its height in the mid-'80s, the family emigrates to London for good.

It's here where M.I.A's interest in music takes root. She admires Public Enemy and taps into the local dancehall and hip-hop scenes. She has a chance meeting with Peaches who schools her on the capacities of Casio programming. Her offbeat rhyming—filled with more scatty hooks to fill a tackle box—gets the attention of Pulp's Steve Mackey, who punches up M.I.A.'s subterranean polyglot of electronic, outside and indigenous influences. Comparisons to Missy Elliott don't do her justice; she possesses Missy's Cosmo style and outspokenness but little of the explicit sexuality. And M.I.A. doesn't shy away from politics given her family's experience.

M.I.A. and Hollertronix DJ Diplo recently put out a tantalizing sampler Piracy Funds Terrorism, a limited-release mixtape with M.I.A. flowing over twerked versions of her own tracks. "Amazon" is M.I.A. hitting three-wheel motion over Ciara's "Goodies" beat. "Fire Fire" is informed by a political awareness instilled by her father. She applies jungle warfare to the rap game. "Growing Up, brewing up/ Guerrilla getting trained up/ Lookout, lookout from over the rooftop" goes the chorus. "Pop" questions faulty government leadership over Dead Prez's "(It's Bigger Than) Hip-Hop."

M.I.A. is just as adept at communicating affairs of the heart. On "Uraqt" ("You are a cutie" in IM speak), M.I.A. gets gangsta on trifling honeys blowing up her man's text message inbox. On "Lady Killa," she asserts herself Neneh Cherry/Patra-style while Diplo goes nuts with the audio bed, scattering bits of Kraftwerk between the sheets. The mix reaches a climax when M.I.A.'s sturdy makeover of the trash disco oldie "Sunshowers" gets a Wonderbra lift from Salt-n-Pepa's "Push It."

M.I.A. isn't the product of focus groups. She is skinny and storky. When she dances, as shown in her "Galang" video, she looks like a 12-year-old losing herself to the Time's "The Bird" in reverse. By contemporary pop standards, M.I.A. seems unsuited for superstardom but her supreme confidence, intuition and striking songs make her a precious commodity worth hoarding. Her full-length Arular drops in February 2005 on XL Recordings (home of Dizzee Rascal) but you can get "Galang" and "Sunshowers" now on iTunes. Piracy Funds Terrorism is available from turntablelab.com.
---
Send a letter to the editor about this story to letters@metronews.com.
---
[ Silicon Valley | Metroactive Home | Archives ]