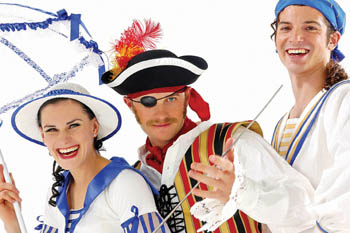 Photograph by John Gerbetz

Swashbucklers: Alexandra Koltun (left), Alex Lapshin (center) and Maximo Califano star in 'Pirates of Penzance.'

Pirates in The Valley

Choreographer Daryl Gray talks about Ballet San Jose Silicon Valley's splashy new take on 'Pirates of Penzance'

By Marianne Messina

HOW does one turn an operetta into a ballet, especially one as famous for catchy lyrics as The Pirates of Penzance? You only have to hear the Major-General's bouncy patter song once—"I am the very model of a modern Major-General"—to find yourself singing it while doing the laundry. For Pirates of Penzance for Ballet San Jose Silicon Valley, choreographer Daryl Gray has found an "ingenious" way to include the ever-popular lyrics.

Gray has added a framing device that creates four new characters—not dancers, but singers. "The four singers are theatergoers, and they are Gilbert and Sullivan aficionados," Gray explains. "They are Silicon Valley theatergoers ... and they know every word." Gray has found that the device works so well with Gilbert's third-person lyrics that "it makes for some surprises." For one thing, lyrical responses between the male and female singers take on the shape of gender-related arguments.

The plot is simple. Boy meets girl (just after ending his indentured service to a band of pirates); boy and girl fall in love (at first sight); boy and girl are betrothed (a few lyrics later). It's stage business as usual until the Pirate King and the pirate "maid-of-all-work" Ruth find "a most ingenious paradox" in Frederic's contract of service. As it happens, young Frederic was born on Feb. 29 in a leap year, and his contract is worded such that his service ends on his 21st birthday (counted in birthdays, "He's a little boy of 5"). Boy returns to servitude. Meanwhile, since Frederic is a flip-flopper if ever there was one, he's put the local constabulary onto the pirates' lair. Swashbuckling ensues.

Argentinian dancer Maximo Califano dances "boy" Frederic, and Alexandra Koltun dances "girl" Mabel (the Major-General's daughter). And Gray doesn't hesitate to admit that part of the creativity in this all-new choreography has been inspired by "the overall technical level" of the San Jose dancers. "Because of that I decided to upgrade, pretty much throughout the ballet," he reports. Part of the upgrade includes letting go of the temptation to explain plot through pantomime. "There's not a whole lot of pantomime, because I found that there are ways to say things in dance by digging," Gray says. "Digging into myself to find how to do it." Most of Gray's digging centered on how to render emotional shifts through dance movements. "How do you show that the police are really scared but have got their act together at the same time?" Gray asked himself.

In one scene, Frederic realizes he owes Mabel's father no consideration, and Gray wondered how to show Frederic divesting his sense of duty. "Very sweeping kind of movement," Gray decided, "very broad, 'cause it's like, it's sort of like clearing something away." And Gray wondered how to create the "modern Major-General" of the famous lines: "I've information vegetable, animal and mineral. I know the kings of England, and I quote the fights Historical ..."

"It's about he's so clever and he knows so much," Gray explains. "That's what I make the dance into. But I have him come in with an umbrella ... and then he uses the umbrella as a prop: he uses it as an umbrella, he uses it as a fumigating thing, ... he uses it like a hat and cane like in a vaudeville show."

Gray gets fired up when he talks about this dance, to be performed by Raymond Rodriguez. At rehearsal, Rodriguez and the chorus of girls (playing the Major's daughters) hammer out every hand flourish and bow. The process is organic, with input from everyone. And for Gray, who set this tone, the process is still alive and ongoing. This synergy promises to add layers of life to this already lively operetta.
---
Pirates of Penzance plays Nov. 18-20 at 8pm, Nov. 21 at 1:30pm, with a children's performance Saturday at 1:30pm at the San Jose Center for the Performing Arts. Tickets are $22-$68. (408.288.2800). Ticket-holders to Friday's show are invited to a free pre-show party, 5:30-7:30pm, at the Fairmont Hotel.
---
---
Send a letter to the editor about this story to letters@metronews.com.
---
[ Silicon Valley | Metroactive Home | Archives ]