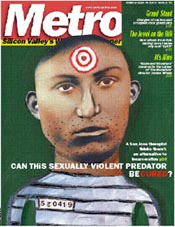 For the Week of
November 19-24, 1998

Cover: Creepy Calling
As the state's population of sexually violent predators crowds into prisons and mental institutions, a San Jose psychologist says he can help.




News: Megan's Legacy
Megan's Law was supposed to make parents and children feel safer, but in one Fremont neighborhood, it seems to have just made everyone more afraid.

Jurors' Balks: Some members of the Santa Clara County civil grand jury are in an uproar over what they say is unfair treatment of jurors and racial politics.

Public Eye: Supervisor Joe Simitian passes on a dubious honor.

Bear Nuked: The week of the Big Game, Oski, the Berkeley mascot, undergoes a startling transformation.






Monster Mash Note: The director who animated Frankenstein comes alive in Gods and Monsters.
Trading on 'Celebrity': Woody Allen turns unlikely moralist about adultery in latest film.
Flunking 'History': American History X pulls punches in fight against fascism.
Death Gets a Life: Death doesn't become Brad Pitt in Meet Joe Black.



Internal Abstract: Phe Ruiz pursues the hair-trigger truth of personal reality at new MACLA exhibit.



The Family Jewel: With help from her mother, Jewel transforms sentiment into sanctimony on sweet new album, Spirit.
Blues for a Living: Eddy 'The Chief' Clearwater embraces rock and country in his blues.



Garden Delights: Sunnyvale's Murphy Avenue gets a hearty helping of panache and innovation in its new eatery, Tarragon.



Please don't forget to write! Metro welcomes letters. Like any great work of art, they should be originals -- not copies of letters sent elsewhere. Include address and daytime phone (for verification purposes only). Letters may be edited for length and clarity or to correct factual inaccuracies known to us. Postal: Metro Letters, 550 S. First. St., San Jose, CA 95111. Fax: 408/298-0602. . Emailers, please include name, city of residence and phone number. Letters printed will list email address unless otherwise specified. Letters to the editor are not currently published in the online version of this paper.