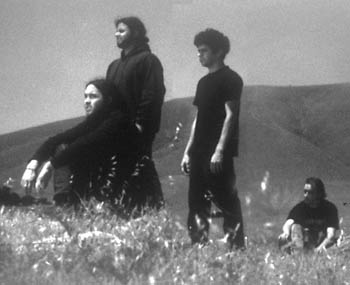 dredg pulls inspiration from the sky.

Collegiate Rock

dredg's artful appeal brought a studious-looking crowd to the Edge

By Sarah Quelland

YEARS OF HARD WORK were further validated for two South Bay bands last Thursday (Nov. 13) as a collegiate-looking crowd of young men and women filled the Edge to capacity. dredg may have sold out the Palo Alto club, but Strata got fans there early. The long line to get inside caused many to miss opening band Revere. While Los Gatos' dredg signed to Interscope Records in 2001 and released its beautiful concept album, El Cielo, last year, Campbell's Strata just signed with Wind-Up Records and is only now beginning its journey to the next level.

It makes sense that dredg and Strata toured cross-country together earlier this year. Musically, the two bands complement each other without being too same sounding. Strata held the Edge crowd's attention with songs off its early full-length sleep, its Internet-only album when it's all burning and its most recent, the now the industry is outnumbered ... their factories are burning down EP. A small pit even broke out during "In a Sweet Dream," which prompted vocalist Eric Victorino to say, "I dare you to mosh to this one," before the band broke into the desolate-sounding "In Soma."

Strata's music builds and builds before finally releasing, which creates a rapt anticipation and a desperate desire for relief in the listener. Meanwhile, Victorino is capable of channeling both Robert Smith's exquisite ache and Kurt Cobain's miserable frustration. He writes of feeling numb and empty while examining and evaluating the effect others have on his life. Elements of Tool creep in as well. "When It's All Burning" rekindles the spirit of Armageddon found in Tool's epic "Ænima."

Victorino's pain touches people, and instead of screaming it at people, it's as if he's pleading for help. Still, there's strength in his weakness. On the early "Sleep," he insisted, "Not a second of this matters," but on the newer "The Panic," which kicked off Thursday's show, he's decided that "every second changes everything in my life."

If Strata is seeking healing and explanations, dredg is seeking harmony and balance in nature. The band continues to integrate art into its identity with paintings and wall hangings and sets a mood wherever it plays. The band's music invokes the vast mystery of the seas and skies, and it has equally studious and spiritual qualities.

These musical explorers have remained true to their organic and adventurous vision, and they continue to challenge expectations live. Early in the show, dredg broke "The Canyon Behind Her" down into deliberate chaos before putting it back together again. Thursday also saw guitarist Mark Engles beating on drums; bassist Drew Roulette playing a keyboard and later playing his bass by banging a mic stand against it; and vocalist Gavin Hayes singing words through a trumpet and playing a slide guitar, a live element that's quickly becoming one of the band's signature features.

In addition to playing most of the songs off El Cielo and a couple classics from its 1999 independent release, Leitmotif, dredg also debuted some new songs that came across as full-sounding, heavy and hypnotic.

At the end of the show, the band took its leave, and Rebekah Del Rio's haunting a cappella cover of Roy Orbison's "Crying"--sung in Spanish and titled "Llorando"--resonated through the club. Fans demanded an encore, but the show was officially over.

The group just headed out on a short Southwest run with Chevelle, and dredg's next scheduled date in the Bay Area is New Year's Eve at Bottom of the Hill with Sleepytime Gorilla Museum. Strata plays again Nov. 28 at the Gaslighter Theater in Campbell.

HOT TOPIC: Shinobu holds its CD-release party Friday (Nov. 21) at the Outhouse in Los Gatos with Oliver Brown, Robert + Karen, the Woods and Alex Security. ... The Quirks (featuring Kingpins, Ribzy and Kerplunk alums) unleash their new CD the same night (Nov. 21) at the Caravan with the Pimpsticks. ... Iggy Pop and Offspring have been added to LIVE 105's Not So Silent Night.

PLAN AHEAD: Dubwize, Nov. 22 at Waves; Clay Wheels and Hightower, Nov. 22 at Johnny V's; the Substitutes and iNQ, Nov. 24 at Waves; the Berlin Project, Dexter Danger and Time Will Tell, Nov. 25 at the Blank Club; Moulder's Lounge, SECURITY, Called to Ruin, Point 3 and Rez'n, Nov. 25 at the Voodoo Lounge.
---
Send a letter to the editor about this story to letters@metronews.com.
---
[ Silicon Valley | Metroactive Home | Archives ]