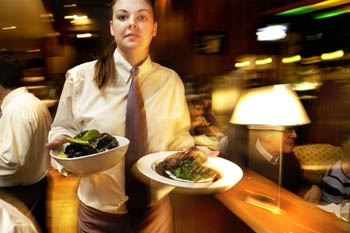 Photograph by Charlie Nucci

No Tall Food Here: From sake-steamed mussels to brûléed banana, Oak City hits home.

After the Froth

Oak City Bar and Grill dishes out New American comfort food in a lofty lodge environment

By Aaron Robinson

WITH ALL the creativity frenzying restaurants, sometimes it's refreshing to go old school. After the froth, the cotton-candy whipped yams and the seared pink flamingo, what the average person really wants is spaghetti, garlic bread and a glass of cheap chianti served in the living room.

The owner of Oak City Bar and Grill seems to have caught on to this concept and decided a slow and steady bill of fare would win the race against his outrageously eccentric forerunner, the Wild Hare. After being seated, we were given a good 10 minutes or so to sit and appreciate our surroundings. Oak City doesn't look much like your average bar and grill--there are no neon signs, no dart boards and no drunks. The ceilings are high, the decorative additions are sparse and the hanging lime lamps illuminate the way through the tables to the bar. A peculiar broccoli tree mural is supposed to evoke an oak tree--at least, that was our guess.

Once settled, we put in a wine order: a glass of Callaway Viognier ($5) and a glass of Claiborne & Churchill Riesling ($8), both selected from a list that not only offers glasses and bottles, but also 2.5-ounce tasting portions.

The menu reflects true New American-style cuisine--old-fashioned cooking presented with a modern flare. Appreciating variety, we decided many selections in a coursed-out manner would suffice. First among these was the roasted red beet salad ($7). Generously presented in a white ceramic bowl, the salad displayed sleek color schematics. Peppery arugula, salted walnuts and creamy balsamic vinaigrette enhanced the tender/sweet morsels, but it was the incredibly smooth Point Reyes blue cheese that made the dish exceptional.

Sake-steamed PEI mussels with Fresno chiles, red onions, Kaffir lime leaves and cilantro ($9) begged to be sipped like soup. Some mussels had a texture that was too milky, but the savory and fragrant sake broth made the dish worthwhile.

The smoked-salmon appetizer ($8) looked like something you would conjure up in the middle of the night out of leftovers, but the toasted rye covered in a dill cream cheese spread, monstrous slabs of smoked salmon and an array of condiments (pickled red onion, capers and kalamata olives) formulated a very decent bar appetizer.

Before we got to the heavier dishes, we had to upgrade the wine. A 2000 Reynolds Shiraz ($25), decanted at the table, made an outstanding bargain. It was a big chewy vintage yielding rich notes of black licorice and dark berry with a smooth finish. The Australian wine stood up well to the chewy grilled Australian lamb loin ($27) smothered in a rich and syrupy pomegranate molasses glaze. Grilled eggplant, pine nut couscous and a feta and arugula salad added pleasantly ethnic flavors.

About now the serving pace quickened, and the courses began getting jumbled together. Delicate and delicious Maine day-boat scallops ($19) seared rare with fragrant truffle butter were impudently accompanied by woody asparagus, chewy, underseasoned black trumpet mushrooms and dry mashed potatoes.

Noticing that we had ignored many of the real classics on the menu such as the meatloaf, baseball steak and white cheddar burger, we sprung for the Mac and Cheese Gratin ($11) with cheddar, Swiss, Parmesan and garlic herb croutons. I prized the choice of using thick radiatori noodles, but had hoped for a little more zest from an all-white-cheese sauce, maybe even a crispier top.

Dessert brought out the bells and whistles: a palate-cleansing house-made raspberry sorbet with raspberry-vodka infusion and candied citrus zest, and a banana split "new style" with vanilla, chocolate and strawberry gelato, nuts and chocolate sauce (both $7). Crispy brûléed banana slices made a happy ending to a big-hearted evening. Oak City seems to be finding its footing down the limelight path.
---
Oak City Bar and Grill
Address: 1029 El Camino Real, Menlo Park
Phone: 650.321.6882
Hours: Lunch 11:30am-2pm Mon-Fri; dinner 5:30-10pm Mon-Sat, 5-9pm Sun
Cuisine: New American
Price Range: $10-$27
Full Bar
---
---
Send a letter to the editor about this story to letters@metronews.com.
---
[ Silicon Valley | Metroactive Home | Archives ]