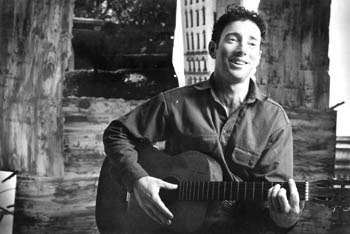 Photograph by Dennis Keeley

Modern Lover: There's much more to Jonathan Richman than his appearance in a Cameron Diaz flick.

Richman, Poor Man

Could the happy-go-lucky Jonathan Richman ever be in a funk?

By Steve Palopoli

I WORRY ABOUT Jonathan Richman. I know we all like to think of him as Happy Happy Fun Man, singing songs about little dinosaurs and leprechauns and parties in the USA, but there's that other side of him, too--the forlorn, brooding Jonathan Dark Half that reaches all the way back to songs like "Hospital" and "Don't Let Our Youth Go to Waste" from his Modern Lovers years.

You can usually see a little bit of this in concert, when Jonathan stares out with a hangdog expression that says, perhaps, "Man, it really was great dancing at the lesbian bar. I sure miss it! A lot." It's just that you're having such a great time at his show that you assume this apparent pathos is really only meant to be entertaining and cute.

But let me tell you, the last couple of times I've seen him, I've gotten a big ol' heaping helping of JDH. You try looking into those big, sad pioneering-indie-rocker eyes for a whole show and not worrying about the state of mind of one of rock music's last true originals. Go on, try! Exactly! It can't be done.

First off, for the uninitiated--and in a perfect modern world, there would be no such thing as a rock fan who hadn't heard Jonathan Richman--the number and stylistic breadth of bands he has influenced since being so influenced himself by the Velvet Underground that he formed the Modern Lovers in Boston in the early '70s is stunning; it stretches from R.E.M. to Galaxie 500 to the Feelies to Beat Happening to the Magnetic Fields and on and on
and on.

He's most often described as "quirky" or "eccentric," and not undeservedly so--John Cale once claimed Jonathan was planning to tour with a group of guys who would do nothing but stand behind him and hit rolled-up newspapers against their hands. But when you've actually seen him at work, you realize the "eccentric" tag is as meaningless as it is overused.

Jonathan is about the spirit of the music, the magic of the music. He is about the pure transformative power of rock & roll. I'm not making this shit up! He is the living embodiment of everything Richard Linklater's recent and surprisingly powerful School of Rock stood for, only with alternating currents of angst and joy replacing Jack Black's anger and acceptance. (Let's just say it's no coincidence that Linklater chose Richman's underground classic "Roadrunner" as one of the key songs in the film.)

Which brings us back to my original question: Is Jonathan in a funk? It's hard to tell when his live show itself is still so relentlessly fun. The guy is always unpredictable live, and recently in concert he's been doing a laid-back, ramblin' version of "Rooming House on Venice Beach" and has turned "Vampire Girl" into a particularly anthemic sing-along.

His relatively recent fixation on flamenco and Mexican folk guitar styles continues to deepen, to the point where the openings of several old songs kind of sound like "Yo Tengo Una Novia," a standout song from his most recent album, Her Mystery Not of High Heels and Eye Shadow. But I've always held that you gotta love Jonathan Richman in Spanish.

I guess mostly what has me worried about the guy was the last time I saw him, when he did "Vincent Van Gogh"--which I have always considered the happiest song you could possibly sing about a guy who cut off his own ear--and added an alternate verse about how you can see the sadness dripping off the wall of Van Gogh's last paintings.

Probably this concerns me so much because I have this theory that the song is really about Richman himself: "He loved life so bad that the world had to know. ... The man loved life, folks, and he let it show." Only safety scissors for our pal Jonathan until further notice.
---
Jonathan Richman and Tommy Larkins perform Dec. 7 at 9pm at the Blank Club, 44 S. Almaden Ave., San Jose. Tickets are $8. (408.29BLANK)
---
---
Send a letter to the editor about this story to letters@metronews.com.
---
[ Silicon Valley | Metroactive Home | Archives ]