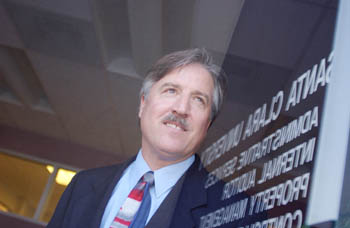 Photograph by Dave Lepori

Roberts Rules: SCU budget director Dennis Roberts believes better processes and improved customer service will help prevent future enrollment drops.

Admitting Mistakes

One-fifth of Santa Clara University's freshman class is missing--and the school doesn't have a clue why

By Najeeb Hasan

SINCE IT WAS founded in 1851, Santa Clara University's institutional identity has slowly evolved. This evolution parallels the familiar identity crisis of the college's Jesuit founders, a crisis that hinges on one question: How much should a religious institution cater to the inevitably worldly nature of its patrons?

In the past two decades, SCU has become a largely secular campus. Sure, there's the looming cross that greets visitors at the university's main entrance. But the campus's historic mission is more photo-op than church, and many of the students who attend SCU wouldn't identify themselves as Catholic, Jesuit or even religious. Most choose the pricey school because of its high ranking in educational surveys. The school's law program routinely places in the state's Top 10.

This agnosticism is a development that doesn't please the university's more conservative alumni, which may be why alumni donations, on average, have been on a gradual decline. It's a development, however, that bodes well for student applications. So why is Santa Clara University's class of 2007 so much smaller than every other class at the school? In fact, freshman enrollment for the university was about 200 students fewer than anticipated this year.

In an editorial this fall, The Santa Clara, SCU's student-run newspaper, wrote with alarm: "It should be apparent by now that the class of 2007 isn't exactly as large as, oh, say, every other class in the school. This summer, freshmen found themselves in reduced numbers at the orientation sessions. Perhaps more convincing, a glance down the halls of any one of the dorms reveals a significant number of single rooms as well as lack of triples.

"Such observations have become grist for the rumor mill: admissions screwed up. Santa Clara is no longer "the place to be." The economy and tax cuts have helped make tuition costs even more ridiculous than usual. Some of these theories may have merit. Families all over the country have witnessed their wallets shrinking, and hey, it's possible that the California-Jesuit-mission thing isn't 'in' this year.

"So what really happened? Your guess is as good as ours."

The Case of the Missing Students

University officials aren't at all that pleased about Santa Clara's disappearing freshmen. Admissions figures indicate that freshman enrollment for fall of 2003 at SCU may be at perhaps its lowest point in the last decade, despite a record-high applicant pool and a higher acceptance rate than in previous years. What does this all mean?

For tiny SCU, it means a hefty hit in the pocketbook. Whereas larger universities, such as Stanford or Harvard, are sustained primarily by endowments, SCU relies mostly on tuition for revenue. Fewer incoming freshmen mean less revenue.

Last May, the university announced that the expected size of this year's freshman class would be 925, which was about 200 fewer than the university's goal. And with yearly tuition above $20,000, this meant that SCU would collect at least $2.5 million less than anticipated (after factoring in financial aid). This September, the university's fears were confirmed when the SCU registrar reported that there were, indeed, only 906 students (now 900) in this year's freshman class (compared to 1,122 last year).

At Stanford, for instance, the freshmen enrollment trends have remained relatively stable; this year the university reports 1,640 freshmen, and last year 1,636 incoming freshmen arrived. In fact, SCU's enrollment pattern appears more consistent with California's community colleges, where more than 90,000 fewer students enrolled this fall. However, the community college drop is blamed more on legislative budget cuts and the consequent stretching of services than anything else; the private SCU doesn't quite have that excuse.

University officials attribute the blatant lack of freshmen to various reasons, including late acceptance letters, glitches in a computer-based application, not enough admissions staff, a poor economy and competition from cheaper, state schools.

"There's probably a number of reasons [for the enrollment shortfall]," explains Richard Toomey, SCU's former dean of enrollment, who emerged as the assistant vice provost of enrollment management after the university shuffled its admission staff due to the enrollment troubles.

"[For example]. there was an increase in students who showed a financial need," Toomey continues, "and there are excellent alternative choices within 150 miles that allow to students to have good education for less money. Also, we have to respond in a more timely fashion to applicants. Maybe SCU wasn't as Johnny on the spot as it should have been.

"It's a double-edged sword--you have to make sure those acceptance letters go out during the window of time when people are making their emotional decision. By the same token, the admission process has to run its course; people review and read all those applications and make some difficult decisions. It's not something that you fly right through. There was not a hidden reason. We didn't manage applications, and the economy was still flat."

SCU's freshman shortfall has inspired a number of in-house changes. One of the first actions that SCU officials took was to hire an outside consultant to figure out why 200 students were missing. Also, the university's admissions structure was reorganized. Sandra Hayes, the dean of admissions, was told to report to Charles Nolan, who just this month was hired as the newly created vice provost of enrollment management ("I think it was just a matter of time before SCU formulated this position," Nolan says. "It was coincidental that it happened when the shortfall did.")

"Like any organization, if you don't meet your goals, people are going to be concerned about that," Toomey says. "But part of what we do at SCU--we have to pay attention because this does impact revenue--but it's equally important to take a step back and take a close look and see why it happened. That's the approach that we took. In any given year, you meet goals in one area, and you won't in another area. But because we had a good budget manager, that contingency was there."

Officials at SCU say the university has limited the effects of the loss of freshman tuition by accepting more transfer students this year and, more importantly, by relying on a reserve fund to manage this year's budget.

"It's a good question [why there's a shortfall]," Nolan says. "What I understand is that there were a number of reasons. Much of it had to do with the fact that SCU attracted its biggest and strongest applicant pool and that it introduced an electronic application. The combination of extra volume and an application with some glitch to it [caused the shortfall]. [The application] got stuck in cyberspace somewhere. These things have a tendency to compound themselves when they get delayed at a certain point--it delays everything else."

But while budget officials say SCU's costs for this year have increased by $16.3 million from last year, they maintain that the loss of almost one-fifth of their freshman tuition revenue can be balanced out through the reserve fund.

"I would say, I don't know if panic is the right word," says SCU budget director Dennis Roberts when asked how he felt about the shortfall. "Deep concern would be one way of putting it. Yes, that's something that hasn't happened to us in a number of years. We've had increased demand on a year-to-year basis, not a shortfall in student applicants. It was just a failure in our part to execute."

Tuition and fees account for about 75 percent of SCU's total operating budget. Indeed, as costs--instructor salaries, cost-of-living expenses, financial aid--have increased, tuition has followed: The Santa Clara reported in October that SCU's tuition has increased by $8,910 since the 1997-98 academic year, growing about 4.9 percent per year.

"Tuition is the major element of the budget," Roberts says. "Anytime there is shortfall, of course it creates a challenge. In this particular case, with the freshman enrollment shortfall, by looking at the problems that we had, we really realized for the most part it was because of not having good processes with a customer-service focus. Those improvements are being made for the upcoming year, so we don't expect the same problems."

Each year, SCU sets aside about 1 percent of each student's tuition into a reserve fund designed specifically for events such as a tuition gap--this is the fund that is helping the university manage its current shortfall. Even more fortuitously, last year's class was the second largest in school history, swelling this year's reserves to even higher amounts.

"Anytime you have an emergency, it focuses a lot of energy and a lot of people's attention on the way you do your business," Roberts continues. "They start questioning how you should be doing what you're doing. Unfortunately, it takes a crisis to realize you're doing something wrong. Here, the earthquake is an example. Should we have food stores; should we have water stores; should we have battery stores [nearby]? Yeah, we should, but the reality is that people don't think of this until after the earthquake. We had processes that shouldn't have been there even in the good times. People looked at them after the crisis. I think
it's typical. Now the ideal is to say beforehand, 'Gee, we have some things that aren't operating the way they should, and we need to fix them.'

"The dotcoms--wouldn't they have loved to know what happened?"
---
Send a letter to the editor about this story to letters@metronews.com.
---
[ Silicon Valley | Metroactive Home | Archives ]