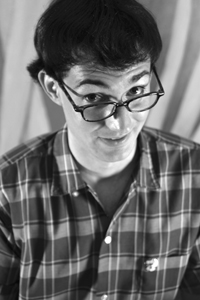 Eric Fanali books the rock of all ages.

Club Smarts

Find out where new bands can play and what local club bookers are looking for

By Sarah Quelland

IT WASN'T CALLED "The Practice Club" without reason. The Cactus Club was the key hub of the South Bay rock & roll community. New bands got their feet wet by playing the Thursday-night New Views series. Since the SoFA venue shut down in June, a lot of up-and-coming bands are falling through the cracks. So how do new bands break in and what are club bookers looking for?

Professionalism is key. Bands with a good promotional kit, an updated website and a quality recording make a good impression. But that's only a part of it. Booking agents look for a variety of things when considering a band for their club. Experienced talent buyer and Icon Nightclub booker Jimmy Arcenaux's advice to young bands is to build up their draw at places like Kleidon's Lounge and Plant 51. He says, "Generally, my policy is to wait until I hear about the street buzz before I'd book a band. We have friends with ears everywhere, so I rely on that." But, he adds, "On occasion, I have been completely blown away by a band and booked them immediately without the buzz."

Plant 51 booker Larry Trujillo (editor and co-publisher of Zero) looks for bands that work hard to promote their shows. "There is nothing worse than laziness and bands thinking that all they have to do is book a show and let the club do the work," he says. Plant 51 uses Thursday nights to try out unknown locals for free. "This is one way to show your potential," Trujillo says, but warns, "This also exposes a band's weakness." He continues, "I don't care about the image or genre or even if I think they are that talented. A lot of bands have a big draw just because they are popular. They get popular because they promote the hell out of themselves. My main function is to fill the club and try to do it with as much variety as possible in the alt-rock scene."

Kleidon's is more selective and will take chances on new bands that show great musical ability and potential. Its Monday night Rockstars and Bitches--a night for musicians by musicians--routinely draws a good crowd. Saturdays are also taking off.

For younger bands, the Los Gatos Outhouse is an excellent all-ages venue booked by Eric Fanali (who also books the Mitchell Park Center and other spaces). He wades through pop, punk and indie demos to find new bands to play his shows. If he likes a demo, the band gets pushed to the front of the waiting list. Otherwise, he says, "I tell the bands they should try and get shows at other all-age venues and keep checking back with me each month for open spots."

Arcenaux says another strategy is bands putting their own bills together. "It's great because the bands are getting a better understanding of the business. The only drawback would be if the bands are all completely the same. Mix it up a little!"

Trujillo agrees and likes when bands pitch him a package deal. "The packages that SECURITY, Reaction 31, etc. come up with are the perfect example," he says. "What is annoying is a band launching into a spiel about how good they are and how much they deserve a show--at least let me know who they would be good to play with!"

Bands can easily put their own bills together at the Gaslighter Theater and Gaslighter's Music Hall. These venues work differently than normal clubs. Bands and promoters rent the venue and coordinate their own shows. Visit www.thegaslighter.com for a full breakdown and call Susan at 408.779.4900 to book a date.

Send packages to Icon Nightclub, Attn: Jimmy Arcenaux, 260 S. California Ave., Palo Alto 94306; then follow up with an email ([email protected]) or a phone call (650.321.6447). For Plant 51, call 408.297.5151 or email [email protected]. For Kleidon's, email band website and mp3 info to [email protected]. Send demos to the Outhouse at GFP/Outhouse, P.O. Box 83, Saratoga 95071 and follow up by emailing [email protected].

PLAN AHEAD: Krenshaw, SECURITY, Scorched-Earth Policy and Greenhouse Effect, Nov. 22 at the Icon; Hayride to Hell, the Graveyard Farmers and the Hellbillys, Nov. 22, Plant 51; Reaction 31, 26mph, SECURITY and Postardom Depression, Nov. 23 at Kleidon's; I.N.S., Karate High School and Baysik, Nov. 25 at Kleidon's.
---
Send a letter to the editor about this story to letters@metronews.com.
---
[ Silicon Valley | Metroactive Home | Archives ]