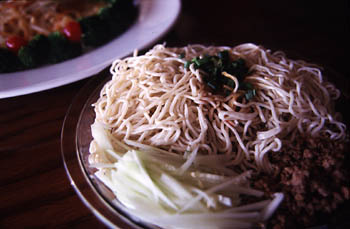 Troy Bayless

Experienced Woks: A talented kitchen makes for a happy palate.

Grandma or Not

Jasmine Alley's Chinese food tastes so good that it renders rumors irrelevant

By Joseph Izzo Jr.

JASMINE ALLEY'S name rings with such sweet refrain that I was led to its entrance like a man under a spell. In yet another strip mall, this Chinese restaurant opens its doors with the grace of a cherry blossom. It is spawned from the popular Golden Buddha in Soquel--and offers a menu and style of cooking to match.

Jasmine's décor blends touches of modern design with elements of old and new China, with hints of Shanghai creeping in the background. There are slate tile floors, and the walls are dotted with cherubic Chinese poster girls. Along the ceiling near the entrance are flowing banners full of color and interesting designs, adding to the warm, stimulating environment. Though Pope Bob Russell was less impressed by the surroundings, he did enjoy the turquoise ceiling, which sparkled like a simulated night sky. There were times during our meal when I found myself contemplating this ceiling as I might the sky on an interesting night.

For the most part, we enjoyed the food of this talented kitchen, one that cooks mainly in the northern style, with light natural sauces without heavy seasoning or blistering peppers. Our dinner visit opened on a curious note, however. Prior to coming here, I'd read that the famous potstickers were the recipe of the owner's grandmother. When I asked if this were so, the waitress looked at us with an odd expression, then snickered and said, "I don't lie." Even though befuddled by this nonanswer, I can openly testify that the potstickers ($5.95 for 6)--granny's or not--melted in the mouth and gave me great pleasure. These minced-meat-and-vegetable-filled dumplings were lighter, more delicate and moister than the usual fare, and were pan fried with a careful eye to a delectable crispy exterior.

Jasmine's rendering of dan dan noodles ($3.25), made simply with angel-hair pasta topped with a rich peanut sauce, rounded out our openers with a wholesome flourish. I kept my fork in motion until nearly all the noodles had been dispatched. I even considered licking the bowl, until nudged by my partner back to reality.

From the portion of the menu titled "Jasmine Alley's Favorites," we ordered most of our dishes. The eggplant in hot garlic sauce ($7.95) arrived so quickly from the wok that we could still hear the slices of batter-coated eggplant sizzling just slightly. We were all impressed with how fresh and light (almost weightless) the eggplant was and how crispy the batter remained in a sauce full of garlic that was rich but not overwhelming.

I ordered Beijing honey tenderloin ($8.75) because it sounded so delicious, and indeed it was. Unlike the other dishes that mixed and matched meats and vegetables, this dish presented, without intrusion, just morsels of pork tenderloin cooked succulent and crunchy all at once in soy sauce and Mandarin black vinegar.

Cutting the richness of the tenderloin, we sampled Taiwan basil chicken ($8.50), presented in a hot clay pot brimming with mushrooms, broccoli, onions and nuggets of chicken breast without skin or bone. If it weren't for the brisk mint infusions of the basil, however, my palate would have been tucked into bed and lulled to sleep. We ordered Kung Pao prawns ($10.50) to see how the kitchen handled spicy dishes. Under the lights, the dish waxed glossy and beautiful with colors, especially the red of the peppers tossed by the handfuls into the mix. Unlike those punishing Kung Pao dishes from the Szechwan kitchens, this version had deep, tangy overtones but did not torch the lips.

Jasmine Alley stands a head higher than the rest of the Chinese restaurants in this area. Experience pilots the woks. Whether grandma had anything to do with the cooking, I can't verify, but the food is good and comes to the table full of color and flavor.
---
Jasmine Alley
Address: 4632 Meridian Ave., San Jose
Phone: 408.723.2598
Hours: Lunch 11:30am-3pm daily; dinner 5-9:30pm Mon-Fri , until 10pm Sat-Sun
Cuisine: Northern Chinese
Price Range: $6-$11
---
---
Send a letter to the editor about this story to letters@metronews.com.
---
[ Silicon Valley | Metroactive Home | Archives ]