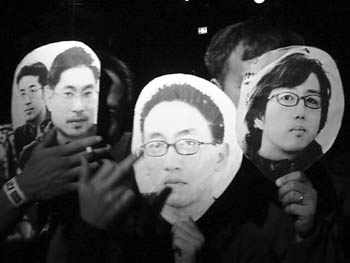 Splitting Image: Ee just wanna have pho.

New York State of Mind

South Bay indie band Ee jets to CMJ and rocks the Guggenheim

By Tobin Mori

THE CMJ MUSIC Marathon is revered around the nation as one of the premier new-music showcases. Sponsored by College Music Journal, a magazine that goes out to most every college radio station in America, the Music Marathon holds New York venues hostage for four days. Bands of all genres flock to the conference with hopes of "making it big" or "bigger." For Sooyoung, Che, Pete and myself, CMJ possesses a mythic quality, like a rainbow at whose end stands greater fame or sales. We were fortunate enough to get a slot this year for our booking agent's showcase.

Oct. 30, San Jose Airport

It's around 8am, and the greasy scent of hot dogs penetrates the corridors of Mineta Airport. The in-flight movie is Adam Sandler's Mr. Deeds. I understand why this movie has been relegated to an airplane--how else could they get people to sit through this garbage? I land at JFK. Sooyoung messages my phone: "I'm in Terminal 9." We reach the East Village in Manhattan around 8pm, where we'll be staying with Sooyoung's old apartment mate Winnie. Sooyoung says he misses Cuban food in Cali, so we head out for some South American food--close enough, I guess.

Oct. 31, East Village, NYC

It's around 5pm, and we were supposed to have started practicing an hour ago. I talked with Che, Ee's bassist, on the mobile phone, and he's lost somewhere between Brooklyn and Jersey. He accuses me of lecturing him, as I tersely ask why it's taking him over three hours to get from Jersey to Brooklyn. It's a fair question, I think. With time to spare, Sooyoung and I decide to grab some food at a Chinese takeout restaurant down the street. The food lives up to New York's reputation for crappy Chinese food, falling miles short of the Milpitas Chinese food back home.

We meet Pete back at the "practice space," which is really a bedroom with a makeshift closet. We run through our set list at a relatively quiet volume. We're playing without a bassist, and I'm singing through a practice amp. It doesn't sound bad, considering our gear and that we haven't played in several weeks.

It's nearing 7:30pm. Our booker calls, nervously wondering where we are since we are scheduled to play at 8:45pm. Che arrives, minutes before our car arrives to pick us up. We speed off to a venue called SouthPaw in the Park Slope district of Brooklyn. We stand outside a nondescript facade with a warehouse exterior. The interior counterbalances the exterior. Inside it's dimly lit--a cozy, elegant place, far more cared for than the Cactus Club.

We walk downstairs to the basement greenroom for some pizza, cheap, sweet red wine and a sugary, dark microbrew. Che, Pete and I sit on one couch, and dig into the pizza. Fortunately for Sooyoung and Che, the pizza is cheeseless. Someone thought of the lactose-intolerant Asians!

Tracy Shedd takes the stage to an audience of about 30-40 people. They sound amazing--better than I've ever heard them, crisp and solid. Unfortunately, few people are there to witness it. We take the stage at about 8:40. The crowd has grown a bit, but not much, maybe an extra 10 people or so. We begin with our fade-in instrumental "Slow Motion Restart." The set continues smoothly, except for a few loose spots. Midway through the set, Che's bass amp flickers out. I make a joke about hitting ctrl-alt-delete, which one person in the audience finds mildly amusing.

By the last two songs, we're starting to get the hang of playing together again. It's hard for me to appraise how we did, not having heard ourselves from the audience's point of view. I'm always a bit paranoid about taking my own impression of our shows very seriously, since I know that being onstage is quite different than being in the audience. There have been nights that I've considered to be musical disasters, which have been interpreted as "amazing" by an audience member, and vice versa.

Nov. 1, The Museum Mile

We rise late, after a late night at a Brooklyn bar a few blocks from SouthPaw, named O'Connor's. Sooyoung stayed the night in Brooklyn at a friend's house. Che and I rise late and are treated to a Texas-style breakfast burrito courtesy of Winnie. After a few tags on the cell phone, Sooyoung makes plans to meet me and Che at the Guggenheim Museum. Che and I get off a subway stop too soon. We decide to walk to the Guggenheim through Central Park, since Che had never been there before. I comment on how I like Central Park more than Golden Gate, because it's more integrated into the cityscape and less of a fortress.

I'm glad to learn that the featured exhibit is Bill Viola, whose work I had seen years earlier at the SFMOMA. Viola's exhibit is an amazing one-room visual feast, featuring four walls of high-definition video. Each shot is beautifully composed and recalls Renaissance art: making use of geometry and architecture and full of archetypal imagery. The length of the piece, about 30 minutes, requires patience but is well worth the wait. After walking down the rest of the downward spiral tour, we head back to Winnie's to pick up Sooyoung's gear and have Japanese food with friends at one of our favorite nearby spots, Angel's Share. After dinner, Sooyoung takes car service back to JFK, since he's getting married next week, while the rest of us decide to go to a bar. The end of the night is spent at the Knitting Factory where Kid Koala is playing. The place is packed. We wait for an eternity for Kid Koala before we succumb to Winnie's fatigue and call it quits.

Nov. 2, Midtown Manhattan

Che left this morning. Pete headed back out of town to continue his nationwide tour with Total Shutdown. Apparently, he met Thurston Moore [Sonic Youth] in Boston, where they opened for him. Moore is a huge Total Shutdown fan and is releasing its next album on his own label.

Today is an open day for meandering and shopping by myself. I subway up to midtown Manhattan, where I quest for some cheap clothes at H&M. For some reason, their clothes fit skinny boys like me better. By dusk, Winnie, a few of her friends and I meet in the East Village for some Southern food at Mama's: thick heapings of mash potatoes, mac and cheese, barbecue chicken and warm apple cobbler.

With our bellies bloated, we head to a nearby club called Tonic to see a Japanese band called Mono. At the club, posters indicate that Miho's [of Cibo Matto] new act, Miho and Smokey, played tonight as well. Mono, featuring three males and one female, starts its set with a quiet arpeggiating number that swells into a wall of noise. An accompanying friend had described them succinctly as a "Japanese version of Mogwai," and now I see why. After three numbers, I start to tire of the quiet/loud instrumental formula and am reminded to be wary of writing more numbers like this for Ee. The night ends at another local watering hole. Are we alcoholics or what?

Nov. 3, JFK Airport

I'm standing in line at the American Airlines terminal, and I spot South Bay booker Eric Fanali, Tyler Kogura and the KSCU crew. I talk with Eric for a bit, whom I know from having played at the Los Gatos Outhouse. Turns out, he hated Mr. Deeds on the flight to NY but had a good time at CMJ nonetheless. Back at Norm Mineta in San Jose, as I'm waiting for the conveyer belt to start spitting up my luggage, I see Mike Park, the head of our record label, Asian Man Records. "Huh? What are you doing here?" Well, Mike was on his way back from Chicago, where he was hanging with Alkaline Trio, which has a few releases on his label. Mike and I talk a bit about business, the need to pick up sales.

In the end, our trip to CMJ didn't blow up our status; it was not very different from our other out-of-town tour dates. CMJ was a good excuse to get out of the Bay Area for a few days and enjoy some new music, soak up the local color and be with friends whom we rarely get to see. I can't think of a better reason to travel.
---
Editor's Note: Ee is composed of indie-rock vets and tech nerds Tobin Mori of Korea Girl, Che Chou of Blue Eskimos, Peter Nguyen of Total Shutdown and Sooyoung Park of Seam. Ee's new CD For 100 We Try Harder is available on Asian Man Records. Visit Ee online at www.eetheband.com or www.asianmanrecords.com.
---
---
Send a letter to the editor about this story to letters@metronews.com.
---
[ Silicon Valley | Metroactive Home | Archives ]