[ Metroactive Central | Archives ]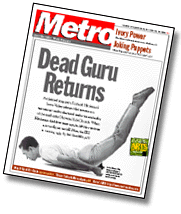 This Week
November 22-29, 1995
Yogi Bared: Richard Hittleman, the grandaddy of yoga in the West, sold more than 8 million books, hosted television shows around the world and turned countless thousands onto the joys of the lotus position. He died in 1991, supposedly broke. The IRS, however, doesn't agree. Ami Chen Mills tunes in to the controversy.
Arts &amp Entertainment Movies
Rating the Bond Market: Pierce Brosnan is a blank as Bond, but GoldenEye gives 007 a much-needed makeover.

Also Reviewed:

Carrington: Jonathan Pryce fends off Emma Thompson.
Toy Story, Disney's computer-animation feature, undoes the "Velveteen Rabbit" neurosis.
When Night Is Falling rehabilitates the cinematic lesbian romance (no suicides!)
Music
The Blues According to Junior Kimbrough
The Meat Puppets aren't kidding in No Joke!


Audiophile
Reviews of the latest albums by Fig Dish, Menswe@r, Skankin' Pickle and Tha Dog Pound

Beat Street
A chat with Chicago's Sooyoung Park

Television
Idols of the Game casts sports as religion

Stage
Seven Guitars: August Wilson's new play about the Blues at SF's ACT--Web Exclusive!

Swan Lake: San Jose Cleveland Ballet soars

San Jose City Lights' politically charged Sacco-Vanzetti
---
This page was designed and created by the Boulevards team.
Copyright &copy 1995 Metro Publishing and Virtual Valley, Inc.