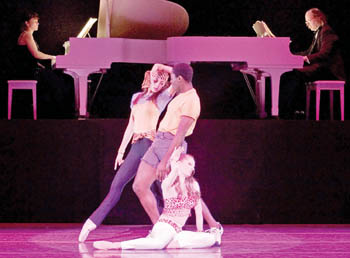 Piano Airs: Airborne pianos provided the music for Ballet San Jose Silicon Valley's 'Cinema Soundtracks.'

Mixing It Up

Film, music and dance combined at Ballet San Jose Silicon Valley's latest program

By Marianne Messina

BALLET SAN JOSE Silicon Valley began last week's two-dance evening with Dennis Nahat's 1976 Grand Pas de Dix (Dance for Ten), set to a recorded soundtrack by Alexander Glazounov. The series of short dance "splashes" features ever-changing combinations of dancers and steps culled from a classical Russian vocabulary. The piece delighted not so much by grandstand moments as by startling variations (or perhaps deviations) on familiar movements.

Alexsandra Meijer's solo Variation (danced on alternate evenings by Karen Gabay) suggested a kind of Russian drama queen injecting melodrama into her loose bourrées, sudden silent-film star swoops and crisp arm slaps as if possessed by an irascible prima ballerina. Patricia Perez and Dalia Rawson in Variation I interrupted the sense of courtly dance suggested by the eight sparkling chandeliers overhead to travel the stage as lightly and playfully as court jesters. The otherwise bare scenic design made the David Guthrie costumes stand out—purple velvet on the men, orchid tutus with bold red undercarriage on the women, soloists Maximo Califano and Meijer in all white, and everything accented with gold brocade and sparkle.

But there's nothing like a good backstory to inspire the dance, and nothing made this more evident than Daryl Gray's new Cinema Soundtracks, which followed the intermission. The two pianists (Marja Mutru and Bill Duncan) who play (in arrangements by Duncan) all the soundtracks sit at white grand pianos on a platform rear and center, variously framed in movable projection panels shaped like honeycomb cells. The scenic background for each soundtrack is struck mostly by Kenneth Keith's lighting when the panels are hit with a wide range of color and patterns: stippled, dappled, rippled, grainy, splotchy.

The smorgasbord of film music—from The Magnificent Seven, Exodus, The Sting and New York, New York—moved quickly through eras and moods in a heroic progression with a mixed bag of results. Sometimes, there was a sense of trying to cover too much territory, of not letting the impression steep—a final pose cut short by an entrance; a mood skimmed but not fully realized.

It helps not to expect the dances to adhere to the film plots. Each dance has a little story line of its own, driven by the music and possibly ideas from the film. The two pianos had their limitations covering music that was often conceived as symphonic or vocal. Oddly, the pianos projected well in The Hours, originally a string arrangement, but had trouble putting across songs associated with vocal arrangements—most conspicuously, The Way We Were and Titanic.

But the two-piano arrangement had surprising success with the overly familiar Jaws, for example. Raymond Rodriguez, dressed in a kind of seaweed and barnacle full-body leotard and mask, created a stellar abstraction of tension in the aquamarine lighting, punctuating piano chord punches with outstretched arms and tight, unfamiliar floor-level movements.

Another captivating piece featured Ramon Moreno as Charlie Chaplin—shrinking his body into a no-neck geek, the shrug, the Chaplin waddle, the quick pass of the hat integrated into the dance like a skillful busker. And crowd-pleaser du jour would have to go to Dalia Rawson's Pink Panther; her kitty-paw hand motions and minxy hips shown off by white huggie pants and a low-slung pink belt (costumes by Maggie Heaman).
---
Send a letter to the editor about this story to letters@metronews.com.
---
[ Silicon Valley | Metroactive Home | Archives ]