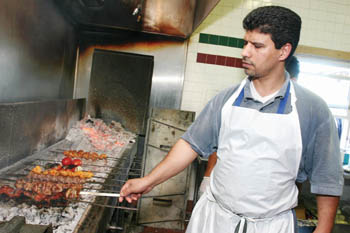 Photograph by Felipe Buitrago

Coming Up Roses: Ibrahim Almamori works the kebabs at Rose International Market.

Iran, Iran All Night And Day

Get right with Mountain View's restaurant row, and sample the Persian food at Rose International Market

By Stett Holbrook

Mountain View's restaurant row on Castro Street has become one of Silicon Valley's great dining destinations. It would take months to eat your way through all the high-quality, diverse restaurants that line the street, but it would be time well spent.

Although it's located on Castro west of El Camino Real, away from all the action downtown, be sure to make your way to Rose International Market. The Persian market has some of the best food the city has to offer.

The 14-year-old market is owned by the Manehranfar brothers—Ali, Saed and Gavad. Part Middle Eastern grocery store, part Persian food take-out counter and part kebab grill, Rose International Market is a gold mine of good food.

Stop by at lunchtime and you'll see what makes this place such a destination. The white plastic tables out front are packed with customers eating the market's signature mesquite-grilled kebabs. As I pulled up looking in vain for a place to park in the big parking lot, the column of white smoke rising from the grill set my stomach a-grumble.

Once you find a place to park, head inside the store to the check-out stand and place your order. (There are menus on the wall and the counter.) The cashier will read your order into a microphone. Then you head outside and around the corner of the building where two cooks labor over a busy grill.

Peek inside the window and you'll see a long, troughlike grill. The cooks lay the kebabs across the grill directly over the fire. The grill menu includes koubideh ($1.99), ground beef and lamb mixed with onion and spices; tangy, saffron-marinated chicken kebabs ($3.99); barg ($4.99), saffron and spice-marinated top sirloin; and lamb chops ($6.99). All the meat is halal, meaning it was butchered in accordance with Islamic law.

The kebabs are served on a big sheet of lavash with a handful of herbs (parsley, mint, basil and cilantro) and raw onions on a cafeteria tray. The idea is to tear off a piece of bread and eat it with a piece of meat, herbs and onion. Knife and fork aren't provided.

For $1 more you can get a "super sandwich," a kebab wrapped up with fresh herbs, tomatoes and onions. My favorites are the sumac (a sour, peppery Middle Eastern spice) sprinkled koubideh and barg. My only suggestion would be to serve them with a side of yogurt sauce or some such condiment to help lube things up. And be sure to get some of the finger-size Persian pickles from the self-serve bar inside the market.

While most people come for the kebabs, the take-out counter has lots to offer as well. The steam table is loaded with good rice and meat dishes. In particular, check out the changing lineup of khoresh, stewy meat and vegetable dishes sold by weight in plastic to-go containers.

Ghormeh sabzi is a distinctive Persian dish of parsley, leeks, green onions, spinach, kidney beans and tender chunks of beef. The dish gets its personality from dried lime, a sour, salty, aromatic ingredient that's one of the signature flavors of Persian cuisine. Ghaimeh looks like baked beans, but it's made from stewed beef, yellow lentils, onion, tomatoes and dried lime.

As for the rice dishes, I loved adas polo, fragrant basmati rice cooked with currants, plump dates and lentils.

I was disappointed that fesenjan wasn't available on either of my two visits. It's a classic Persian dish made from chicken simmered in a beguiling sauce of puréed walnuts and pomegranate. The kitchen appears to make this dish when the mood strikes, so it's best to call ahead to see if it's available.

But wait, there's more. In addition to the kebabs and take-out counter, the market is loaded with a great variety of Persian and Middle Eastern spices, dried fruit and other staples. The variety of lavash, pita and big wheels of Armenian cracker bread is worth the trip alone.

Wander around the store and you'll also find fresh quince, several kinds of feta cheese, Persian pastries, sweet lemons and pistachio-flavored Persian ice cream. This being fall, the store is loaded with fresh pomegranates and walnuts so you can make your own fesenjan at home. But with so much good food ready to eat here, it may be a while before you feel like cooking.
---
Rose International Market
Address: 1060 Castro St., Mountain View.
Phone: 650.960.1900.
Hours: Market open 8am-9pm Mon-Sat, 9am-8pm Sun; kebab grill open 11am-8pm Mon-Sat, 11am-7pm Sun.
Price Range: $2-$7.
---
---
Send a letter to the editor about this story to letters@metronews.com.
---
[ Silicon Valley | Metroactive Home | Archives ]