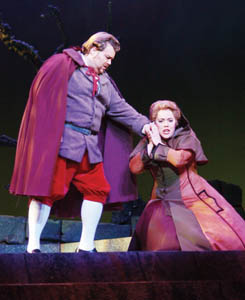 Photograph by Pat Kirk

Power Politics: King Gustavus (Christopher Bengochea) confronts Amelia (Deborah Berioli) in Opera San José's 'A Masked Ball.'

Veni, Vidi, Verdi

Opera San José overcomes some stilted staging with strong singing in production of 'A Masked Ball'

By Scott MacClelland

GIUSEPPE VERDI'S A Masked Ball, the new Opera San José production, could use more directorial finesse to spark its drama and smooth out its stilted staging at the California Theatre. It could also find some stronger talent in the scenic-design department.

An art form as complex as opera creates as many opportunities to succeed as it does to fail. Often, one aspect rescues another. So it was Sunday afternoon, with the talents of tenor Christopher Bengochea, soprano Deborah Berioli, baritone Jason Detwiler and basso Carlos Aguilar providing a fabric of color, expression and consistency that allowed the imagination to overlook the lapses.

Among these was a stage direction that underscored the oldest bugaboos of Italian opera: the complete stoppage of action while arias are sung and the tendency of most principals to "just stand there" while singing. Over his long career, Verdi tried to reconcile this oil and water, and increasingly did so—much better in fact in the later works.

Opera San José's primary mission is to give talented young professional singers stage experience. It seems that no one makes this calling more challenging than Verdi, exactly for the old Italian operatic baggage that he inherited and extended—for too long, as his transcendent and penultimate Otello makes clear.

Certainly company general director Irene Dalis understands this. So it would seem that engaging a director who would more effectively teach these singers how to be stage actors should get a higher priority.

In his own style, Verdi (like Wagner) developed a miscellany of themes to represent characters and emotions. (The big tune of King Gustavus in the last act, for example, is introduced in the orchestra in the prelude to Act 1.) As the king, Bengochea, who made his OSJ debut as the Rev. Samuel Perris in Ward's The Crucible two months ago, sustained a consistent character throughout, punctuated with vocal ardor, but with little sense of the stage. Detwiler, as the loyal Count Anckarstroem, who fatefully turns against his king, was a match on all three points.

As Anckarstroem's wife, Amelia, the unviolated love interest of the king, Berioli delivered the most vivid characterization of the entire cast, dramatically, emotionally and vocally, though her top was more strident than usual. As Count De Horn, one of the "coup-plotters," Aguilar's vocal authority was as undeniable as his acting was forgettable. (Until Aguilar develops more stage presence, he would make an outstanding concert artist.) In the part of Oscar, the page, soprano Jillian Boye was chirpy and eager throughout, her reedy tone cutting through the vocal mélange like a warm knife through butter. (For better or worse, her attempts at appearing to be a boy failed.) As Count Warting (in some versions known as Count Ribbing), baritone Derek Jin substituted for the ailing Kirk Eichelberger.

Mezzo Michelle Berger made a vivid impression as the Gypsy Ulrica, adding ominously anxious tones to the king's dismissal of her prediction that he would die "by the hand of a friend."

Peter Crompton's set designs proved more distracting than supporting. The distorted windows and door in the Anckarstroem house inspired vertigo; its furnishings were garage-sale stuff. Richard Battle's costumes gleamed in the ball scene, except for the king's, which inspired audience laughter. The two dancers wore charming harlequin patterns. But aside from Amelia's nicely restrained attire, the others were either overdone or underdone; some of the fabrics he chose looked anything but aristocratic, like Anckarstroem's breeches. Matthew Antaky's lighting was effective, and especially atmospheric in the graveyard scene. David Rohrbaugh led the taut little orchestra and its chorus with clear purpose throughout.
---
A Masked Ball plays Nov. 26 and Dec. 1-2 at 8pm and Nov. 27 and Dec. 4 at 3pm at the California Theatre, 245 S. First St., San Jose. Tickets are $65-$95. (408.437.4450)
---
---
Send a letter to the editor about this story to letters@metronews.com.
---
[ Silicon Valley | Metroactive Home | Archives ]