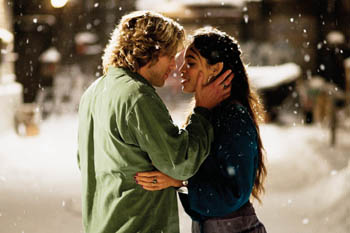 Photograph by Phil Bray

Gentrify This: Adam Pascal and Rosario Dawson live the bohemian life in 'Rent.'

The Boho Dance

Rosario Dawson in her underclothes vamps the world in Chris Columbus' film adaptation of 'Rent'

By Richard von Busack

OBVIOUSLY, Henri Murger has a lot to answer for. His 1848 Scenes de la Vie de Bohème inspired Puccini's 1896 opera La Bohème; thus creating a term for the alluvial tide of artists, writers and other cultural refuse that washes into a city to eventually be flooded out by the Katrina-like force of money.

Gautier's anecdotes made the catch-as-catch-can life of the artist a template for living. Thanks to him, bankers shiver in blood-freezing lofts; a Starbucks occupies every block; and CEOs, warmongers and politicians snap towels at each other's privates in a place called "The Bohemian Grove."

Rent, the latest incarnation of Murger's writings, is the film version of the musical hit. The Puccini opera that Rent raids is known for relative subtlety. For all its moments of corn, Rent aims for a light, wistful spirit. There is only one the-city-is-dancing number (a street of tenements celebrating Christmas with an impromptu fire fall). And Rent goes easy on The Sound of Music touches, such as Roger (Adam Pascal) yodeling into a New Mexico canyon.

The opening shot puts the cast on a bare stage in an empty theater. Unlike the usual film versions of Andrew Lloyd Webber juggernauts, Rent doesn't try to kill you dead with every number. It is a rock operetta, most similar to Lloyd Webber's last worthwhile musical, Jesus Christ Superstar. In the end, only the choral opening number, "Seasons of Love," is forcibly screwed into your brain through repetitions.

Rent tells of a year in the East Village, from Christmas Eve 1989 through 1990. Its subject is money-fired gentrification. Eviction notices plaster the wretched Avenue A loft of Roger, former local rock star and Person With AIDS, and his housemate, Scarsdale ex-pat Mark (Anthony Rapp), a striving filmmaker.

Both are urged to move by the current leaseholder and former pal, Benny (Taye Diggs, who unfortunately doesn't get a great deal to do here). Benny's upwardly mobile treachery is part of a subplot involving Roger's former girlfriend, Maureen (Idina Menzel), a performance artist and activist. Maureen is friction-prone. Her flirtatiousness is currently troubling a straight-laced female lawyer Joanne (Tracie Thoms). And the helpful Angel (Wilson Jermaine Heredia) and his new boyfriend, Tom (Jesse L. Martin), round out the group.

Rent comes across as hairier and funkier than any other film in Chris (Home Alone) Columbus' résumé. Happily, he finds this frequently kitschy material deep. The film is shot in an expert mesh of CGI-made New York and local buildings. Columbus uses San Francisco's "Wine Country" at Sixth and Mission as the basis.

This artificial Alphabet City, with its scrap heaps of bicycles, shopping carts and graffiti tags, is more densely pleasing to the eye than even Kubrick's sham Manhattan in Eyes Wide Shut. Columbus also uses real-life Lower East Side locations of sidewalk stalls, bodegas and cafes.

These sights mean what they might mean to Lonely Planet tourists—not a place in which to work and strive but a place to walk through and delight in. And Rent is satisfyingly smart about how cities feed off the energy of cultural pioneers. At the funeral of an artist, Columbus draws a sharp line about how she used to make dresses from discarded tablecloths and next year the Gap would be full of thousands of them.

Best of all is the bright-toothed, long-legged appeal of Rosario Dawson, the show's junk-addicted Mimi. Her version of "Out Tonight" is Rent's finest five minutes. Mimi comes out of a go-go dance for a quick squirm onstage; then she strides out into the night, climbing up a fire-escape with Spider-Man ease. She's one startling high-heeled cat woman in heat. If Dawson any were more macha, she'd have to be a drag queen.

Refusing her attentions, Roger never seems like more of a fool. And that's saying something, because he serenades the swooning Mimi with the ballad "Your Eyes." It took him a year to write, with the help of a rhyming dictionary, probably: "eyes" echoing "goodbyes" and "surprise" matching "wise." Considering this musical onslaught, Dawson's Mimi can be forgiven for not looking as deathly as she should. Then again, the life force is strong in this one, as they say in a George Lucas movie.

Dawson's voice isn't as big as Mendel's—whose (ghastly) tape-loop performance art piece "Over the Moon" seems like the movie's biggest misstep. Few things are as ruffling as when a director gets in there and watches a theater-trained actress's face writhe in a close shot. In the camera's lens, a little stage divinity goes a long way. The number is supposed to stop the show, but the show keeps stopping. A better stopping point is "Tango: Maureen," where Joanne and Mark discuss that perplexing lady. Here's a parody number worthy of an old Comden-Green musical. But a Rent-loving friend claims the real applause gatherer onstage was "La Vie Bohème," celebrating how countercultural life defies extinction.

According to the song, one of the things essential to the bohemian life is the Village Voice. The Voice's fate—the paper having merged with the upstart New Times conglomerate—may not be simply a matter of concern to journalists after all.
---
Rent (PG-13; 128 min.), directed by Chris Columbus, written by Steve Chbosky and Jonathan Larson, photographed by Stephen Goldblatt and starring Jesse L. Martin and Rosario Dawson, plays valleywide.
---
---
Send a letter to the editor about this story to letters@metronews.com.
---
[ Silicon Valley | Metroactive Home | Archives ]