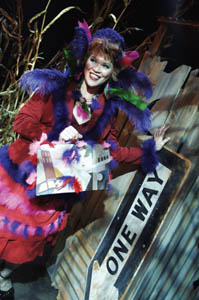 Confidential Sourcing: Judith Miller (no, not THAT Judith Miller) plays Videllia Sparks in 'The Sugar Bean Sisters.'

Swamp Things

Bayou siblings go over the top in Stage Company's outrageous 'Sugar Bean Sisters'

By Marianne Messina

TAKING ON a plot that sounds too outrageous to bear, San Jose Stage Company makes The Sugar Bean Sisters work, sensationally—it feels a bit like Granny Clampett falls into "A Rose for Emily." Fascinating and funny, the sisters Faye Clementine (Nancy Madden) and Willie Mae (Jeffra Cook) Nettles grab on from the first drawled words out of Faye's mouth: "I got one nerve left, and you are dangling from it."

The knotted, contentious relationship between the sisters in their crotchety Florida bayou cabin (picture what is known in Silicon Valley as a "tear-down") drives this bristly story right on through the absurdities. And the deaths by flying cat, the family ghosts and the much-awaited return visit of Martians seem no more disruptive than the odd character quirks of a good friend.

Dressed down and back woodsy (costume designer Jeremy Cole hit the nail on this one), Madden's short, squat body suits the let-go appearance of someone whose plans for the future involve being taken off by Martians. And the way she slyly pours water on electrical wires as her sister Willie Mae handles them is pure impishness. The sisters are Latter Day Saints by way of handsome bell-ringing proselyte. But where afraid-of-her-shadow, prim (bald, wig-sporting) Willie is desperate to marry the Mormon minister on her way to Celestial Heaven, Faye is the cussing, drink-sneaking handywoman who provokes her sister with language like, "Makes my ass want to chew tobacco."

Never overstated, Madden's Faye can give a withering look that crosses patience and seething, and keeps us in suspense as to how far she's gone over to the dark side. But even the righteous Miss Willie has her nasty outbursts, holding us ever between pity and empathy. The handsome minister calls (James Bigelow gave him a nice combination of charm and whitewash); a potion-selling, poisonous-snake-collecting "Reptile Woman" is invited over (a Caribbean-flavored Casey Jones Bastiaans did vodun creepiness to a T—it's all in the laugh); and the standard mystery visitor takes the form of feathered floozy, Videllia Sparks (Judith Miller).

This delightful production gets everything right: Ching-Yi Wei's set design encircles the cutaway front room of the perfectly cluttered shack with the swamp wharf outside, and director Rick Singleton establishes the invisible wall between them right away, having Miss Sparks run around the perimeter of the open room seeking entrance to finally climb in a window. Michael Walsh's lighting and Jamie D. Mann's sound help make it easy to shift focus from inside to outside. The shack's lights go dim or dark, eerie twilight lighting singles out the perimeter and teeming bayou sounds come up all around. The effect underscores the dread sense of an encroaching unknown world that is this play's subtle metaphor for our latter days.

The so-satisfying special effects in the three finale scenes included a marvelous black light (which forefronts any white surface). Its stunning effect showed that someone preplanned these white surfaces down to amazing detail. Add great musical choices, stage trappings and humor, and you get three finale "endings" with an anthemlike power to bring up swells of emotion all over the chart.
---
The Sugar Bean Sisters, a San Jose Stage Company presentation, plays Wednesday-Thursday at 7:30pm, Friday-Saturday at 8pm and Sunday at 2pm through Dec. 11 at the Stage, 490 S. First St., San Jose. Tickets are $20-$45. (408.283.1742)
---
---
Send a letter to the editor about this story to letters@metronews.com.
---
[ Silicon Valley | Metroactive Home | Archives ]